Record global Black Friday sales of $2.4 billion
Ecommerce platform Shopify has reported record-setting Black Friday sales. There were sales of $2.4 billion USD reported globally from Shopify's independent and direct-to-consumer businesses and locally Black Friday sales made by Shopify merchants in Australia have grown by 80 percent since last year.
Australia was the 4th top-selling country globally for Black Friday sales made by Shopify merchants, following the US, UK and Canada. Consumers were spending more with the average cart price at $149.25 in Australia, up from last year's average of $128.93. The majority of shoppers made purchases on mobile (65 percent) and the rest purchased on desktop (35 percent).
"We've seen consumers across Australia and the world drive a boom in ecommerce this year that was previously forecasted for 2030. There's been an acceleration in online shopping overall in 2020, and with many consumers concerned about delivery delays and getting their Christmas shopping on time, Black Friday presents an ideal opportunity to get their presents in a cost-efficient way," said Shaun Broughton, APAC Director for Shopify Plus.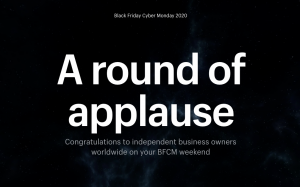 Broughton has praised Australian retailers for a quick COVID response. Retailers that embraced affordable technology platforms, like Shopify, were able to quickly move online and be at the ready to create engaging sales and campaigns in time for Black Friday.
The Black Friday boom was felt globally with sales recorded at $2.4 billion USD. This was a 75 percent increase from 2019 Black Friday. The top product categories were Health and Beauty, with Home and Garden following. The top-selling countries were the United States, followed by United Kingdom and Canada.
Broughton says that the best marketing strategies from retailers utitlised customer data: "Merchants that effectively collected, analysed and used customer data to drive their marketing strategies did well. For some merchants, it was seeing that consumers were shopping earlier, so they started their campaigns earlier and were able to extend the amount of time during which they benefited from the Black Friday sales.
"For other merchants, they used data from throughout the year to see what has been popular or grown in demand, and doubled down on those for the sales season. With a proactive approach to understanding customers through intuitive technology platforms, we've seen retailers get a much deeper understanding of how their customers' needs are changing over time, and how retailers can address those needs."
Photo by Charles Deluvio on Unsplash.