Obama's victory photo smashes Facebook and Twitter records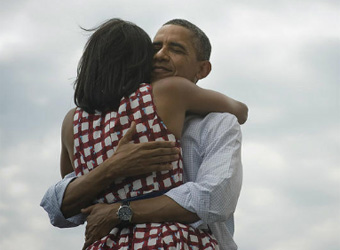 A photo shared by newly re-elected President Barack Obama has smashed records on both Twitter and Facebook.
Captioned with 'Four more years' on both Twitter and Facebook, the photo shows Obama in a loving embrace with his wife after winning re-election in yesterday's US Presidential Election.
At time of publishing, the photo had received more than 747,000 re-tweets, around 500,000 more than the reigning most re-tweeted image – a photo shared by Justin Bieber which hit 200,000 plus, according to AllTwitter.
The photo has also been favourited nearly 260,000 times to date.
Four more years. twitter.com/BarackObama/st…

— Barack Obama (@BarackObama) November 7, 2012
Meanwhile on Facebook, the same photo shared with the same caption had received 3.7 million likes as of this morning. Facebook confirmed that it was the most liked photo on its network in history.
The simplicity of President Obama's post – only a four-word caption and a picture of just himself and his wife with the sky as background – may have played a part in helping it go viral. The image's success pays homage to the sophisticated social media campaign waged by the President's team, who regularly posted content that showed the real, human side of the President and his family.
Dubbed the 'Twitter Election', the 2012 campaign didn't disappoint, also breaking records for the most tweets about a political event at several stages throughout its cycle. As the results of the election were called by news organisations, the conversation surged, hitting a peak of 327,452 tweets per minute, according to Twitter.
Social media was one of the key platforms the battle for the presidency was waged upon. President Obama consistently outperformed rival Mitt Romney throughout the course of the election, taking advantage of a strong following built since 2008.