Show, don't tell! Mastering the art of visual content
Simon van Wyk takes a look at how some brands are mastering Instagram and the art of visual content.
Earlier this year, the number of monthly active users on Instagram surpassed 200 million. It's currently the fastest growing social networking site across the globe, and while its user base is just a fraction of Facebook's massive following, Instagram users are highly engaged. They share something like 60 million photos every day, which generate a staggering 1.6 billion Likes.
Instagram's growth has been both fast and furious. According to eMarketer, it now rivals Twitter in smartphone usage among millennials and Gen Xers.  The research company reported that nearly 35 million people in the US accessed Instagram at least once per month in 2013, compared to an estimated 43.2 million monthly users for Twitter.
Over here, Instagram is also growing fast.  As of June this year, the social network could boast 1,600,000 Active Australian Users according to figures published by  SocialMediaNews.com.au. The average active Australian user posts 2.3 times a week.
As further food for thought, in a recent study of how users interact with brands' social-media posts, Forrester Research discovered that when it comes to engagement, Instagram is far superior to any other social network. The study found  that Instagram users were 58 times more likely to like, comment, or share a brand's post than Facebook users and 120 times more likely than Twitter users.
So if you're looking for an engaged and active audience, then look no further. Indeed, according to research from L2 Think Tank, brands on Instagram may be getting the most bang for their social media buck.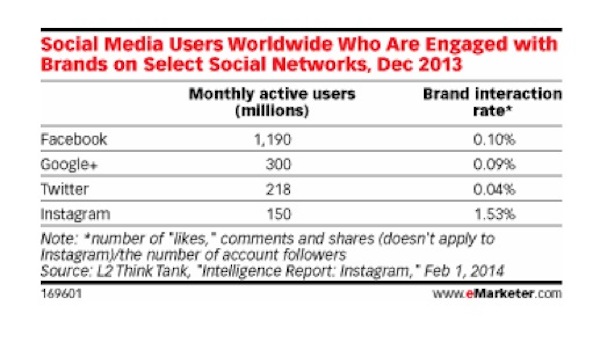 And the reason behind this high level of engagement is that content on Instagram is simply more sharable, easier to understand, and far more universal than other types of content. It's visual. In addition, the advent of the 15 second video clip is also pivotal.
Visual storytelling on Instagram is an art form.  It's definitely not about posting your 15 second TV ad, or worse, a 30-second cut-down. It's about communicating with brevity and getting to the point. Beautifully.
Here are a number of brands that are teaching marketers a thing or two about embracing Instagram for some serious fan engagement.
Whetting sports lovers appetites
The world's biggest sportswear brand, Nike, is all over this social network and has amassed a following of more than 5.2 million at last count, more than any other brand on the platform.
Nike truly embraces the platform to post stunning visual content, typically a beautifully shot landscape with people in the moment wearing Nike runners of sportswear. It's all tailor made for Instagram. Of course, Nike knows only too well that a big part of the reason that people follow your company on Instagram is that they like your products. So what better way for Nike to whet the appetite of sports-loving consumers that with some lush visual content?
Personalising the brand experience
With more than 2.7 million followers, Starbucks is also a master of this visual platform. The coffee chain solicits photos from its followers using hashtags like #baristalove, then posts a selection of these images to their official company feed. In one stroke of genius, Starbucks has potentially millions of people creating great content for them, while also personalising the brand experience.
Selling an action-packed lifestyle
Not surprisingly, the maker's of the world's most versatile camera, Go Pro is killing it on Instagram. The brand has posted 998 times and has racked up a weighty  2,480,193 followers by selling an action-packed lifestyle, not just a camera. From deep sea diving adventures with whales to mountain biking heroics, its videos and images are of course truly sensational.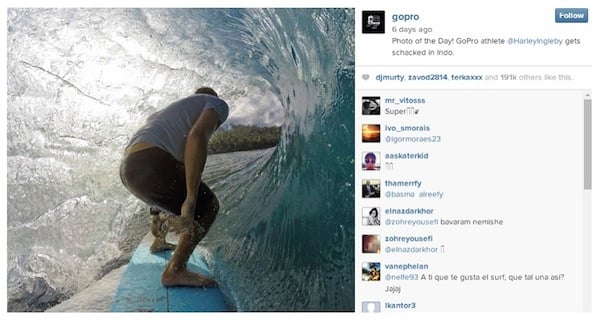 GoPro sends out a steady stream of content including their stunning "photo of the day" and GoPro athletes updates, giving followers a serving of high quality content on a daily basis.
Redbull is also rampaging across the platform with 1477 posts. The brand has amassed more than 1.5 million followers of their breathtaking images and beautifully shot videos of extreme sports. Like Go Pro, this brand posts images and videos from a range of sports and events which all reflect their image as a lifestyle brand. And for Redbull, there are no words to interrupt the visual content.
Social styling
Meanwhile, Hollister, every teen's favourite clothing store has taken to Instagram video with gusto.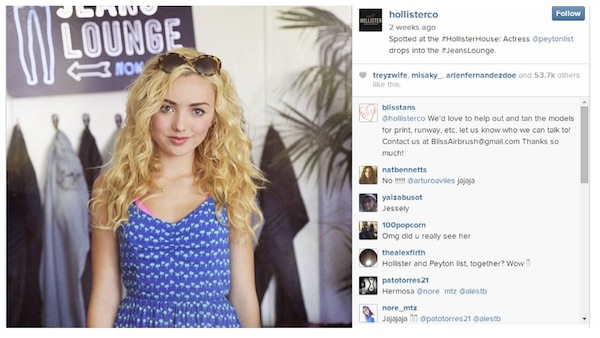 While the brand has contributed 1856 posts and has attracted more than 1.1 million totally engaged followers, its regular videos posts from their social stylist on everything from handy tips to updates on their latest range is a great use of the platform. Furthermore, in the last month alone Hollister has added 21 social clips of interviews and footage of musicians performing at Hollister House in Santa Monica, California.
Bite-sized news
Even the venerable BBC News is busy across the platform, bringing bite-sized news clips to a mobile audience. Using the platform's strengths of mobile, social and short-form video, the BBC is posting an eclectic mix of hard hitting news stories and interviews. With only 15 seconds to play with, their videos are simple, effective and to the point.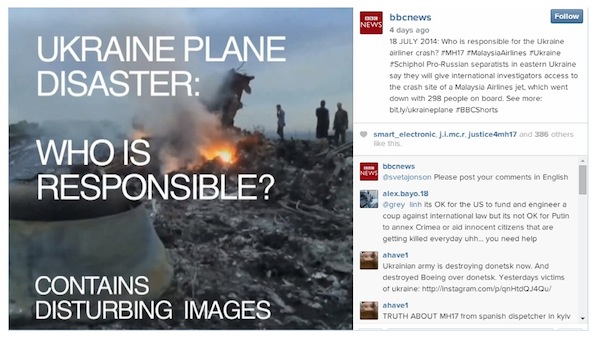 While all these brands are clearly enjoying success with Instagram, for any marketer, this platform provides a winning combination of mobile, visual content and video. It gives marketers the ability to tell a striking story in the mobile environment where users can easily share with others.