Social media to remain a 'backwater' sales channel: PwC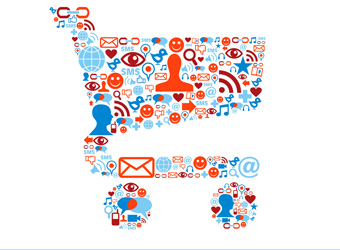 Only a tiny minority of online shoppers transact through social media and few are likely to do so in the near future, according to a PwC study, prompting the management consultants to label social a "backwater" sales channel.
The findings come from an 11-country study which aims to debunk 'myths' of multichannel retailing. "Recently we've noticed that much of the literature on online retail shoppers seizes on a few data points and parlays them into a trend," PwC's John Maxwell elaborates in the report.
"Take social media, for example… Consumers use social media to research brands, praise their favourite products and point out the weaknesses of other products.
"But our survey reveals that just 12% of our respondents have purchased an item through a social media site… and only 18% purchased a product as a result of information obtained through a social media site."
"Social media will for the near future remain a backwater sales channel, if you can call it a sales channel at all," the report asserts.
However, the report acknowledges that social media is a robust marketing and communications channel for retailers and consumer goods companies.
Around half of respondents say they check social media sites daily, but seven out of 10 online shoppers have never shopped within a social network. That figure is unlikely to lift much in the immediate future, with only around 5% saying they'll shop more via social media in the next 12 months.
PwC's report also names 'showrooming' – the trend where shoppers visit bricks and mortar stores to view products before buying online – the 'home turf' advantage of domestic retailers, the domination of global giants and price as the primary driver of store choice as ideas that warrant reconsideration.
PwC's 'Demystifying the online shopper: 10 myths of multichannel retailing' was conducted among 11,000 consumers from Brazil, Canada, China, France, Germany, the Netherlands, Russia, Switzerland, Turkey, the United Kingdom and the United States.