The 10 best brand music strategies of 2015
Con Raso looks at this year's best examples of brand campaigns turning music-loving fans into brand-loving fans.
2015 has proven to be a great year for brands that have used music as their hook to create meaningful and personal connections with consumers emotively. We've seen how music has driven marketing in full force this year, producing significant results. It has left little doubt that an effective way into a consumer's heart is through their ears.
In this article, I will share my favourite campaigns that have successfully used music as a marketing tool to turn music-loving fans into brand-loving fans.
1. Converse used music to give back to its core demographic – the musicians
This is one of my personal favourites, as I believe its approach to the entire music strategy has been a dedicated one. Converse used music to gain a deep connection between brand-lovers and music fans. It created a free recording studio 'Rubber Tracks', which was inspired by its CMO, Geoff Cottrill, whose deep passion for music has helped steer all things marketing at Converse. 'Rubber Tracks' is a community-based recording studio dedicated to help fledgling musicians jumpstart their careers.
Converse gave these musicians the platform they needed, positioning them at the centre of its marketing campaign. What makes this campaign even more powerful is that Converse identified these artists to not only be creative partners, but also to be the core consumers of the brand. By consistently acknowledging how musical talent deserves the brand's support, Converse owned musicians as a loyal audience.
Through music, Converse was able to differentiate its brand identity from other shoe manufacturers. This is why this American footwear brand is globally popular and loved. It has more loyal fans on its Facebook page (37.6 million) compared to Adidas (21.8 million) and Nike (23.4 million).
2. British department store John Lewis' ad created emotive storytelling through music
John Lewis makes my list with its memorable Christmas ad, which used music to spread the message of goodwill among the elderly. It has been consistently upping the ante since 2007 by releasing stunning commercials with its emotional storytelling by using a combination of brand values, strong narrative and the perfect choice of theme song.
This year's ad, 'Man on the Moon', is exceptional. The company used music to create a powerful story to stand out from the clutter of the 'holiday' marketplace, particularly when most retail stores are focused on the heavy sell.
The ad, which has had over 21.6 million views on YouTube to date, used a downbeat cover version of an Oasis' song entitled 'Half The World Away' sung by up and coming Norwegian singer, Aurora. Essentially this is what John Lewis does best, but the reason I like it so much is that it uses fresh talent to create a new render of a popular song and by doing so, produces a signature rendition exclusive to the brand.
Music has enabled John Lewis to form an emotional connection with its target audience for almost a decade and as it appears, the brand's emotional footprint grows stronger and bigger each passing year. With so much competition in the marketplace, brands can learn from how well John Lewis' heartfelt ads have used music to inspire a community to do good.
3. HP launched a streaming service to encourage millennials to buying laptops
HP partnered with UMG this year in a marketing campaign that was aimed at making HP computers a preferred choice among the younger demographic.
The company launched a music streaming service called 'HP Lounge', which is available for free when consumers purchase a brand new computer. This campaign was cleverly tailored to capture young consumers' hearts through their ears. It used a strategic approach of using a free music service to appeal to millennials, but also gave HP a way to gather valuable customer data. In this particular campaign, HP certainly has placed music at the forefront of its brand and by doing so, sets itself apart from other Windows laptops.  
4. The music app that played exclusively on the Williamsburg Bridge NYC
I particularly love this one as it's so unique and original that you may wonder why UNO NYC goes to all that effort for such a short ride. It's a simple, but clever marketing strategy. Brooklyn record label, UNO NYC, on July of this year released a music app that only works on the Williamsburg Bridge. It tailored a two track playlist daily to an exact location on the East River overpass. This marketing campaign was so in touch with the technology of today and was highly innovative in creating buzz for the record label to promote its key artists, such as Mykki Blanco. I believe what makes this campaign so clever though, is how it used geo-targeting to capture a specific audience. This was a unique approach that sparked a lot of engaging conversations on social media.
5. Coke's innovative 'drinkable ad's' flowed from TV to mobile with Shazam
Coke Zero launched a completely interactive campaign as part of its sponsorship at the NCAA Men's Final Four competition back in May. Coke developed a gigantic 26-by-36 foot 'drinkable billboard' encouraging consumers to physically interact with its campaign. What makes this campaign brilliant is how it used music discovery app, Shazam, to enable consumers to communicate via their phones on how delicious a Coke Zero was. In addition, consumers were able to unlock additional mobile content via Shazam. Consumers also used the Shazam app to unlock mobile coupons, which they could use to redeem free 20oz bottles of Coke Zero.
This makes my list because of its innovative approach in using a music app to connect TV ads to mobile interactivity and by doing so, created a memorable and unified consumer experience. The campaign earned 166,000 hits from Shazam and a 15% conversion rate. It was a well-balanced campaign with multiple consumer touch-points and was definitely an authentic consumer-centric campaign to quench our marketing thirsts!
6. Munchery paired up food with music to offer consumers a unique dining experience
Munchery made my list for its use of music to differentiate and add value to its services. It was a short-term marketing campaign, which allowed subscribers of its meal-delivery start-up to order dinner along with a custom-made soundtrack by Google Play Music.
The campaign provided customers with a unique dining experience, using a playlist which was tailored around consumers' moods, times of day and activities. This marketing campaign proves how a brand can use music in a short-term campaign, and then reap the long-term benefits later on.
This campaign shows how music can be a vehicle to gather valuable data, which brands can leverage later. Through music, Munchery was able to get to know its customers better. Pairing food with music was a clever way to stand out from the clutter of services in the restaurant industry.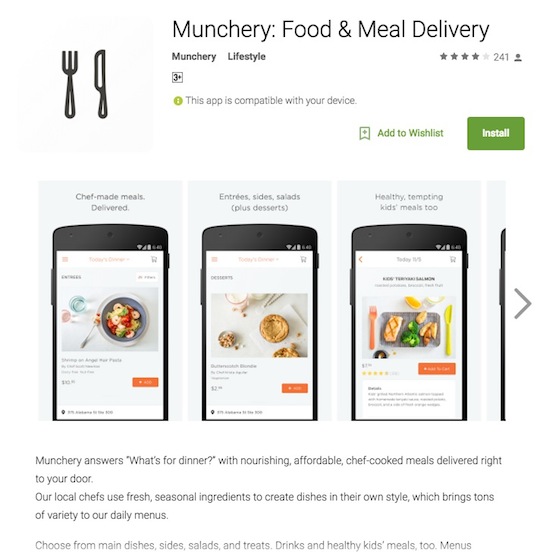 7. H&M used music marketing to drive social media engagement
H&M successfully used music to extend its brand's emotional footprint outside its physical stores. On January of this year, we were all introduced to its new muse Florrie, who showcased her own line of fashion completely inspired by her music.  
H&M also sponsored the iconic US music festival, Coachella, where it built clothing tents so that festival goers could purchase and change into 'festival ready wear'. Music sponsorship was seen to be a big part of its marketing strategy, particularly when the Nielsen music report stated that "76% of festival attendees reported feeling more favourable towards brands that sponsor a tour or concert".
8. Smirnoff Vodka used music to bring people together and create a lifestyle for its brand
With communication constraints on advertising of alcoholic products, Smirnoff  used the power of music to engage millennials by promoting a music-centred lifestyle. This year, to launch a new line of liqueurs, the company continued along the music theme with Smirnoff Electric, where musicians such as Djemba Djemba, collaborated to produce the song "Give it to the moment." The aim was to create a global social movement enriched by music collaborations that spanned the globe with the catchy hashtag #WhatWeBring. The campaign used music to celebrate diversity of age, race, gender, sexuality, culture and style. Through music, Smirnoff echoed a positive message about inclusivity around the world.
9. Hotel group used music to drive loyalty amongst young hipsters
The collaboration between Marriott International and UMG was a match made in music heaven, using the hotel's reward system to successfully acquire and retain customers. The campaign called #WithTheBand rewarded consumers with a memorable music experience. The campaign, which started on June of this year, already premiered live performances including UMG artist, Ellie Goulding. The marketing campaign has also included branded video series, social content, music downloads and concerts. It's a clever way to market to the next generation of cool travellers through the universal language of music.
Marriott Rewards has more than 50 million members who are eligible to participate in more than a dozen sweepstakes in order to win VIP concert experiences. Its loyalty card holders can also attend UMG-sponsored events and after parties at premiere music industry events and festivals.
10. American Honda and Woven Digital partnered to connect millennials via rich storytelling
American Honda incorporated music in its marketing strategy over the last year to extend the brand's emotional footprint and engage with millennials. It has been a music sponsor at music festivals such as Founders' Governors Ball, C3's Austin City Limits and Live Nation's Music Midtown in Atlanta. Its latest partnership with Woven Digital called 'Uncharted: The Power of Dreams' aimed at connecting with millennials via rich storytelling.
Uncharted was created as an extension of Honda's music stage program, which also has its own YouTube channel. The series also broke new ground for Honda Stage, adding an element of emerging talent to the mix, complementing the brand's overall commitment to producing quality music content for fans. Honda used music to reinvent its brand identity and stand out in a cluttered world of cars.
What does this mean for brands in 2016?
Music was successfully used by all of these 10 successful brands to resonate with their consumers by hitting that emotional nerve that is within all of us, and can be triggered in an extremely powerful and personal way through music.
As seen with all these campaigns that use music to engage consumers, there is no limit to what marketers can achieve by using the #PowerOfMusic to drive impactful results. Just as the way consumers access to music has changed over the last several years, brands can adapt and introduce new means of communicating with consumers by ensuring music is at the forefront of their marketing strategies in 2016.
Con Raso is managing director of Tuned Global.