The latest brands campaigning for Aussie's to get vaxxed
Businesses across industries are tapping into resources to release campaigns encouraging Australians across the country to get their COVID-19 vaccinations. Here is a round-up of some of the latest local brands appealing directly to the public.
Victoria Bitter
One of Australia's best selling beers, Victoria Bitter, recently released a new campaign encouraging Australians to "roll up your sleeves, and get the jab". The campaign features VB's famous anthem and classic footage from VB ad campaigns. Created by Clemenger BBDO, the video incorporates some humour alongside nostalgia, with lines like, "A hard earned thirst comes from being all over town. Not from being in lockdown."

Telstra
Telstra recently called upon its millions of customers to unite in the "battle against COVID-19", as the telco gets behind Australia's vaccination push. Telstra CEO Andrew Penn has announced vaccinated members will receive 2,500 Telstra plus points, among other benefits like prize draws. There has also been a change to the mobile network name – Telstra #LetsVaxx – and a social media campaign featuring 5G Chief Investigator Mark Humphries to bust myths around vaccines. 

Business Australia
Profit for purpose member-owned organisation, Business Australia, released its pro-vaccine campaign across audio and video channels. It features a dramatic rendition of Irving Berlin's 'There's No Business Like Show Business' to the backdrop of empty businesses from a variety of industries, highlighting the devastating effect that the pandemic and lockdowns have had on businesses and jobs. Filming took place across Sydney and featured 20 businesses, including major tourism and event operators Sydney Theatre Company and Bridge Climb as well as a local hairdresser, tavern and gym. 

oOh!media
oOh!media has launched a new data-led Out of Home campaign, encouraging the public to get vaccinated so they can get back outdoors. Leading with the tagline 'Getting back outdoors, it's worth a shot', the location-based campaign uses data from the Australian Government to highlight state and territory vaccination rates, as well as dynamic creative tailored to local suburbs. Designed and implemented by oOh!'s in-house creative team, the campaign is running across classic and digital signage nationwide, visually updating the public on vaccination progress as momentum builds over the coming weeks.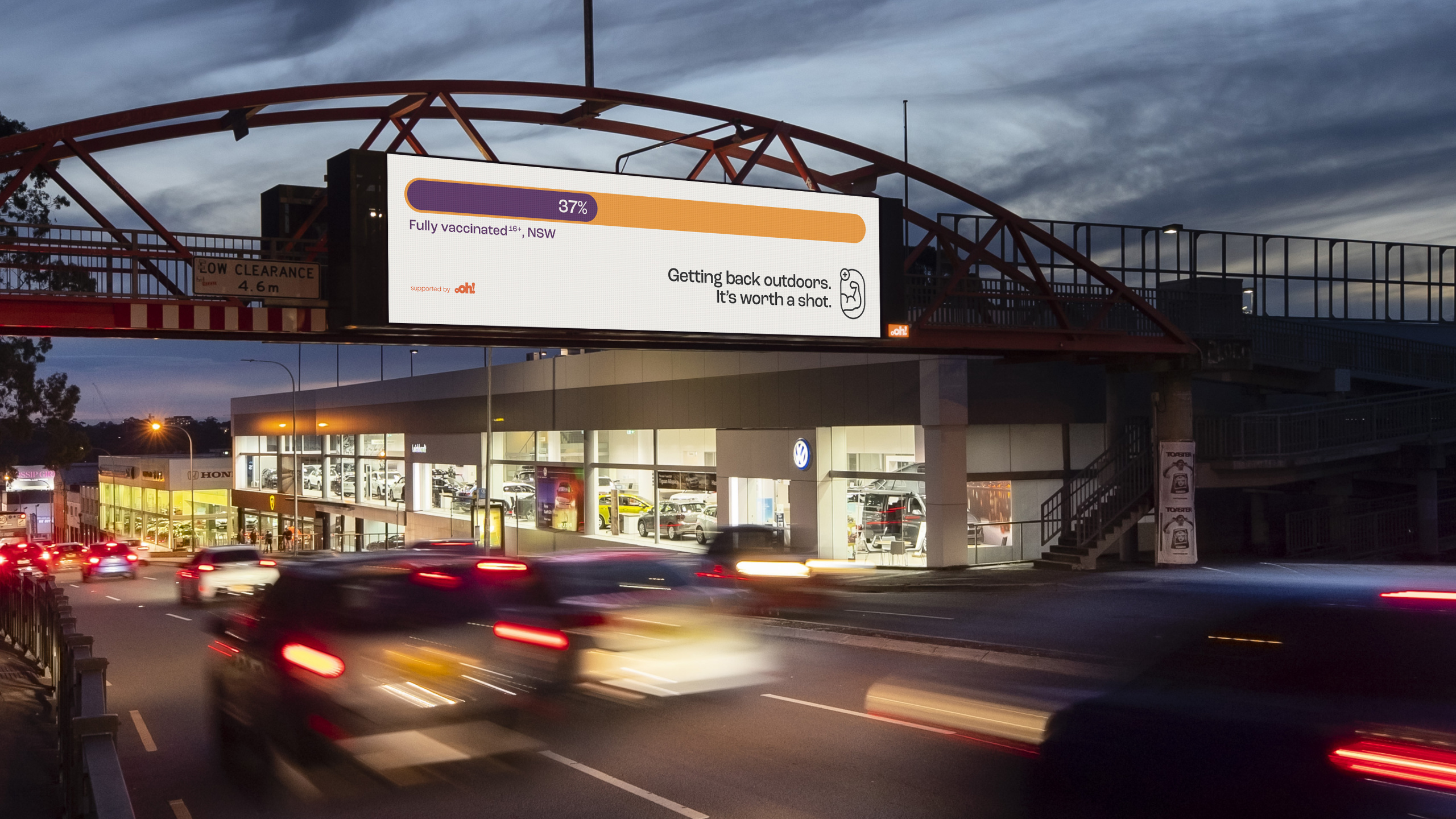 MCG
The Melbourne Cricket Ground (MCG) has joined forces with 13 of Victoria's most recognisable footy faces in a call-to-arms for Victorians to book and receive their COVID-19 vaccine. Conceived and delivered by the Melbourne Cricket Club, manager of the MCG, Victorians have been called on to #BePartOfTheTeam. Mick Molloy is joined by media personality Rebecca Maddern, Melbourne AFLW captain Daisy Pearce, TV presenter Shelley Ware, AFLW all-time leading goal kicker Darcy Vescio and the Collingwood cheer squad.

TAB
Last weekend, Australia's racing and sports betting website TAB became 'JAB' in order to create awareness and encourage Aussies to get vaccinated. The 'JAB for your Local' campaign created with agency M&C Saatchi that captures stories from local venues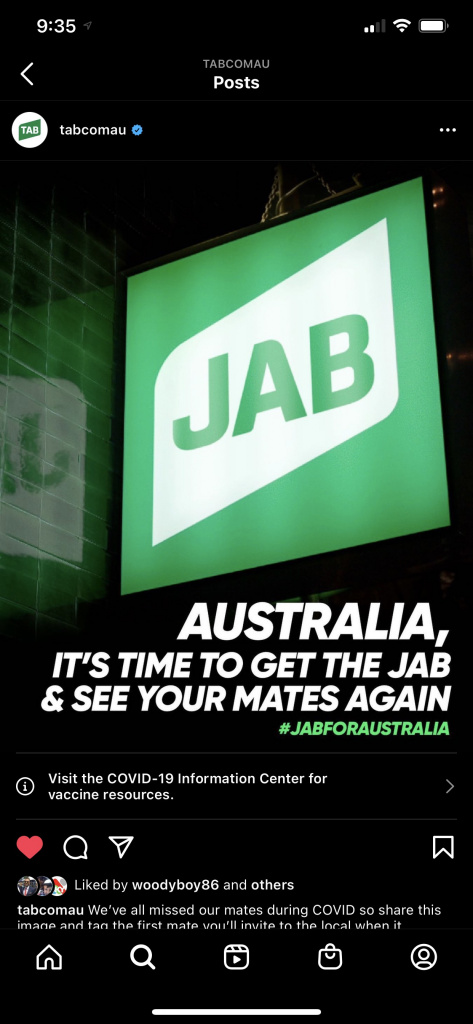 Live Industry Venues and Entertainment (LIVE)

Live Industry Venues and Entertainment (LIVE) alliance have joined forces with 400 of Australia's biggest artists, performers, promoters, festivals, venues, ticketing agencies, record labels, associations and more. With the music amd live entertainment industry one of the hardest hit by lockdowns, the #VAXTHENATION campaign asks people to play their part to help stop the interruptions. Conceptualised by adman Russel Howcroft and starring Tim Minchin, Jimmy Barnes, Amy Shark, Paul Kelly and Hilltop Hoods, the campaign has been released via television, social, digital and outdoor media.