Under the 'Finfluence': The pros and cons of influencer marketing in financial services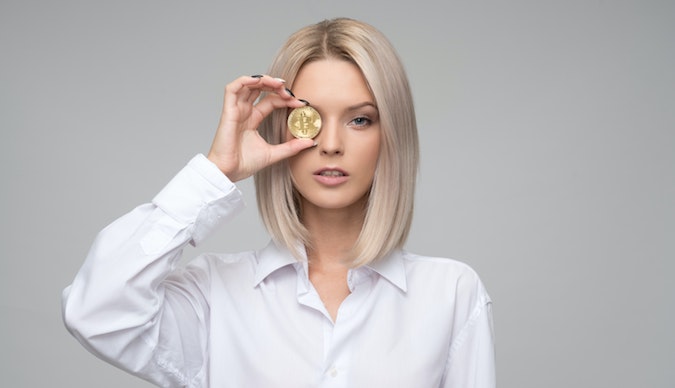 Financial literacy is growing with a range of influencers now devoted to sharing financial advice on social media, far and wide. Krystyna Frassetto from M&C Saatchi unpacks the pros and cons of 'Finfluencers' and everything that marketers need to know.
When Kim Kardashian first 'broke the internet' by posing nude for Paper Magazine, the reality TV star and influencer turned business woman explained, "I love sharing my world with people. That's just who I am."
This month, Kardashian shared a new part of her world when she shared a #sponsored Instagram ad promoting her supposed favourite blockchain project, Ethereum Max. With more than 200 million followers, it's possibly the single biggest promotion of cryptocurrency in history. 
As with everything Kardashian does, the move set off a flood of commentary, with critics questioning the ethics of influencer marketing and the need for regulation of posts including financial advice. It comes as the Australian Securities and Investments Commission (ASIC) reports a significant increase in the number of complaints about dubious financial advice and launches an investigation into the 'Finfluencer' industry. 
Kardashian isn't your typical Finfluencer but it does bring into question where the regulation of the industry starts and ends and, should marketers steer clear, or is there a way to tread carefully and reap the rewards? 
What is a 'Finfluencer'?
Firstly, it's worth defining a Finfluencer. Like most portmanteaus, it's pretty straightforward – a social media influencer that shares financial information and expertise. 
Individuals sharing financial information, education and advice is not new (hello Barefoot Investor) but platforms such as TikTok have given birth to a new breed – many who have no formal education or credentials, but are good on and with a camera and have mastered click-bait headlines with useful and easy to understand information. 
The Finfluencer's rise to popularity is not surprising given recent research from CommBank that reveals 1 in 2 millennials wish they could have more open discussions about money. In place of conversations with friends, millennials are turning to their smartphones, accessing infinite opinions on TikTok, Instagram and YouTube.
This trend has seen a broader range of influencers join the financial information conversation – Kardashian included. As we spent more time at home this past year, influencers enjoyed increasingly intimate direct-to-fan relationships. The latest Trust Barometer report from Edelman captures this best, with 63 percent of respondents aged 18-to-34 saying they trust what an influencer says about a brand more than what the brand says about itself in advertising. Influencers have become a window into another world and often, the 'ask me anything' oracle on virtually any subject. 
The pros of Finfluencers
Quite simply, Finfluencers wouldn't be popular if there wasn't a demand for accessible financial information that doesn't require an advisor or costs a fortune. They provide a new, potentially highly effective way to engage audiences.
Much like a reality TV star, influencers have been conditioned to live through the internet and take their fans along for the ride. They build authenticity by sharing their whole lives – including the more realistic aspects – to a mass audience. Less glamorous parts including studying, saving money, renting, parenting and buying a house provide relatable experiences and tackle subjects that audiences might not be talking to their friends and family about. 
The upside is that we're all learning new things. How to curl your hair; how to cut an avocado to avoid it going brown; hacks to cut down your spending and tips to start investing. TikTok and influencer culture has unearthed an abundance of hacks, tips and cheats sheets to optimise life. 
For many, money can be a taboo subject so I welcome the influencers that are starting a dialogue and dispelling some of the myths around money and the social platforms that make the content easier to surface and discover. 
Ultimately, when done right, increased conversation and engagement with topics around financial literacy and wellbeing can improve the knowledge and lives of consumers – especially young people. 
View this post on Instagram
The Cons of Finfluencers
All that said, there are certainly watch-outs for marketers looking to partner with influencers to promote a financial product or service that can make or break a campaign. 
Blatantly #sponsored Kardashian-style endorsements can be tone deaf. Young, impressionable audiences may not know the difference between education and advice and may not realise the Influencer is being paid to promote the product or service. Encouraging fans to buy specific assets and implying an investment will guarantee a profit without disclosures or disclaimers is incredibly negligent. Sadly, some may blindly follow Kardashian's advice, and borrow money to buy in.
Currently financial advice found on social media remains unmoderated by the platforms and a high majority is reportedly #fakenews. Often the nature of social content, TikTok in particular, doesn't lend itself to in-depth storytelling. Short videos and gimmicky editing limits the level of nuance. Influencers make money from clicks and views and so they'll more often than not prioritise entertainment over education. 
Worst of all, many influencers (and marketers) come unstuck when the talent hasn't genuinely experienced the product or service or makes unverified claims. Or, when the circumstances of the influencer are wildly different from those of their audience. What portion of Kardashian's followers can afford to risk their savings with blockchain?
Lessons for marketers 
So how can marketers navigate the complexity of engaging influencers to promote financial products and services? 
Casting is crucial. The Edelman Trust Barometer indicates the most effective spokesperson to build trust is 'a person like me' (38 percent). To do this, find credible talent with relevant, lived experiences. Also consider their audience demographics. They should be able to authentically weave the brand message into their content and while it may not reach as many people, those it does will be more engaged, and truly take an interest in or benefit from the education. 
Determine if the storytelling requires influencers to be a customer and vet accordingly. Then, work closely with the talent to thoroughly brief them, provide a product or service demonstration if possible, and critically review any content before it is published to ensure accuracy.  
Be mindful that influencer engagement should only be one part of the marketing mix – designed to spark attention. Social content formats make telling the full story tricky so work with your influencers to encourage their fans to click through or swipe up to learn more at a source with more detailed information. 
The Australian Securities and Investment Commission has indicated a refresh of the guidelines, last updated in 2007, is on the way. In the meantime, develop your own best practice guide for influencers. Be sure messages focus on inspiration and education based on real life experiences and avoid providing financial advice.
And finally, mandate any influencers include a disclaimer. Ultimately, the best financial advice is the kind that's tailored to your personal circumstances, a 60-second video is definitely not enough to make an informed decision.
Krystyna Frassetto is the head of communication at M&C Saatchi Sport & Entertainment and M&C Saatchi FABRIC. 
Photo by Icons8 Team on Unsplash.
Found this article interesting? Read this article about whether influencers and their brands are going to become the new clients that agencies are fighting for.