We need to talk about video
Jaci Burns looks at the opportunities video can offer to marketers. 
In a previous post, 'Many professional services firms mobile unfriendly',  I examined how many 'smart companies' in Australia have adopted a 'mobile-first' strategy. What I found was that the majority are not even 'mobile-friendly'.
For clarity, 'smart companies' is the term my agency, Market Expertise, uses to describe the organisations we work with – they're typically professional services firms or businesses in other technical or knowledge-intensive sectors.
I decided to test another digital prediction, this time relating to video.
Online video will continue to dominate in 2015. Moreover, Syndacast predicts 74% of all internet traffic in 2017 will be video. That's just two years away.
Using the same sample set as before – the 2014 BRW Client Choice Awards winners, and 2015 Financial Review Client Choice Awards shortlist – my initial assessment was that these 'smart companies' are responding well to the voracious appetite for video – two-thirds of the 'leading' professional services firms in Australia have a corporate YouTube channel.
However, dig a little deeper and it becomes clear that half of those firms appear to be in the very early stages of adoption, or are not seriously incorporating video into their content mix. Many have single-digit uploads and no or few subscribers (see table below). Only 42% have uploaded more than 10 pieces of content.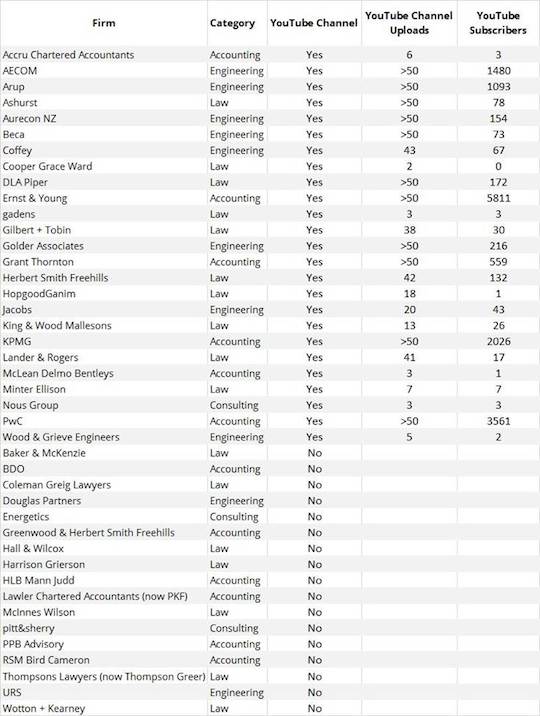 As previously stated, I acknowledge the sample is small but submit that it represents, arguably, the most client-focused firms across all major categories of the professional services sector. It's valid.
A few things worth noting:
The firms that are most advanced in their use of video typically have an independent 'careers' channel in addition to their corporate channel. I did not include uploads from careers channels in my data.
The accounting and engineering firms are furthest ahead on both volume of content and number of subscribers. That is probably to be expected given they are also strong, global brands.
As a business-to-business agency, Market Expertise has generally prioritised LinkedIn and Twitter over Facebook for social media marketing. However I point out that Facebook has now surpassed YouTube in the number of video views via desktop computers. While YouTube still counts more views across all devices, Facebook is on the upward trend. Of course, if my own Facebook activity is anything to go by, that equates to a whole lot of people watching and sharing Lego's recreation of the Fifty Shades trailer, and montages of people saving ducks. Still, I watch with interest.
If the names Sarah Koenig, Hae Min Lee and Adnan Syed are unfamiliar, then you're truly out of touch. Sarah Koenig is the investigative journalist and narrator (the other two being real life characters) of This American Life's Serial, a twelve-part audio podcast which, through word of mouth and positive media coverage, has broken records and topped the charts in the US, Canada, UK and Australia. As reported in The Guardian, episodes of Serial have been downloaded and streamed more than five million times from Apple's iTunes store alone. For me, the extraordinary success of Serial serves as an important reminder of the power of great storytelling. Video may have killed the radio star but audio is off life support. Don't be too quick to exclude audio from your content marketing strategy – success lies in multi-channel integration.