What's new in social: the updates you need to know about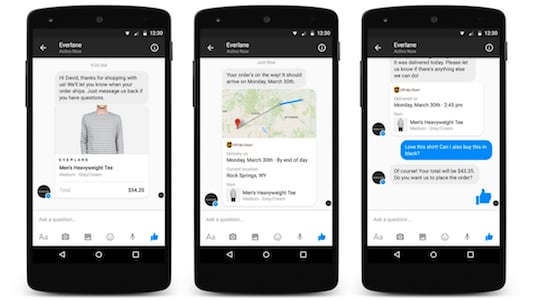 Cade Witnish, managing director of digital agency Loud & Clear, runs through the latest in social media.
Facebook – 13,800,000 active Australian users
The biggest news from Facebook is the announcement of the Messenger Business platform. Businesses can offer an option for shoppers to sign up for updates via Facebook Messenger – blending social, business and brand experience. With this new feature, all information about a purchase (receipts, confirmation emails, shipping notifications, and customer service issues) comes in one Facebook message thread. If the shopper has an issue or needs to alter an order, they will be able to interact directly with the company within Facebook Messenger.
Facebook introduced the new Ads Manager app for iOS devices. This enables marketers with enhanced capabilities to manage, edit and analyse campaigns while on the run.
'Relevance' has been introduced as a new metric for marketers in analysing ad results. Positive interactions (dependent on the ad's objective) are pitched against negative reactions (hiding or reporting an ad) to create a 1-10 score. The lower the ratio of negative feedback, the higher the score and the better the ad.
Facebook has introduced a new feature called Place Tips in the news feed. When a Facebook user is online nearby a place listed on Facebook, a card displays information on that place. When a user clicks on the Place Tip, they can view photos of their friends who have been there, posts about the place and see basic information.
Twitter – 2,791,000 active Australian users
Twitter's new video widget allows users to embed Twitter hosted video all over the web. While Youtube and Facebook are pushing for video dominance, this feature is a necessary move for Twitter in its push for video content.
Twitter also introduced the 'while you were away' feature, which displays popular posts that were posted while a user was away from Twitter. The service is available on both iOS and Android.
Snapchat – 1,070,000 active Australian users
Snapchat has introduced 'Discover'. This is a new ephemeral content publishing feature, allowing brands and publishers to post time-limited content to the app. Snapchat will generate revenue by running ads against these posts.
Instagram – 4,000,000 active Australian users
Instagram released its new product, Carousel Ads. This visual storytelling feature allows brands to post sequenced photographs with an external link. The feature emulates the experience of reading a magazine, giving marketers a fresh way of communicating with users.
Tinder – 1,500,000 active Australian users
In February, Tinder rolled out a new paid service called Tinder Plus. This service includes location-based swiping and allows users to backtrack their swipes.
For users of the standard Tinder there is a new intelligent algorithm that limits the swipes of undiscerning users. Early results show that Tinder has increased the quality of matches and reduce the number of spambots on the platform.
Google search – 93.65% of online searches are through Google.com
Google's mobile search algorithm will soon include 'mobile friendliness' as a ranking signal. All sites should be optimised for mobile by 21 April 2015 or risk a significant decline in mobile search rankings.
Whatsapp – 2,400,000 active Australian users
Whatsapp introduced a web-based version that mirrors the mobile experience. Users scan a QR code on the web with their phone and connect to all past communications on the web browser.
LinkedIn – 3,300,000 active Australian users
The introduction of sponsored InMail allows businesses to send targeted direct messages to a wide audience.