Porsche goes flat out in the Australian outback to show off its hybrid technology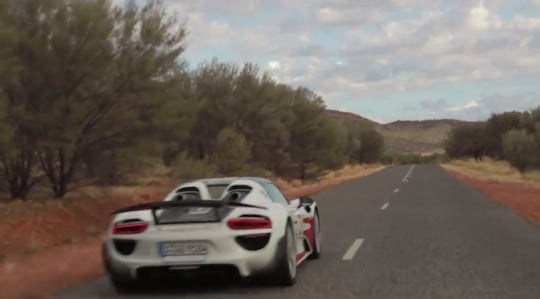 Porsche has released video footage of its hybrid supercar, the 918 Spyder, doing 350 kilometres per hour in the Australian outback to showcase its cutting edge electric vehicle technology.
Using its 652 kilowatts of power from its electric motors and V8 engine, the car became the first production car on Australian roads to soar from a 60km/h cruise to top speed in 40 seconds.
The company says it plans to "eventually" transfer the Porsche Intelligent Performance hybrid technology used in the 918 Spyder into more of its road cars "in the future".
The technology gives the car two modes: 'E-Power', which allows it to drive for up to 30 kilometres at speeds of up to 150 km/h using twin electric motors, and 'Race Hybrid', in which the electric motors work in conjunction with a 'racing inspired' 4.6-litre V8 petrol engine.
The combination of electric and petrol motors, which Porsche has dubbed 'hybrid powertrain technology', exists in three of Porsche's road cars. The company says that more hybrid road cars are "part of its future".
A professional driver was at the wheel during the controlled test, while radios and spotters ensured the Northern Territory's straight, open speed highway was completely devoid of traffic during filming.