Why brands need to jump on the vertical video bandwagon now
Marketers understand the importance of video content, but Erin Essex says brands must 'think vertically' in order to truly capture the attention of audiences. 
Brands are in an interesting place right now. Consumers are being bombarded with thousands of messages across multiple media every day, so being able to stand out from the crowd is easier said than done.
Nearly 90 percent of Australians currently own a mobile phone and social media usage is at an all-time high. According to Sensis research, more than a third of Aussies are accessing social media more than five times per day.
With this in mind, digital content from brands must be engaging, educational and entertaining. Most importantly, it must spark immediate action from consumers — whether that be a click-through, a purchase or a sign-up. And the easiest way to do that is by leveraging video content effectively.
The way consumers are engaging with video content now is changing dramatically and it's predicted that by 2021, the average person will spend 100 minutes a day watching mobile video. It's clear that brands need to not only think about their video marketing strategies now, but the finer details like vertical video strategy, to ensure that they reach audiences successfully on the platforms they're actually using.
The rise of mobile video
Video content is the most engaging format for brands to connect with consumers. Consumers' attention spans are decreasing as social media noise increases, allowing video to cut through the clutter. The length and format of video allow brands to better share their stories and engage with an audience that's used to mindlessly scrolling through its feeds.
Mobile video has grown in popularity as technology has become increasingly accessible to both businesses and consumers. Regardless of size and technical ability, brands can now more easily create quality, engaging content without the high price tag.
With less than three seconds to capture the attention of a consumer and the sheer overabundance of digital content available to Australian audiences at any given moment, quality content is key. But more specifically, sharing this quality content with consumers on the platforms they're using the most – either through social media or a brand's owned channels – is essential. With mobile phones seemingly attached to people's fingertips, ignoring mobile video as a touchpoint for brands is not an option.
Let's get vertical
The rise of vertical video has been a huge digital trend over the last few years, driven by the growth of the constantly connected consumer. Brands and content creators need to stay ahead of the curve and creatively adapt the way they present content to keep eyeballs on screens.
Even small things like the direction consumers view content must be taken into consideration, with studies suggesting that users holding their phones vertically about 94 percent of the time, and less than a third will actually turn their phones to watch a horizontal video on mobile.
With the rise of live videos and Instagram stories, brands are not just thinking mobile first, but also using mobile devices to create content on-the-go. Shutterstock recently made its entire video collection available for download on its mobile applications for this reason. This update means that brands now have access to over 18 million footage clips but also that marketers are now able to create quality mobile video content on mobiles themselves.
With Australians spending more than five hours a day on social media, brands that recognise the benefits of vertical video will have a higher chance of capturing consumer attention and eliciting an emotional response.
Say hello to TikTok
In 2020, a platform that is synonymous with vertical video is TikTok, which has come around to shake up the social media game. Not only are 1.6 million Australians currently on the platform but the quick, steady growth of the platform itself highlights why brands need to embrace vertical video — because consumers want it.
In addition to this, 40 percent of Tik Tok users are aged between 16 and 24, making it a clear touchpoint for brands that are looking to reach a highly engaged community of young people.
The layout of the platform itself allows content to go viral more easily than on other platforms — specifically through the 'For You' page. For brands, this means that they have a prime opportunity to create and share videos that both stick in the minds of engaged consumers but also reach a huge audience both locally and globally.
While sports across Australia have been suspended during COVID-19, many teams are leveraging the platform to engage with fans. Not only are sports teams, players and organisations such as the Australian Football League's Sydney Swans and the National Rugby League (NRL) using the platform to share original authentic content with fans during the shutdown period, but they're also using the platform to jump on trending challenges, dances and more.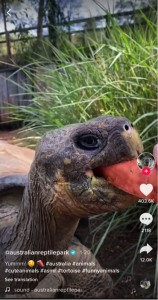 The Australian Reptile Park, which boasts 1.4 million followers, uses TikTok to share updates of its animal residents and raise awareness about issues affecting Australian animals including the recent bushfires. The result? Hundreds of thousands of likes and greater brand awareness of the work the park is doing to protect Australian fauna.
Leveraging video content is not a new tactic, but thinking vertically has become a must to capture the fleeting attention of consumers. Marketers need to prioritise being equally economical with their messages and investing in platforms and strategies that bring results. By investing in vertical video, as well as video-based social platforms, brands will be able to connect with consumers quickly and more effectively on the platforms Australian audiences are actually using.
Erin Essex is the director of product design at Shutterstock.
Photo by Shutterstock.