Why Tourism WA's hashtag campaign backfired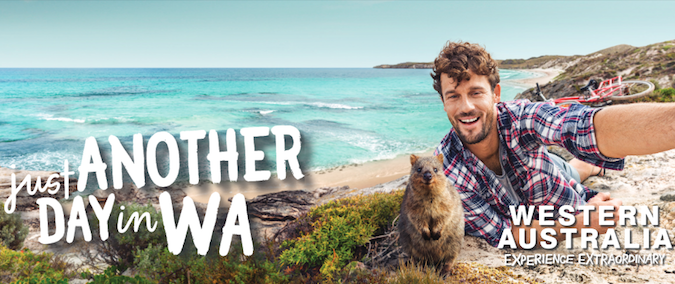 Ken Murray writes that creativity alone is not enough to make a successful marketing campaign. Case in point: #justanotherdayinwa.
English Lit was my favourite class in high school. It was the only class I had in the super six mix where creativity was rewarded. You could make your case in an essay and there was no right or wrong. You could interpret a poem whichever way suited you (provided you could back it up) and the only way you could fail was plagiarism.
In fact, I really enjoy reading and writing poetry and prose. I often root-cause my foray into marketing and am convinced that this inherent love of communication and language led me here. I wanted to be creative and get paid consistently for it.
I believed that creativity was one of the great pillars of successful marketing works. Everywhere you turn in marketing it is all about creativity and how valued creative people are.
Naturally when I got my first marketing job I desperately wanted to prove how creative I was but all my ideas got shut down, oversimplified and replaced with copycat ideas: 'What's everyone else doing? Let's do that instead!'
Suddenly plagiarism was the only way to pass and marketing, really, wasn't English literature after all. In marketing we use this 'C' word a lot, almost as much as the 'I' word.
Brace yourselves for what I am about to say: the concept of creativity may be an anchor on our effectiveness as marketers. Countless drafts of copy, even these articles, researched, written, researched again and binned because, 'This topic has been done to death' or 'I'm just not feeling creative enough.'
You can spend hours making a really catchy creative headline to see it pale against its simpler benefit-driven alternative in an A/B split test.
_
Related: The 'Dumb ways to die' campaign was recently named best of the decade »
–
One of the first lessons I learnt professionally in marketing is: don't try and be cute with your benefits or your message.
I had all but forgotten that lesson till I saw the effect of Tourism WA's #justanotherdayinwa campaign. That assonance and euphony! Such well-crafted phonaesthetics the work of someone highly proficient in English literature.
An aside: Apologies to Cummins and Partners. I am critical of this because it is something I would have done as a younger marketer and I never got the chance to see if those ideas would have succeeded. I saw your hashtag and respect the work for its phonological rhythm and rhyme. It had what I've always considered to be a winning formula, then I saw it go viral for the wrong reasons and thought: where did I go wrong?
Then you realise: creativity in and of itself is, as we say, is 'as useful as teats on a bull'. There isn't a marketing or media-savvy commentator who hasn't already shown their lack of surprise that this hashtag campaign got #hijacked in a heartbeat, as Stephanie Buckland, Tourism WA CEO said: "West Australians tend to be blasé about the beauty and uniqueness of our magnificent state. So what is seen as extraordinary for a visitor is just another day in WA for us."
Crediting the West Aussies' blasé attitude and sarcastic satirical humour – or in other words, we kind of, whinge, a lot. I know your finger is on the dislike button Perthians but before you do, did you know there are 44 separate Facebook groups for 'Perth: have a whinge'? That is more than any other state capital city in the world.
Now most commentators are asking, 'What were they thinking?' I bet it sounded like a winner around the boardroom table. 20/20 hindsight is a wonderful thing now we can rationalise why it has had this effect and not the desired effect of this brochure.
What can we really take away from this campaign? Creativity needs strategy.
Strategy is not just what media to use, but more importantly it is 'why' you are going to do it. Perhaps a foray into the 'why' of strategy would have pre-empted the likelihood of West Aussies behaving as they always have.
Social media as a channel under a strategic microscope should consider that consumer behaviour has changed dramatically. Influencer marketing is almost completely peer to peer on a scale offline marketing doesn't share and it's not always in our favour.
I know the fun police are here to stomp on our creative parade, but risk analysis should be a key component of any business decision.
Research, data and testing should be conducted with risk analysis in mind, not self-validation.
All of which serves to remind us of the Scotchman's remark that many use statistics as a drunken man a lamp post: more for support than for illumination.
* * * * *
* * * * *