YouTube to flush out haters with linked Google-wide accounts
YouTube is encouraging users to link their account with their other Google accounts, a move which would see real names used instead of anonymous monikers and potentially make users think twice before posting negative comments.
The video-sharing site wants users to show their full name and picture by linking to their Google+ account, thereby creating a single Google-wide identity for a more seamless experience. Linked accounts have been part of the YouTube sign on process since March, but existing users who missed out on linking will be prompted with the option of unifying their YouTube personality with their master Google account.
Digital culture news site Mashable speculates that one of the reasons behind the move was to reduce the amount of negative and hurtful comments the YouTube community makes, a characteristic of the platform that Julia Gillard was exposed to after being called "immoral" and as domineering as "Chairman Mao" following her Google+ Hangout last week. At Google's recent I/O conference a developer said the site would be undergoing some changes to prevent bullying in the comments section, Mashable reports.
Instead of hiding behind a nick name, users with a linked account will go by their real names as displayed on Google+ when commenting on and uploading clips. Users will be able to remove old comments they may not want to associate with publicly, by reviewing their content which also enables editing of old playlists and videos.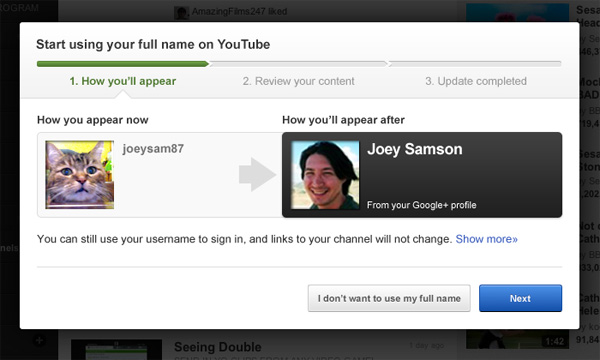 "We're giving you the ability to change how you appear on YouTube, with the option to use your Google+ profile on your YouTube channel," YouTube writes on its blog. "One Google-wide identity was something that proved popular with new YouTube users when we began offering it in March, so we are now extending it to existing users."
YouTube now asks users if they want to use their full name when leaving a comment. Users that decline must then choose a reason for doing so, such as 'my channel is for a product, business or organisation' or 'my channel name is well-known'.
"We'll help you review your YouTube content before your full name starts to display," YouTube says in a message. "And if you change your mind, you can switch back to your username."
The change will not be forced upon users. "We realize that using your full name isn't for everyone. Maybe people know you by your YouTube username. Perhaps you don't want your name publicly associated with your channel," YouTube writes.
The prompts will first appear to users in the US, with plans to roll out internationally soon. Brand channels won't yet have the same option to link Google+ and YouTube, but may be offered the opportunity in the future.