Absolut creates Metaverse Coachella experience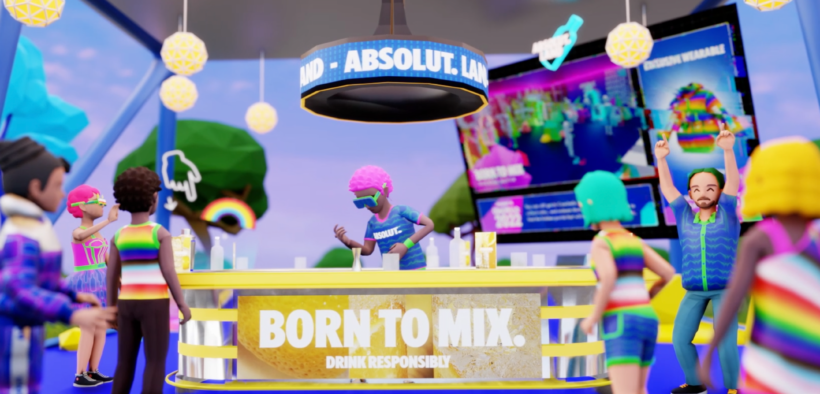 As if Coachella wasn't already sufficiently divorced from reality, Absolut intends to blur the lines between the physical and digital worlds even more.
To celebrate the musical festival's 15 April return, Absolut is debuting Absolut.land – a virtual location in Decentraland. The digital fixture features a bottle-shaped club, complete with a bar, anti-gravity dancefloor, and other activities. There's also a hidden token that would grant its finder – and a friend – access to the real Coachella.
This is all fine and dandy – standard metaverse stuff. However, what's unique about Absolut's concept is its attempt to integrate it with Coachella's live event. 
Apparently, there will also be an Absolut location at Coachella where festival-goers can interact with their digital equivalents. For example, people at the IRL concert can become bartenders in the metaverse version.
I don't know why digital celebrants would want a "drink", but it's still cool.
There will also be a kiosk where digital and physical participants can mingle in real-time. 
What's the potential for marketers?
Theoretically, there's no limit to the number of people you could reach with this sort of activation, aside from the fact that not everyone has the requisite technology – at least not yet. It may also be cheaper, if you only have to build one digital location that can be replicated an infinite number of times. 
Marketers should observe see how the on-site and digital activations are received by festival goers. Digital attendees may enjoy the activities and community, but how much value will this really add for IRL visitors? If they enjoy the concept, it will pave the way for more integrated physical and digital events. If not, brands may need to consider how they can capitalise on real-life events in a way that's not contingent on the participation of physical attendees. 
Assuming you have the gear, be sure to visit Absolut.land when Coachella starts and enjoy the festivities.