Australia has 3 million .au domain names and rising – AusRegistry
More than 3 million domain names ending in .au are registered in 2015, one of the highest volumes per capita in the world, new research from AusRegistry has revealed. 
The number of domains ending in org.au and com.au is on the rise. So we have all these domains, but what are we doing with them? Are we simply stockpiling as common domain names become harder to attain, or are we getting true value out of them? AusRegistry not only gives us an insight into what types of sites are registered, but also how we use them.
25% are one page sites,
9% are placeholders,
53% are content sites
2% are Blogs
In 2014 71% of domains were utilised for business purposes, yet only 12 months later this has dropped to just 51%. The statistics above suggest Australians are not utilising the .au domain names – and even the ones that we are using, we are not using properly. The AusRegistry report listed almost half of .au websites as 'technically poor' to 'fair'. In fact, only 12.6% of domains were 'technically very good'.
The report suggests with domain names being under-utilised, opportunities present themselves for web developers, graphic designers, marketing specialists and SEO specialists to impact upon a relatively immature market.
Only 23% of domains registered a 'good' or 'very good' score in relation to SEO. In partnership with further investment in SEO, domain owners are advised to invest in mobile friendly websites (due to a change in Google's algorithm which rewards websites that are mobile friendly).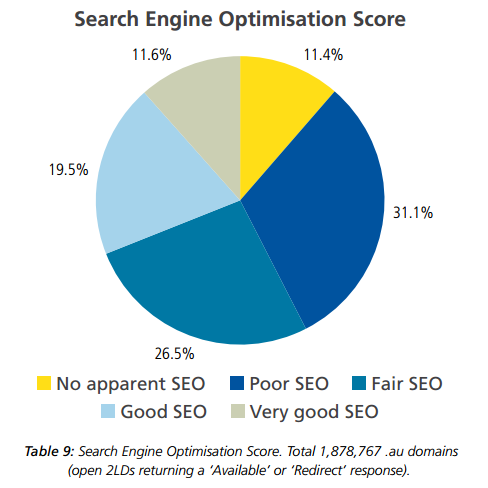 As shown above, 42.5% of .au websites received poor to no SEO scores.
"There is great potential for website owners to improve SEO and increase the success of their enterprise," the AusRegistry report says.
"Additionally for service providers, there is opportunity to provide SEO services to existing customers as well as market SEO services to potential customers."