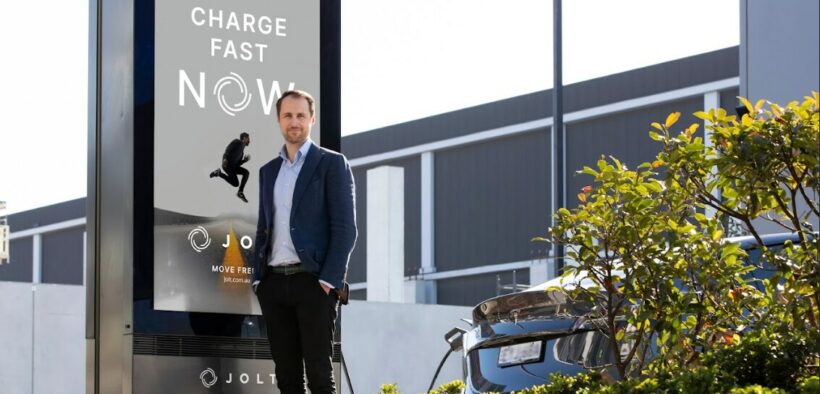 Most public attention directed towards the EV industry focuses on the vehicles themselves, but there's an Aussie start-up making moves in the servicing space.
Australian EV charging station company JOLT has entered into a deal with communications technology company TELUS to see 5000 chargers installed across Canadian cities, beginning with Vancouver and Toronto.
"Canadian cities have some of the highest EV uptake in North America and free public charging will make it even easier for Canadians to own an electric vehicle," says JOLT CEO Doug McNamee.
Marketers should find JOLT interesting as it avoids charging for charging, by subsidising costs through integrating advertising into its stations. The 'out-of-home advertising' program gives brands opportunities in public spaces, and direct access to the EV drivers held captive while charging.
JOLT's street side chargers give EV drivers up to seven kWh of free charging per day, equivalent to roughly 50 kilometres of range. A similar offer will be in place in Canada.
Aussie EV chargers in North America
"As JOLT's newest international market outside Australia, this partnership with TELUS is just the start of our ambitious plan to build tens of thousands of sites over the next decade in major cities globally, starting in Canada later this year," says McNamee.
McNamee highlighted the importance of shared values of sustainability and innovation to the partnership with TELUS. The chargers will include TELUS public Wi-Fi capability.
The Canadian EV market is expected to have significant growth over the next decade, so this deal positions JOLT well for further expansion. By 2030, 13 million EVs are forecasted to be on Canadian roads and will require 200,000 chargers.
Outpacing the Australian market
Australians have been slow to adopt Electric Vehicles. In 2022, EVs only accounted for 0.78 percent of new car sales, well behind the global average of 4.7 percent.
So the company is expanding into the global market, having launched in New Zealand last year.
But in the last 12 months JOLT has also seen significant domestic growth, with an 84 percent increase in the number of chargers. Are Australian consumers finally jumping on board?