Coca-Cola Amatil's new premium alcohol experts are bringing its brands to life through storytelling and education
Coca-Cola Amatil has launched a new brand ambassador program, The Exchange, which aims to take a personal approach to strengthening the brands in its premium portfolio.
In a bid to strengthen the traditional sales staff model and keep up with consumer demand for storytelling around brands, the company has hired five industry experts to dedicate themselves to enhancing its brands. The Exchange experts are involving themselves in everything from educating sales staff and bartenders on how to use the products to hosting events such as whisky dinners with each course matched to a product.
Keeping themselves busy covering their states' entire markets are: Dan Woolley (Queensland), Michael Nouri (New South Wales), Sarah Miller (Victoria), Patrick Allan (South Australia) and Bill Bewsher (Western Australia).
Some of the key brands they are focusing on include Jim Beam, Canadian Club, Knob Creek Bourbon, Laphroaig, Sauza Tequila, Courvoisier Cognac and Australian Bitters.
Just a few months into launch of the new concept, Marketing chatted with Julian Train, Coca-Cola Amatil's national future brands manager for its alcohol and coffee division, to find out all about what it involves.
Marketing: Please take us through what The Exchange is and how it came about.
Julian Train: Well The Exchange is effectively CCA's premium brands strategy, so it's the way that we're taking our premium portfolio to the Australian consumer. Really where it came about was the need to structure ourselves and be in-line with what's happening in the market right now. We know right now that people are very interested in the brands that they are engaging with, whether that is cosmetics, breakfast cereal, alcohol – whatever it is, they want to know the story behind it and they're interested in brands that are authentic and have a history. We're quite lucky with our portfolio with brands like Maker's Mark, Canadian Club, Jim Beam, Sam Adams Boston Lager… there's a lot of stories to tell in there, so really The Exchange is all about the way that we structure ourselves to tell those stories to people that are interested in the wider community and also to help out our customers with passing on the stories as well. It's a multifaceted program and we've got lots of plans ahead.
M: How did you collect those insights to decide to go in that direction?
JT: We know, and it's not a short-term trend, certainly over the last decade, when you look at the data, anything that's classified as a premium spirit is in double digit growth, anything that's in mainstream or below that is flat or in decline. So that says very clearly that people are interested in more premium brands. We also know that people are actually spending less on alcohol but buying better. We know with social media and the internet people now have the ability to really research their brands, understand their brands, so the job of the marketer is to open dialogue and really talk about the brands openly, which is a bit different to the old days where it was about telling a wild story and building campaigns around that. We also know that people are sharing their experiences.
I read a stat the other day that last year in America 29 million people posted food and drink images online, that's individuals, so they might have posted multiple images themselves. So people are wanting to share their experiences when they're out and about and that's not just in food and drink. Part of what we're doing is creating memorable experiences for people to try our brands and hopefully get to know them when they're out and about in the on-premise, so that when they head into their bottle shop they've tried them and might consider buying them.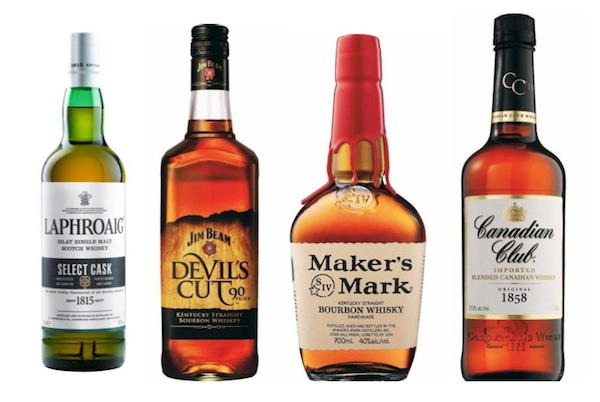 M: Great, so let's go into the detail of how this works. You've got a group of brand ambassadors that go around to different bars?
JT: Yeah, so there are two teams in The Exchange at the moment. One team is effectively a sales force, and so really they're focused on what we call influencer accounts, and that's based on the way that you're thinking when you're out and about. If I take myself as an example, if I go to my local pub on a Wednesday night, my mindset is normally I'll have a beer that I know and whatever food I'm familiar with, sit down and have a great night. If I go to a high end bar or a restaurant, my mindset is automatically, 'What can I try that's different?' so we're trying to work with venues where people are in that kind of mindset, and this sales force is dedicated to those outlets.
M: So mostly higher end bars?
JT: Yeah so not necessarily, there's pubs in there, all the higher end cocktails bars, we've got some really nice boutique independent accommodation and we actually work with some independent smaller specialist retailers as well, so places like The Oak Barrel in Sydney for example. It's really about finding the spots where people are going out and wanting to try something new, and those guys' job is to obviously get our brands into those venues and work with the customers on what they're doing. If a small bar's got a rum focus and they're doing specific nights or they're engaging with their customers in a certain way, we're structured to be able to tailor what we offer them. We've got a dedicated agency in Melbourne that we work with that work with us to create activity specific for a venue.
M: And that includes more than just point-of-sale signage and that kind of thing?
JT: It could be anything. I'll give you a couple of examples. We're working with a couple of restaurants at the moment with Laphroaig whisky, a super peaty, smoky whisky from Islay in Scotland. We've identified an opportunity with the restaurants – on their entree list they had natural oysters, and it just so happens that a few dashes of Laphroaig with natural oysters is pretty much a match made in heaven. So it's great for the customer, because obviously they sell a half shot of Laphroaig, and so what we've done is we've created these little medicine droppers that the customers use, and so they sell that as a part of their entree, and you just drizzle a couple of drops on Laphroaig in the oysters.
We've had venues up in Brisbane wanting to do pre-batched cocktails, which is a bit of a thing at the moment. We worked with them on sourcing these beautiful ceramic hip flasks and they're using Maker's Mark bourbon in those hip flasks, doing pre-batched cocktails in there and serving them out to customers in a really premium way. And of course we can print up cocktail lists and point of sale, all that sort of stuff.
But quite honestly in the premium stuff, point of sale doesn't really play a big role, it's more about what bartenders need, what the customers are working on and how we can really add value to what they're doing. Because the customer's going to go into the venue and try something new and have a memorable experience in that bar, and for us hopefully they remember the brand that they experienced that with, and certainly they have a positive feeling about the bar as well, so it's great for everyone, really.
M: You said there were two teams. So that's the sales force, and what about the other one?
JT: There are about 800 accounts nationally in the sales force, and then separate to that we've got five dedicated premium spirits brand ambassadors, and they really focus in on our spirits portfolio and their role is across the market. We've got over 300 sales people in our company and their role is really three-fold; it's about getting our sales force more knowledgeable and more passionate about our premium brands.
That's training up our staff internally, it's about going to bartenders and training them up on the brands, and it's consumer events as well; going out and we're hosting whisky dinners and helping to sponsor events and providing talks and that sort of thing around the country, really adding value. In the case of a bartender for example, its all very well having 400 things on your back bar, but unless you know a couple of things about that brand there's absolutely no way that you're going to recommend it to someone.
But if you know the stories and the history and the heritage and you've tasted it yourself, then you feel more confident as a bartender to offer that. Don't forget people do go into these venues wanting to try something new, so they're actually offering a service. If you've got a bartender who can confidently recommend something and how to drink it in a cocktail, everyones happy.
M: What are some other examples of the kind of work they've been doing?
JT: One of our brand ambassadors is a guy called Dan Woolley, who is regarded within Australia as at the forefront of whisky knowledge. He's very, very involved with the industry in general. We've been doing lots of consumer events, for example, in a really nice restaurant having people come along and pay a set fee per head, $60 and come along and have food cooked by a chef, matched to our bourbon portfolio. You might try Makers Mark with an entree and then move through the portfolio through the dinner. Lots of trade training's happening as well, and support with key events – we were involved with Bar Week that's just happened. We're very involved with the industry generally but we're very much still a new team.
M: But it sounds like you have big plans. How do the brand ambassadors work with retailers?
JT: We're working closely with retailers, for example, we've got a program called The Whisky Trail in which we're working with some independent retailers. In return for them stocking a certain amount of our premium Scotch whisky portfolio, we'll go in and offer over and above training, gift with purchase activity, point of sale and gift bags and that sort of stuff. We've got specific programs in place that the team are really driving out in the market and we've had some really positive feedback as well. I think for our sales guys it's been really helpful to have experts at their side when they're out and about. We have a very broad portfolio of over 50 products just in the spirits side of the business, so these guys have got to know a lot of things.
M: So just going back a bit, how did you choose the individuals for the brand ambassador roles?
JT: We worked with industry contacts, we didn't necessarily advertise too widely for this. They're fantastic jobs; you could imagine it's a hard job but its also a really fun job. We picked people with at least 10-plus years experience working in the hospitality industry. People who'd opened their own bars… and really we just got into our good old social networks and found people in that way. Luckily for us, it wasn't hard to find great people because its not a tough portfolio to talk about.
At the moment the people in Queensland, New South Wales and Victoria are all full-time, and in South Australia and WA they're three days a week. Patrick [Allan] in SA actually owns his own venue and Bill [Bewsher] in Perth is very much still working within the industry as well.
M: Just finally, what are the goals of the program? Have you got some specific targets you're hoping to reach?
JT: Our goal is really to become true business partners for our customers; we really want to make sure that we're known as the people who can tailor our offering and really offer the support that our customers need. So I think the end result of that for us will be more of our products on back bars and in fridges around the country, and we also just want to create a bit of excitement for our brands and a bit of talk. We've got some really exciting activity coming up next year that we're looking to put into the marketplace. and hopefully it'll be well-received.
M: What can you tell us about that so far?
JT: Look, at this stage, I will say our brand Laphroaig, which is a peated Islay whisky, is turning 200 next year. We've also been doing some really great and interesting work with our craft beer portfolio, and around our bourbon and North American whiskey portfolio, we're hoping to create some really great activity in high-end bars around the country.
M: Interesting, we'll look forward to hearing more on that. Thanks for your time, Julian.
JT: No worries.