Grill'd skewers vegans, vegetarians, kale, lemons, detox, paleo etc etc, in branded content comedy series
Grill'd is making fun of paleo living, detox diets, vegetarians, vegans, kale, instagramming food… and so on, in a branded content online video series that parodies extreme dieting. 
The online video series was created to support the launch of the casual dining restaurant chain's new 'Low Carb Super Bun'.
Created by Magnum PR, which announced it had been appointed to the account just last week, has been published across the brand's social media channels and is being amplified by PR, influencer seeding and paid media including Mamamia and Pages Digital.
READ ALSO: Brand profile: How Grill'd rescued the burger, and how it plans to avoid 'mainstream' »
Building on the product's 'Healthy. Healthier' positioning, the 'Healthy Girl' video (below) takes, "a comedic approach to shine a spotlight on the extreme behaviours and general confusion around diets, food terms and exercise in a tongue-and-cheek way, ultimately conveying that with the introduction of the world restaurant first Low Carb Super Bun, 'Healthy just got easier!'"
'Healthy Girl' is live now and the second content video 'Healthy Guy' goes live at the end of November on the Grill'd YouTube channel:
A Simply Grill'd burger with the Low Carb Super Bun has 17.4 grams of carbohydrates, compared to the same burger on a traditional bun which has 47.4 grams of carbohydrates. In case you're wondering if it looks as good as it sounds, here is CEO Simon Crowe holding one: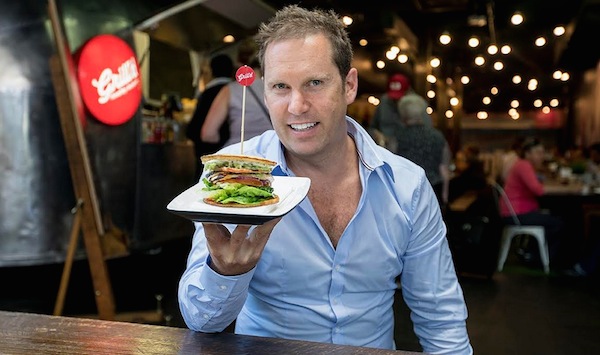 Crowe says: "As a brand we have never used above-the-line advertising and don't plan on doing so, hence the importance of word-of-mouth marketing, branded content and social media to get our brand message out there.
READ ALSO: Grill'd partners Vice in graphic animated content series »
"Our philosophy has always been about quality fresh ingredients and nutrient dense food, however more recently we've seen a lot of confusion out there and people going to some pretty crazy extremes 'to be healthy'" Crowe says. "At Grill'd we aren't interested in these passing fads, rather choosing to be guided by the latest research regarding the long term benefits of a low carbohydrate diet. With the Low Carb SuperBun, we can now offer all of the burgers on our menu as a low carb option, allowing more people to be able to enjoy burgers in a contemporary, premium and healthy way."