Insights on innovation with Schweppes' Ellie Vince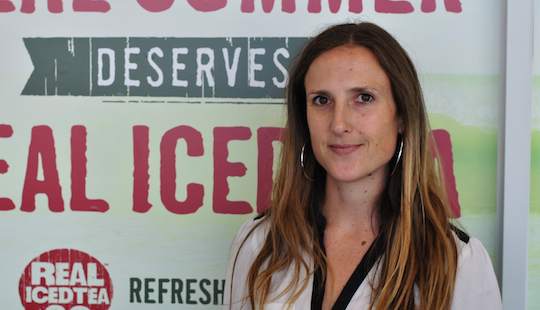 Schweppes has been known for innovative new products since Joseph Schweppe perfected the bottling of bubbles (the process of carbonation) and set up the company in 1783. Most recently Schweppes has been testing water enhancers in the Australian market. In this interview, Ellie Vince, Schweppes head of category leadership (formerly head of innovation), discusses the company's approach to innovation in 2015.
This is the first interview in the Innovation Inside series focusing on innovation, by Samuel Tait of innovation consultancy I/O. Innovation is a current buzzword but everyone's perspective on its definition and how it should be done is different. Innovation Inside interviews aim to go behind the hype to talk realistically with leaders of innovation on what they do and how innovation works within their companies.
Samuel Tait: What is your definition of innovation and what is innovation's role at Schweppes?
Ellie Vince: Innovation for me can mean so many things for so many businesses. It is interesting as the more people I speak to, the more people seem to be approaching it in different ways. I read a great quote that said innovation is something different that has impact. So I think there is innovation in general and then I think there is innovation at Schweppes and how we're tackling it at the moment. Innovation for me is anything new that has a commercial impact. For us at Schweppes, I guess the focus is specifically related to new product development. We are not just about breakthrough innovation but about getting time to think through innovation properly and generate change for our business. Something that will generate growth for the business beyond just doing the standard line extensions and new flavours – that businesses often get into the rhythm of doing.
At the moment innovation is set up as a separate team. More to start thinking about the future and (from a beverage point of view) how the world as we know it is changing rapidly – probably more rapidly in the last couple of years than I have ever seen it. I think for us it's about how do we get the headspace to start preparing for the future and how do we have one or two or three or four people where their exclusive roles are to prepare for that change and to make sure that for the next 10 years we are around as a business and very competitive as a company.
ST: What does your day-to-day look like as head of innovation at Schweppes?
EV: I guess, on a day-to-day basis, being in charge of deciding where we should be playing. From a business point of view it's about working with the marketing team, which deliver our products and brands to market today. My role is setting up our business for success over the next three to five years.
The innovation role we've created at Schweppes sits outside of our existing categories and existing brands. Our focus is on how we drive future growth for the business. The background to that is that we're in a really competitive environment where the acceleration of change and the speed of change are really happening faster than I've seen it over the last five years. If you've got consumer behavior and the world around us changing so quickly, then we need to change with it otherwise we get left behind.
For me, the innovation role is therefore aligned with category growth. What can we do to future proof our business, knowing the extent and pace of change that's happening at the moment.
ST: How do you approach innovation at Schweppes?
EV: 12 months ago we changed the way that we approach innovation. I was writing a presentation today about our rules for innovation and got to this space where teamwork is more important than it's ever been. It's about approaching innovation via cross-functional teams, where you get cross functional thinking, rather than working in silos like innovation used to be approached.
I think the other thing is speed. Speed is really critical, because there's no point in us spending two years developing a new idea or a new concept. By the time we get into market, the market's moved on. Obviously by that time, there's probably 20 other players working in that space, and getting retailer acceptance and then consumer sales would be near impossible, so speed's really important.
ST: Have you taken on board some of this approach from other industries?
EV: We are trying to do things fast and inexpensively. I think that's a new way of us thinking as a business, where we are aligned to that part of start-up philosophy. I think from top down, that's how we want to approach innovation moving forward.
That doesn't mean taking really big risks, it means taking calculated risks. If something is not going to work, we want to know quickly that it is not going to work. We either want to be able to take action to improve it and make it work, or we want to be able to walk away from it without investing a heap of money behind it. We focus our efforts on initiatives that are going to work for the long term.
ST: What do you see as one of the biggest problems facing Schweppes at the moment?
EV: Consumer behaviour is changing, which is not necessarily a problem but an opportunity for us to understand how we might better meet consumer needs. Consumer knowledge is growing where consumers are reading more back of pack labels than they would have done 10 years ago. Rather than being big problems that we are facing its more about keeping up with the way consumers are seeing the world – that's the challenge.
ST: How is innovation helping address this challenge?
EV:For us now we work through a process where we make sure we are solving the right consumer problem. Whereas in the past we would have jumped straight to NPD solution mode. For example people think sugar is evil – so should we remove sugar from all of our products? Now it is about understanding what is the right problem that we should be facing. And that leads you or can lead you down very different paths. It might take a little bit longer in terms of getting to a solution but the solution does a lot better than it would have done if you had jumped to a solution straight at the start.
So if we take sugar as an example, it's about getting to the heart of the problem. There are people that are actively looking to avoid sugar because the biggest issue for them is putting on weight. So the problem then might be 'how do we help people maintain their weight'. So a solution might be using any way that you can to get to a no sugar claim or no sugar proposition or something entirely different like a fat burning drink. It might be using a different mechanic to get an end result. Where as if the problem is more around "I don't want artificial ingredients" then your solution has to be quite different at the other end. Because then it's about a natural drink solution without artificial ingredients, and balancing up the importance of taste.
There are lots of different problems to solve, so for us, understanding what is actually driving that behaviour to start with enables us to deliver the right solution for that consumer.
ST: How do you assess whether an initiative is going to work?
EV: This year we've done a couple of trials in market. Again, using that start up mentality about how to do something that's more scaled. Getting something to market that might be 90% right, and you know that you can tweak that last 10%. Actively learning in a real environment rather than using a staged research approach to try and get the results that you're looking for. Then setting and measuring KPIs through the trials.
ST: Could you provide a more in-depth overview of how you have taken this journey – taking a product into a test market?
EV: We recently developed a new product called 'flavour boosts', which is a small pack of liquid flavour that you can carry in your pocket, so you can flavour up your water when you want to.
In the Australian market you've got this whole trend toward health, people are wanting to drink more water, but they're finding water really dull and boring. Anything that can make water more exciting, whether it's bubbles or flavor – starts to drive consumption. Obviously the cordial category delivers to that need, however is really limited to in-home usage. There are one litre, two litre bottles that generally sit in your pantry, but it's not something you would take to the beach or when you are out and about, and it definitely doesn't fit in your pocket.
What we identified was that there was this huge category that was growing over in America – portable flavour for water, which addressed the same need Australian's were facing here. You can customise it so if you like a strong flavour you can add a lot, and if you like just a little then you add a tiny bit.  Ultimately it's about control and making your drinks personalised to suit your taste.
Therefore last year we tied up with a couple of key customers to run an in-market trial in South Australia. We launched two brands as part of the trial – one was under the Cottee's brand called Cottee's Squirt and the second one was a new brand called Lqd+ so we could understand and track the size of the opportunity. We ran test cells within those customers so we could understand where it was selling best in terms of location in store, different price points, different promotional strategies and then we also ran advertising to support it. So we were able to test a number of different metrics to determine a) whether it was successful, and then also b) if it was successful what levers we could pull to make it more successful at a national launch.
READ: Schweppes is testing the water enhancer category with two distinct brands »
We chose South Australia because it is relatively contained. Both from a product supply point of view, and also we could simulate what an actual launch might be like so that we could learn. The plan was to simulate in one state what a national launch might be like. Therefore we ran a communications campaign specifically in South Australia. Again, just going back to that start-up philosophy, if it's going to fail, let's fail inexpensively. If we had done this through New South Wales or even Sydney, you'd be spending a fortune. In South Australia we could spend lower amounts of money on media and get great coverage.
It ultimately lowers the risk. It lowers the risk for us to do a small-scale launch in one state or one customer. It allows us to fail fast and get out and get onto the next opportunity. More importantly for this opportunity it was about learning. The amount we were able to learn to improve and build for a national launch has been immense. Obviously it is easier to scale up for a state launch than a full-scale national launch. You are learning lots of things that you can build into a full national launch which takes the risk out of it, gets the business on board and makes it a lot easier to get a new product across the line.
ST: In regards to that experience, have you ever done that sort of program and activity before?
EV: We've done trials before through retail partners or we've done an exclusive period through specific accounts nationally. Not much at our business has been done where we've completed a one state trial. The value I guess with doing the one state trial is that we stop at a point in time, we analyze and understand what to do next and what we learned. There are a couple of options. One: it did not work, and we decide to withdraw from the market, or two: it's working pretty well, but we can improve, so let's make those improvements and then scale it up for a national launch.
Watch out for the second part of our interview with Ellie Vince, head of innovation at Schweppes in the next fortnight. Part two on operations of innovation will cover execution and the processes to support this, measurement, the use of cross-functional teams, how to use external expertise and her advice on what makes a successful approach to innovation.