The payment platform powering Pablo pop-up pandemonium
When a global hip-hop star like Kanye West decides to launch 21 pop-up stores around the world on one weekend, the choice of point-of-sale platform is integral to pulling it off smoothly and profitably.  
In a big publicity win for mobile payment platform Square, a pop-up store event by Kanye West is exclusively using it's technology for the stores in Australia, the US and Canada, which comprise the majority of locations.
West's international pop-up store experiment has seen fans camping out to be the first in the doors at the 21 international locations. The stores will sell merchandise from West's recent album Life of Pablo.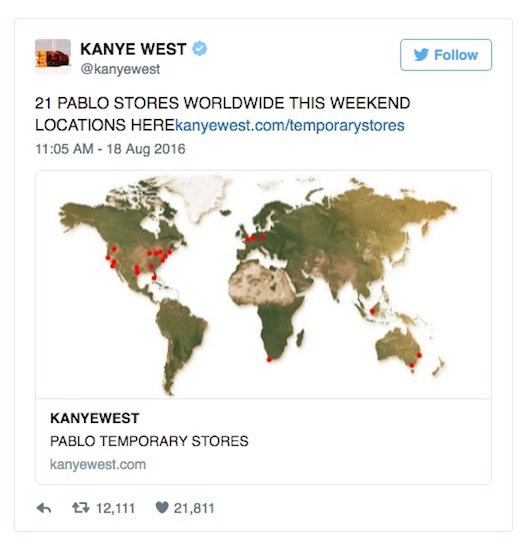 The previous Pablo NYC pop-up store reportedly generated more than $1 million in a weekend from fans eager to purchase West's The Life of Pablo clothing collection. Square Reader will be powering the Melbourne and Sydney Pablo pop-ups with point-of-sale and credit card acceptance.
Square, founded and run by Twitter cofounder Jack Dorsey, offers tools for accepting credit cards and tracking inventory to real-time analytics and invoicing. Square Reader, the mobile device for swiping cards with a smartphone or tablet device, has been available in Australia since March 2016. The company's key message is that event organisers require simplicity and reliability in running operations, training staff and tracking sales in one place.
In Australia, Square has provided point-of-sale and card payments for events including Flour Market, Spring1883 and the upcoming 2016 Melbourne Spring Fashion week. Globally, Square has been used at major events including Coachella and Panorama.