Martech news: leading digital marketing analytics platforms revealed
News in the marketing technology world includes results of the latest Gartner Magic Quadrant results for digital marketing analytics, progress in the Outdoor Media Associations RFP for a world-first automated media buying platform, new data analytics services launched by Nokia Networks, a partnership between Omnicom Media Group and Integral Ad Science and a call to the TV industry from SpotX.
Gartner Magic Quadrant for Digital Marketing Analytics
Adobe, SAS and Google have emerged as leaders of the new 'Magic Quadrant for Digital Marketing Analytics' by Gartner.
The 'Magic Quadrant' reports compare vendors on two axes: completeness of vision and ability to execute. The platforms must be stand-alone. In this case, Gartner compared specialised analytic applications used to understand and improve digital channel user experience, prospect and customer acquisition and behaviour, and to optimise marketing and advertising campaigns.
The report compares platforms across five key areas of digital marketing analytics:
Data integration (ability to analyse data that sits in different systems),
exploration (provide tools such as visualisation tools to explore data),
advanced models (advances methods such as predictive analytics and machine learning),
extensibility (easily connected to executional channels), and
measurement (modern attribution and mix modelling capabilities).
Here's the magic chart: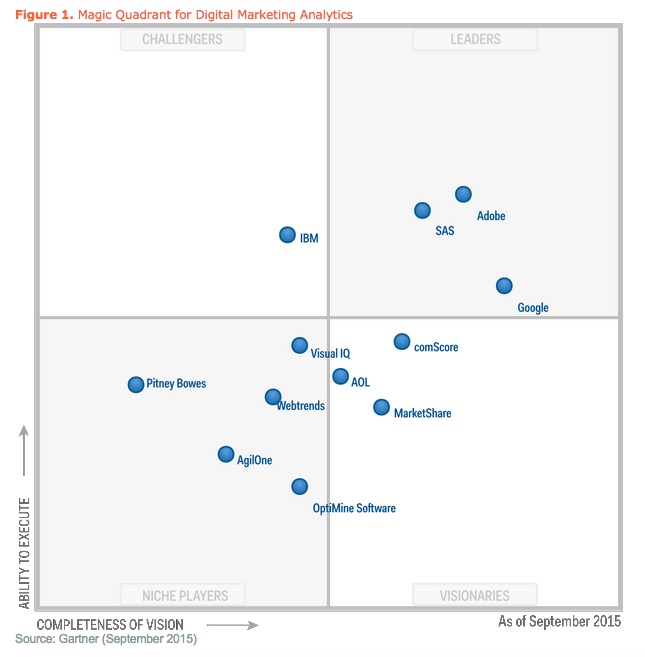 OMA impressed by response to call for automated outdoor media buying platform
The Outdoor Media Association (OMA) is planning to launch an automated transaction platform in 2016 that will create a one-stop hub for the buying and selling of out-of-home (OOH) media across all formats in Australia.
After calling for expressions of interest in June, the OMA said today that 20 parties have responded. Responses have been received from companies and consortiums based in Australia, the USA, UK, Spain, India, Dubai and Portugal.
"We have been impressed by the calibre of responses to the EOI," said Grant Guesdon, GM of MOVE (Measurement of Visibility and Exposure), said in a statement to media. "It's a challenging project so it is heartening to see the wide variety of technology solutions presented by the proponents.
"We believe garnering this much national and international talent bodes well for the development of this platform which will be a world first for the out-of-home industry."
All respondents are currently being given the opportunity to speak to their proposals and demonstrate their capabilities. The OMA says its intention is to invite a shortlist of parties to respond to a detailed technical specification as part of the RFP. It is expected that the RFP will be released in early December 2015 with the winning company or consortium announced in February 2016.
Nokia Networks launches two analytics services
Nokia Networks – the division of Nokia that provides broadband infrastructure, software and services to telco operators – has launched two analytics services for its operator clients, helping them tap into growing advertising revenues by monetising their data.
The first, Nokia Ad Analytics, helps operators capitalise on their customer insights by delivering anonymous and accurate subscriber data to advertising networks for use in mobile ads and digital billboards, enabling operators to generate new revenues.
The second, called Nokia Big Data Consultancy, is a new service using Nokia Networks' expertise in data science and analytics to help operators to grow their subscriber revenue.
Announcing the two new services, Nokia Networks cites a recent study by 451 Research that forecasts the total market of telecom data as a service to reach $79 billion by 2020.
With Ad Analytics, Nokia Networks is banking on the suggestion that two of the most promising use case areas are mobile advertising and proximity advertising.
OMG begins to address display advertising's flaws
Omnicom Media Group has announced a partnership with Integral Ad Science to begin to address the industry issues of ad fraud, viewability and brand safety.
The partnership will see Omnicom Media Group agencies use the Integral Ad Science suite of tracking across all clients.
TV industry must unify broadcast and unicast business models: SpotX
Programmatic TV has reached an important juncture, says video inventory management platform SpotX, calling on the TV industry to unify 'broadcast' and 'unicast' business models to monetise all inventory at rates reflecting its true value.
"Unifying fragmented audiences with cross-channel horizontal yield management will help media owners drive rates across every distribution channel," the company said in a statement announcing a new white paper.
The TV industry must focus on the unification of two distinct content business models – broadcast and unicast – to capture the shifting ad dollar, SpotX believes.
"Gone are the days of valuing digital video as an audience extension of TV inventory," says VP of programmatic TV for SpotX, Randy Cooke.
"The distinction between these business models isn't exclusive to the device a consumer is using.
"Rather, the distinction lies in whether the value of audience at the moment of content consumption is transparent."
"Broadcast lacks real-time audience discovery, instead monetising ad units whose value is inferred from sample-based estimations of audience," Cooke says.
"As more content distribution points that were traditionally delivered through broadcasting technologies move to IP-based infrastructure, media owners need smarter, better-integrated tools to holistically manage inventory.
"To realise the value of all content distribution points, the industry must optimise yield through a horizontal inventory management approach that can only exist in a confederation of broadcast and unicast business models," Cooke says.