Martech news: Zendesk, Bigcommerce, Twitter, Odoo, Salesforce, Facebook, Oracle and DMPs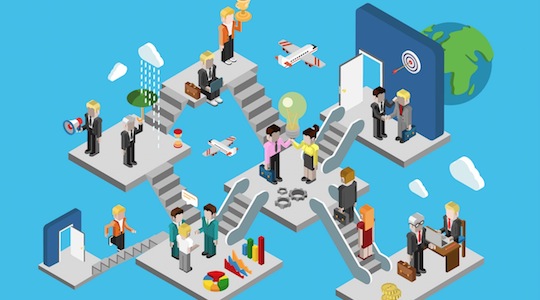 In marketing technology news this week, Zendesk launches a predictive analytics feature for customer service contacts, Bigcommerce and Twitter bring 'Buy Now' button to the mid market, latest OS market share stats, DMP survey, Odoo's big claims.
You can now predict conversations at risk of bad customer satisfaction before they occur
Zendesk has announced a machine learning and predictive analytics feature for customer satisfaction.
The feature, called Satisfaction Prediction, leverages historical satisfaction survey results to predict conversations at risk of bad customer satisfaction before they occur.
Satisfaction Prediction uses predictive analysis of customer signals to generate a simple 0-100 score (0 being that lowest satisfaction and 100 the highest) each time a customer service ticket is created or updated. This allows agents or managers to prioritise workflows, drive business rules, or trigger downstream integrations based off a dynamic rule that combines the intelligence of thousands of customer signals. A machine learning model is automatically generated, through big data analysis of live account data, to create a unique, personalised customer service prediction model for each Zendesk customer.
Bigcommerce and Twitter partner to bring 'Buy Now' to mid-market
Australian ecommerce platform Bigcommernce has partnered with Twitter to support Buy Now, a new sales conversion tool that enables merchants to promote and sell products natively across the social network's desktop, mobile and tablet apps.
Tweets including links to products sold by Bigcommerce clients will be automatically transformed into 'buyable' Tweets allowing buyers to search, discover and purchase products in-the-moment directly within the timeline.
Latest OS marketshare results
Kantar Worldpanel's results for OS market share in June, July and August 2015 showed that the US market share for Apple iOS at its lowest point since August 2014, probably as consumers waited for the new iPhone 6s and iPhone 6s Plus to launch.
In Australia, growth for Apple's iOS accelerated in this period, with share of smartphone purchasing rising from 29.3% to 37.8%, equating to a volume increase of 75% (vs +35% for total smartphone).
While volume sales have grown for Android over the same period, the increase is lower at 12% and, therefore, share has dropped by 11 percentage points.
Samsung's share has fallen from 35.1% in August 2014 to 33.7% in August 2015, with volume up by +30% year on year, aided by strong sales of the Galaxy S6, which now takes the number-two spot, and continued sales of the Galaxy S5, which ranks third.
Overall for Android, Samsung flagship model sales are healthy and other brands such as Huawei, Acer and Asus continue to gain momentum, the decrease in Android share performance continues to be driven by the sharp losses experienced by Sony and HTC.
Most marketers with DMPs have only tapped into them for display advertising
ExchangeWire and Oracle Marketing Cloud have released a study that examined the extent to which DMPs are used across the media and marketing industry.
It found that, in the APAC market, 67% of respondents reported their DMP has been operational for less than a year.
The number one objective for media buyers who implement a DMP is to improve ROI, while the biggest barrier to implementing a DMP reported by both media buyers and sellers was removing or replacing legacy technology.
Regarding how DMPs are being used, 76% of respondents said they activated display retargeting via their DMP, 71% said they activated display prospecting activity, 48% reported activating video, 38% mobile, 38% email, and one-third reported activating paid search and paid social via their DMP.
According to the report, 80% of all marketers expect to see ROI within 12 months of implementing a DMP.
Opera Mediaworks brings viewability buying to mobile video
Mobile ad platform Opera Mediaworks has announced that its software development kit (SDK) for Instant-Play mobile in-app video ads has been integrated with Moat Analytics, meaning advertisers will have the ability to transact on viewable in-app video impressions.
While viewability standards have been set for desktop inventory, an industry standard has not yet been finalised for mobile, but Opera says a growing number of advertisers and premium publishers want to buy and sell mobile in-app ads based on viewability.
Facebook Lead Ads: Oracle and Salesforce confirm compatibility
Facebook's newest advertising solution, Lead Ads, allows businesses to more quickly and easily capture lead information by pre-filling digital forms with customer information and decreasing the friction involved with sharing this information.
This will allow enterprises to collect lead information quickly and ensures that these Facebook leads are effectively captured in a secure system.
Both Salesforce and Oracle Marketing Cloud have announced that their platforms support Lead Ads.
Odoo says it can replace every piece of software for running a business
With the launch of Odoo 9 that platform says it is moving quickly and aims to become the 'all in one' solution of choice to power a business, with apps for ecommerce to CRM, ERP, and accounting, and marketing.
From the media release:
"Imagine a software that can simultaneously replace Magento (for e-commerce), Salesforce (for CRM), Xero (for Accounting), SAP (for ERP), and a myriad of other software from Trello (Project Management) to Slack (for Employee collaboration), MailChimp (Email marketing), Survey Monkey (Surveys)  and many others. While it may seem impossible, Odoo has quietly done it over the last 10 years, powered by its R&D staff and an open source community of 2000 developers."
Formerly called OpenERP, Odoo launched its cloud product two years ago, and now claims thousands of SME users.