Media owners' message to boardroom bosses: Advertise or Die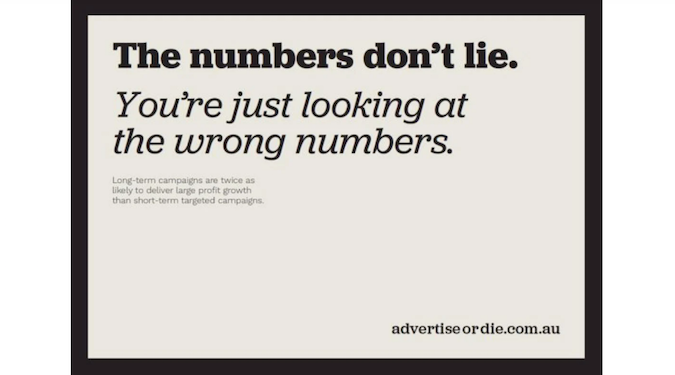 A record number of Australian media owners have joined forces to launch the 'Advertise or Die' campaign.
The campaign, launched by a number of high-profile media owners and their respective industry bodies, is a call-out to remind the nation's CEOs, CFOs and CMOs of the long-term importance of advertising.
The "record number" of partners involved include ACE Radio, Australian Radio Network, Foxtel, Grand Broadcasting, JCDecaux, Macquarie Media, News Corp Australia, Nine, Nova, oOh!media, Seven West Media, Southern Cross Austereo and 10.
Industry bodies ThinkTV, the Outdoor Media Association, Commercial Radio Australia and NewsMediaWorks are in support of the campaign, which began yesterday.
Using (and promoting) outdoor media, radio, premium digital, print and TV, the awareness campaign has the tagline 'If your brand's not here, it's nowhere' and directs its audience to advertiseordie.com.au
The website features a number of statistics, case studies and resources outlining advertising's important impact across digital, TV, radio, print and outdoor.
A full 'Advertise or Die' campaign featuring a "high-profile celebrity who understands the value of advertising" will roll out to the partners' channels the coming weeks.
Prominent marketing educator and commentator Mark Ritson has been named as an 'Advertise or Die' spokesperson. For those in the boardrooms around Australia, he has three messages:
"First, continue to invest money in advertising, not just despite a tightening economic situation but because of it," he says in a release.
"Second, make sure at least half your budget is invested on the top of the funnel and on long-term brand building, not just on short-term spending. And finally, don't fall for the siren song of new, exaggerated media opportunities at the expense of proven long-term, brand building media."
The 'Advertise or Die' homepage offers seven rules for effectiveness:
Focus on building mental availability for your brand
use advertising to create distinctive assets for your brand
get emotional
get creative
be consistent
reach wide with advertising, and
balance media.
The campaign has been developed in partnership with Publicis Groupe's creative team at Saatchi & Saatchi.
Further reading:
Image credit: advertiseordie.com.au