Val Morgan to deliver an industry "quantum leap" with programmatic OOH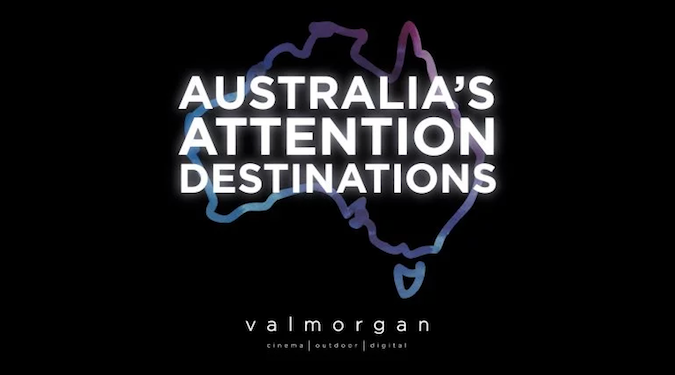 Val Morgan will bring programmatic outdoor advertising to the Australian market for the first time in early 2020, along with an updated cinema audience measurement tool.
Part of its Upfronts announcement today, Val Morgan Outdoor (VMO) will formally introduce a 12,000 screen-strong OOH programmatic platform to Australian advertisers. According to the outdoor media provider, the launch will be underpinned by the largest inventory of digital outdoor in Australia.
According to VMO managing director Paul Butler, VMO has developed the programmatic trading model with six months of in-market beta testing with selected clients.
"VMO's programmatic approach will usher in a new era of outdoor advertising, delivering clients improved transactional simplicity coupled with superior audience targeting capabilities," says Butler.
According to Butler, the market is at a "tipping point," and programmatic trading is expected to account for 5% of VMO revenue within 12 months of the platform's launch, with 'rapid' growth to follow.
VMO says it is working with independent verification partners to ensure every client campaign is 100% delivered. 
"Digital OOH will become a genuinely dynamic creative opportunity," Butler continues. 
"Take, for example, weather conditions, interest rate announcements or sports results that could trigger relevant brand messages or offers to specific audiences in targeted geographies, all in real time. This represents a quantum leap forward for the outdoor industry."
Announced alongside the new programmatic network also was VMO's new cinema audience data platform, 'CineTAM Live'. According to Guy Burbidge, managing director of Val Morgan Cinema, in 2019 a visit to the movies is delivering greater recall and resonance for audiences than any other video medium.
"Cinema is known for attracting highly-receptive and attentive audiences and recent findings from data and insights consultancy, Kantar, backs this up," says Burbidge.
"In data aggregated from more than 100 campaigns, cinema delivered greater top of mind awareness, or saliency, per dollar invested, than all three lead audio/visual mediums; 2.6 times more than TV, 2.2 times more than video and 1.6 times more than social."
"In 2019 we've seen significant box office audience growth, in particular the notoriously hard-to-reach under 30 demographic has grown at an impressive 10% YOY."
With the pace of cinema expected to remain steady in 2020 – with the anticipated release of titles including Cats, Black Widow, Top Gun: Maverick and Fast & Furious 9 – Val Morgan will reinvent its CineTAM audience measurement tool – launched in 2013 – next year as CineTAM Live.
Building on CineTAM, the new platform will combine exhibitor ticket sales and de-personalised transactional data with insights from Roy Morgan's Single Source database.
"The update to CineTAM Live will provide our agency partners with easily accessible cinema audience data, including detailed demographic, product, attitudinal, helix and segmentation data in near real time," says Burbidge. "The benefits for campaign planning and optimisation will be significant."
"We will also be aligning ourselves closer to TV around audience delivery and target audience rating point (TARP) equivalents to enable easier cross-media comparisons and analysis – something brand owners have been crying out for."
Further Reading:
Image credit: Val Morgan Outdoor