Surf Lifesaving Australia launches augmented reality app to raise awareness of rips
Surf Life Saving Australia and Samsung Electronics have launched Pocket Patrol, an AR mobile app for raising awareness of rips.
Pocket Patrol was developed with Leo Burnett Sydney and uses augmented reality (AR) technology to help raise awareness of hazard of rip-tides on Australian surf beaches.
The app enables users to visualise identified hazards by using a combination of data that is uploaded by the on-duty lifeguards and surf lifesavers, as well as from GPS and other sources.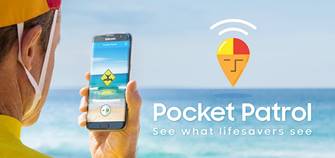 "Smartphones are becoming a natural extension in people's lives and with two-thirds of Australian beach goers unable to identify a rip, there was an opportunity to use technology to raise beach safety awareness," says Grant McAloon, joint ECD at Leo Burnett Sydney.
"The idea to develop Pocket Patrol came from connecting these two insights together, creating an app that lifeguards and surf lifesavers can use to pinpoint dangers in real time," he says.
"It was important that Pocket Patrol was easy to use; it had to be as simple as holding up your smartphone to the water. AR became a nature fit to implement into the app," says joint ECD Vince Lagana.
"It's the first time that this technology and GPS have been used together to display hidden dangers in such a manner. Making it happen meant pushing the technology to its current limits so we could achieve a level of accuracy satisfaction to both SLSA and Samsung." Lagana says.
More than 2000 beachgoers tried the app in a four week pilot which began on 22 October, with a further three million connecting with the program via VR, 360 film and online content in that time.
---
Related: Luke Kelly says Australian marketers aren't using AR enough »
---
"The identification of rip currents and other hazards displayed through Samsung Pocket Patrol's augmented reality program has greatly assisted in providing increased education and awareness," says coastal safety manager Surf Life Saving Australia Shane Daw.

---
RECOMMENDED READING
The Marketer's Guide to Virtual Reality
In-depth analysis of what VR means for brands with input from dozens of experts, companies and perspectives on how this disruptive technology will impact people's lives and how brands deliver content and value.
Produced by Marketing Mag's independent editorial team specifically for Australian & New Zealand.
Included in Marketing Pro Membership, along with hundreds of other content pieces.
Read a sample of 'The Marketer's Guide to Virtual Reality' »