Open for inspection: Realestate.com.au launches new app for Google's Daydream VR platform
Realestate.com.au has become one of the first Australian brands to launch an app for Google's new Daydream virtual reality (VR) platform, giving users a first look at the future of property inspections. 
Realestate.com.au has introduced Realestate VR, an app built for Google's Daydream platform, a move the company says is about preparing for a time when there's a VR headset in every home, even replacing on-premise inspections as the primary mode of inspecting properties. 
The Realestate VR app is one of the first from an Australian brand to launch on the Daydream platform, and will allow users to walk through an increasing number of listings. 'Realestate VR' is built on Matterport's Software Development Kit. It will also feature off-market properties from across Australia.
---
RELATED: Daydream gives a view of Google's plan for virtual reality »
---
"By 2020, most Australian homes will have VR headsets, and we're confident the leading real estate agents will embrace VR to create a brand new experience for a whole new generation of property seekers," says Nigel Dalton, REA Group chief inventor.
"Instead of mum, partner and the kids running across town to view potential properties, either to purchase or rent, this time-consuming process could now happen in one place in just a matter of minutes," he says.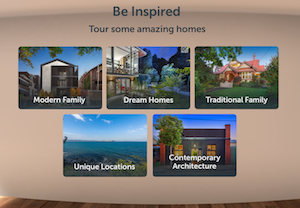 * * * * *
Learn how brands are creating VR experiences to deliver entertainment and utility to their audiences in 'The Marketer's Guide to: Virtual Reality' by Marketing.
* * * * *