Media news: Broadcast licence fees, Nine going programmatic, Fairfax's showbiz mag, APN's Adshel acquisition
In our media wrap for 14 November 2016, commercial broadcasting licence fees reduced, Nine launches 9Honey, Fairfax introduces Spectrum, APN moves to full ownership of Adshel, Facebook's Pages updates, Mamamia partners with TubeMogul.
Commercial TV and radio welcome licence fee cuts
Parliament has passed a 25% reduction in commercial radio and commercial TV licence fees, a move welcomed by the industry bodies for commercial TV and radio. 
The commercial radio licence fee reduction is applicable for the 2015-16 licence period and was announced by the communications minister Mitch Fifield. Fifield said the fee reduction decision recognises the fact that the media landscape for radio has changed dramatically since the fees were introduced in the mid 1950s and the digital environment is placing increasing financial pressure on broadcasters whose competitors pay no fees.
"The licence fee reduction is a welcome relief," says Joan Warner, CEO of industry body Commercial Radio Australia. "The industry looks forward to continuing to work with the communications minister on further cuts in 2016/17 as foreshadowed in his budget statement."
"The Federal Government's decision to reduce television broadcasting licence fees from up to 4.5% of gross revenue to up to 3.375% is a welcome step towards improving our international competitiveness," says Free TV CEO Brett Savill. "The pace of change is unrelenting and licence fees must be reduced to international best practice levels. The commercial free to air television industry is thriving in markets such as the UK, where the Government has proactively reduced licence fees by 97% between 1995 and 2011."
Nine launches online women's network 9Honey, announces programmatic move
Nine has launched a dedicated online offering catering to 'everyday' Australian women, 9Honey.
"The audience of the 9Honey network will be the women who watch Nine's television shows and who are increasingly looking to online for timely, reliable, well-edited news, celebrity and lifestyle content," says Helen McCabe, Nine's head of lifestyle.
Brands within 9Honey now include 9Mums, 9TheFix, 9Kitchen, 9Homes, 9Style, 9Elsewhere and 9Coach.
The news coincides with two other major announcements from Nine; the news that it will trade more than half of its TV inventory programmatically by June, and its partnership with Data Republic to gain access to grocery-buying segments.
Fairfax launches performing and visual arts bi-annual magazine Spectrum
Fairfax has announced the launch of Spectrum Magazine, a new bi-annual magazine highlighting the events on Australia's performing and visual arts calendar.
The first issue was inserted in The Sydney Morning Herald and The Age on Friday 4 November and in AFR Weekend on Saturday 5 November.
It features stories on movies, gigs, exhibitions, musicals, theatre, dance and opera, as well as interviews and features.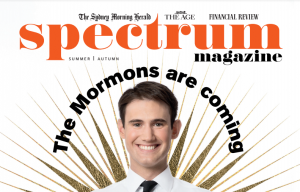 Baker and McKenzie, APN, move to full ownership of Adshel
Baker and McKenzie acted for APN in moving to full ownership of Adshel for $268.4 million, through acquisition of the remaining 50% interest in the Adshel joint venture from Clear Channel Outdoor and related capital raising.
"We were delighted to assist our long-standing client APN in continuing the implementation of its strategy to focus on growth media assets and wholly own its core businesses," says Baker and McKenzie's Asia Pacific head of capital markets David Holland.
Facebook updates Pages to help businesses connect with customers
Facebook has announced further updates to its Pages solution to help businesses better connect with customers.
Additions include:
Enhanced call-to-action buttons to allow people to schedule, order, buy and do more seamlessly on a Page,

businesses can choose to add the new CTA buttons to their Page and provide customers with a simple fom that's easy to complete in just a few taps.
Mamamia partners with TubeMogul
TubeMogul has signed on to help women's publisher Mamamia launch a data-driven reach extension offering.
Mamamia's female-skewed audience is highly-sought after among advertisers, and the team sought a solution to meet market demand that wouldn't impact the user experience on the website.
Powered by TubeMogul, the Mamamia Audience Network provides a new way for advertisers to connect with Mamamia's four million strong monthly community.
"Access to premium publishers was a major factor in our decision to partner with TubeMogul," says Dionne Ellis, head of commercial strategy at Mamamia.