Shine a light on loyalty in 2021
Customer loyalty specialist Adam Posner provides tips so that brands can improve customer loyalty in 2021 and beyond.
'That was a 2020' – the meme for when something is a disaster or a stuff-up and a year when anything predictable was quite the opposite.
Customer buying behaviour escalated remarkably online and loyalty towards brands relied heavily on accessibility, trust and reliability.
While yesterday is history and tomorrow is still a mystery, here are three guiding lights to make customer loyalty shine in 2021:
Loyalty is not a program. What is loyalty?
It's common these days for the word 'loyalty' to be mixed up with a 'loyalty program'.
There is a difference.
Loyalty is an outcome.
A loyalty program is typically a formal and visible platform of customer recognition and reward elements used by some brands to achieve the 'loyalty' outcome (defined below). If you are saying 'loyalty' and you mean 'loyalty program', then you can become lost in the reality of how different they are.
For the past 4 years, I have been researching loyalty to a brand/business from the consumer's point of view (beyond enrolling in a loyalty program) in our benchmark loyalty research study. In each study, 11 dimensions of loyalty to a brand/business are identified and provided to consumers to determine a ranking of what they believe loyalty is.
Tracking these results, I have determined a definition of loyalty to a brand/business as:
Loyalty to a brand/business is both behaviour and belief.
Behaviour is a transactional connection identified by spending more and purchasing more often.
It's about 'money' – over the longer term.
Belief is an emotional connection where trust is inherent and personal recommendation is the proof. It's about 'love' – over the longer term.
Loyalty is about love and money over the longer term.
Loyalty is not an overnight outcome, is never static nor does it exist in a vacuum of no competitors.
Now you have a definition of 'loyalty', you have the clarity and power to drive the loyalty outcomes – behaviour and belief (money and love) and to decide…
Do you really need a loyalty program?
If you have the desire to change your customers' behaviour and belief, then a program is one strategy that can influence these two dimensions of loyalty.
However, is a program right for your brand and right for your customers?
[columns count='2′] [column_item]
All those against
Is it worth the investment?
Distracts from the delivery of the core brand proposition
Resources required (see 1 above)
There are other strategies to challenge the reasons identified in 'all those in favour'
[/column_item] [column_item]
All those in favour
An incremental revenue generator (if carefully planned and managed)
A visible mechanism to motivate the lift and shift of customer behaviour (more money) and belief (more love)
Overtly recognising and retaining valuable customers
Gaining a dynamic source of identifiable and contactable data for driving personal and relevant communications
A competitive differentiator
A mechanism engaging humans' innate love of games into a commercial interaction
[/column_item] [/columns]
Note: While there may be some confirmation bias on the part of the author towards 'all those in favour', the reality is programs are not universal or an absolute go-to-strategy for every business.
There are a few notable retail brands who have stayed away from formal, visible programs such as Bunnings (except for trade), JB Hifi, Aldi (remember the pointless campaign) and Chemist Warehouse (to name a few), all driving loyalty through a mix of other customer interaction strategies.
Programs are pervasive among brands in retail (all categories – both pure online and bricks and clicks), airlines, hotels and banking/credit cards.
They are also becoming more prevalent in other categories such as telco, utilities, insurance, services, FMGC/CPG brands, business-to-business brands and even extending to countries, like the Maldives creating a unique loyalty program to visitors and travellers.
Building a program for long term success needs careful consideration.
How to profit from the Six Zones of Program Performance in 2021?
We developed 'Six Zones of Program Performance' aimed at ensuring programs deliver in 2021. Here are some insights on each: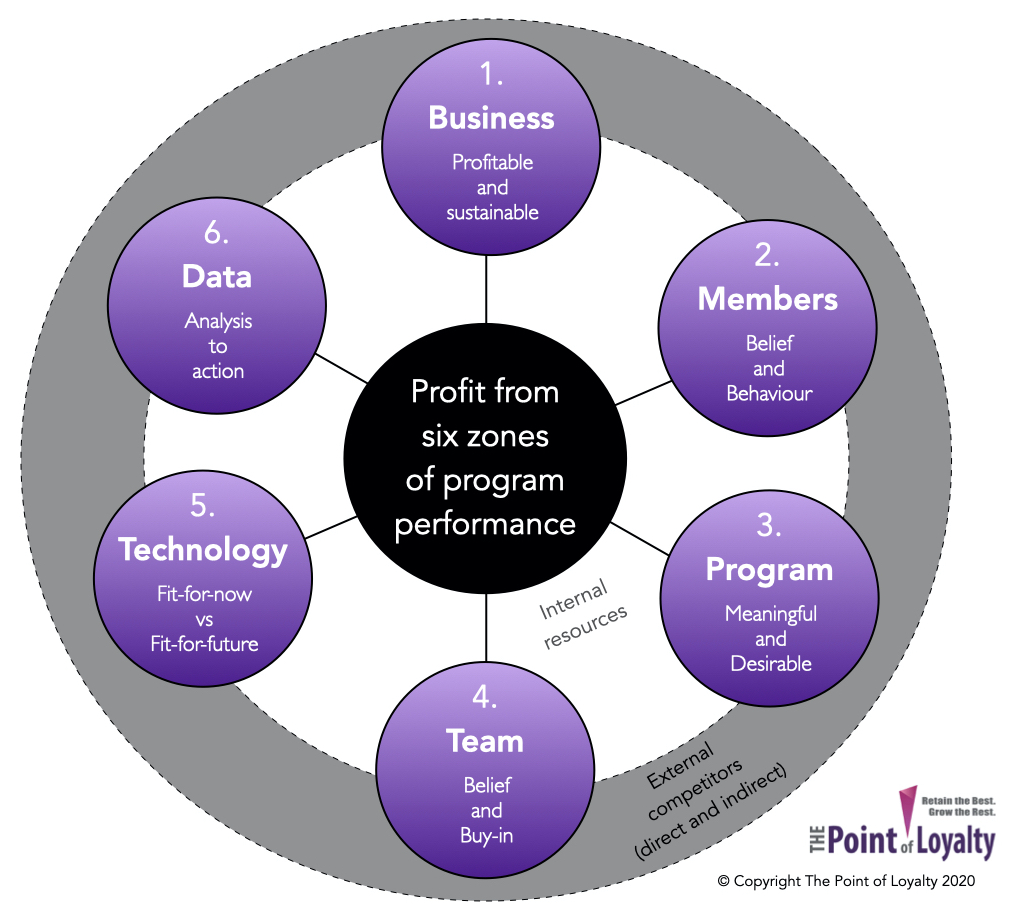 Zone 1: Business
Program is profitable and sustainable.
Gain clarity on the vision, goals and measures of success for your program.
Ensure senior leadership team commitment to the program as a business growth asset and not only a marketing initiative.
Zone 2: Members
Program needs to lift and shift belief and behaviour.
Who are your customers and will a program change their belief and behaviour towards your brand (as per your 'loyalty' definition)?
Zone 3: Program
Design a 'Quality Program Proposition' that is meaningful and desirable to your members.
There are four factors to a Quality Program Proposition:
Solve a customer problem or pain point: Problems in the world around us (for example, sustainability), in the life of a customer or when they interact and experience your brand.
Build a program structure that meets the strategy based on five pillars: Visibility (visible or invisible program); model (uniquely owned or borrowed from a coalition ); structure (flat or tiered); type (collect and cash-in or package of benefits) and payment (paid or free). Combinations of these pillars are common.
Blend the five benefit layers to move members from transactional to emotional connections, benefits that are: Transactional, experiential, functional, personal and social.
Execute an exceptional experience: From member onboarding to ongoing interaction ensuring the experience is simple, personal and valuable.
Add to the four factors, the need to make your program a proof point of your brand proposition and distinctive from competitors.
Zone 4: Team
Gain your team's belief and buy-in.
Your team are critical to the ongoing success of the program. They need to enrol in the program, know what's expected and metrics to achieve, be able explain the program in 10 words or less and be champions of the program.
Zone 5: Technology
'Fit-for-now' vs 'Fit-for-future'.
Does the current technology provide the opportunity to create the best possible customer experience, personalisation and relevant messaging for now and for the future? This will depend on how Zone 3 – the Quality Program Proposition has been designed.
Zone 6: Data
Analysis for action.
Integrated into technology is how the data captured reveals the insights to take relevant action.
The six zones are dependent on each other and spin together as a wheel of loyalty program fortune.
Make customer loyalty shine
In summary, as the light of 2021 comes shining through the other side of the 2020 tunnel (and it's not an oncoming train), consider the following three actions for your loyalty strategies:
Define what loyalty means to your brand – your view vs your customer's view? This will give you the clarity and power to motivate those loyalty outcomes.
Clarify why you need a program (or not).
Build a program to profit from the six zones of program performance.
Whatever your plans are for your customer loyalty strategies in 2021, with or without a program, make sure the lights of loyalty shine bright on your business success!
Adam Posner is a customer loyalty specialist and CEO of The Point of Loyalty.
Photo by Rebecca Aldama on Unsplash.