The new beauty rules: A cultural reckoning
This article is the first in a four-part series by Carat, examining the beauty industry. 
In 2020, people experienced COVID-19 and movements like Black Lives Matter, as well as continued concerns around climate change, culminating in a year of cultural reckoning. In this context, people began to hold companies to account and beauty brands were no exception.
Pre-COVID-19, the beauty and personal care category was growing at more than twice the rate of total FMCG. Expectations were that 2020 would be another strong year for beauty.
However, the pandemic caused real damage to the category, with growth slowing to 1.1 percent. Nevertheless, a new year offers new opportunity. As a category driven by innovation and inherently connected to culture, beauty has emerged from 2020 on a new trajectory.
Media agency, Carat Australia, has prepared an in-depth report on the beauty industry. In the context of a year like no other, it outlines the predictions for beauty into 2021 and beyond.
In 2021, understanding what people value is more important than ever. Many predicted the economic impact of COVID-19 would drive consumers across the board to focus in on value. In beauty, industry insiders suspected an impending 'trade down to mass' with those most financially impacted by the pandemic ditching premium products for more affordable alternatives.
Value has proven a key driver as we move towards a 'postpandemic' era, but in this context 'value' is much more nuanced than simple price point. Some shoppers are trading down, choosing lower priced products available in supermarket and pharmacy. Some are seeking better deals, turning to e-commerce to find the best price on particular products. While others are consolidating their beauty regimes to a few core products or reducing the amount they use to stretch out time between purchases.  
People are also increasingly holding brands to higher standards, and for brands, delivering value to these consumers requires much more than a high performing product at the right price point. Accelerating concerns around issues like safety and sustainability and accelerating expectations for immersive experiences and seamless ecommerce, mean delivering value is an increasingly high stakes game for beauty brands.
The report explores how brands can deliver value to today's beauty consumer through the lens of four macro themes impacting the category and the key trends stemming from them that are tangible in the lives of today's beauty consumers. 
Those are: Culture (reckoning), People (disruption), Technology (acceleration) and Product (innovation).
This article is the first in this special series and covers Culture.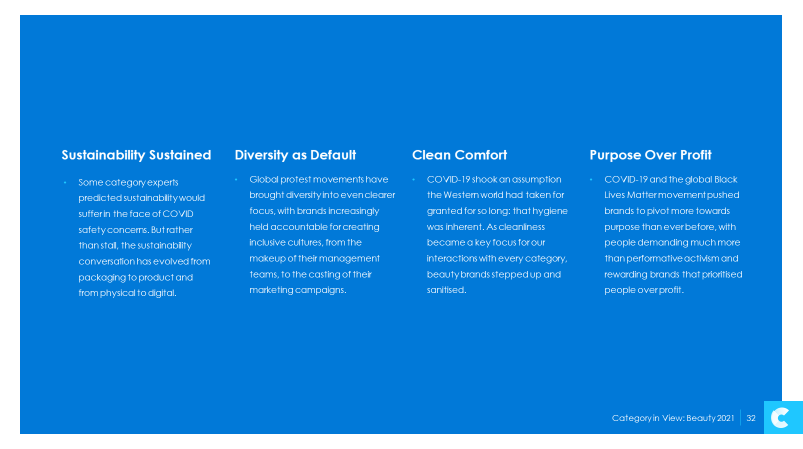 Sustainability sustained
Driven by global calls to counter climate change, beauty brands have been under increasing pressure to take sustainability seriously. In recent years, efforts have focused on increasing the eco-credentials of product packaging.
Brands like Unilever pledged to reduce their use of virgin plastics. L'Oréal invested in Carbios, a biotech start-up developing plastic recycling technologies. Sephora piloted recycling programs. And By Humankind developed refillable dispensers. 
However, with the pandemic, personal safety became a priority and experts predicted surges in single use products (e.g. disposable mascara wands). Products like single use sheet masks experienced surging sales as people put dollars behind products that offered both self-care and safety. Eco-minded consumers considered sustainability even more of a priority in the face of an unprecedented pandemic. Eco-conscious brands responded in kind, elevating the category's approach to sustainability far beyond packaging.
Select beauty brands are beginning to launch reusable alternatives to popular single use products, like sheet and eye masks. While still new to market, these products seem set to gain momentum with beauty retailers doubling down on their sustainability credentials, like US-based Credo Beauty who have announced their intention to ban single use products, from samples to sheet masks, as of June 2021.
People are increasingly conscious of water waste and its impact on the environment. In Europe, solid shampoos and conditioners are surging as people seek out products that save on both packaging and water.
The sustainability movement is also starting to shift its focus from the physical to the digital world, as brands are beginning to quantify the carbon footprint of their digital demands. With data centres alone accounting for 2 percent of global carbon emissions, brands across categories are looking to redesign their online assets (think websites with less colour and images) or offset their digital carbon emissions to reduce their environmental impact. While yet to have major impact in beauty, big global brands like Volkswagen are leading the charge, meaning this movement is only set to gain momentum.
Diversity as default
In the wake of global protest movements, diversity has becoming a defining issue for contemporary consumers and companies alike. People now expect diversity to be the default across all businesses, and beauty is no exception. With the most ethnically diverse generation in history, Gen Z, now accounting for 40 percent of global consumers, it is ever more imperative that brands make diversity a true priority, and that they authentically embrace diversity across the board, from products to people, management to marketing.
In 2020, cosmetics companies were put under pressure to release real data on their diversity, with major players like Coty, Estée Lauder, Revlon Inc. and the U.S. division of L'Oréal publishing their percentages of black employees. And for many brands, the numbers did not look good. Only 13 percent of board seats at 10 of the leading North American and European beauty companies were occupied by people of colour. And this time, brands were held to account and had no choice but to respond.
Many brands launched scaled up diversity initiatives, like L'Oréal's Global Diversity and Inclusion Advisory Board. Others pledged donations to racial equality causes. And some retailers, like Sephora, made commitments to stock more black owned beauty brands. With brand preference increasingly driven by personal politics and consumer dollars consistently being channelled towards brands with diversity at their core, beauty category players will and should continue to prioritise racial diversity across all activity.
Diversity and inclusivity within beauty is also expanding to encompass gender. Consumers, particularly younger generations, are embracing gender fluidity and rejecting the notion that certain categories only cater to certain genders. In turn, beauty brands are beginning to look beyond their traditional female consumer base. 
Age inclusion is coming into focus in the category as brands recognise the commercial opportunity of connecting with an older, and affluent, generation of customers. According to research, 40 percent of women over the age of 50 'don't feel seen', perhaps not surprising in an industry that fetishes youth and focuses on fighting against ageing. But these women are looking for attention, according to an AARP report, 70 percent of women aged 40+ want to see more beauty products targeting perimenopausal and menopausal women. Brands are taking note.
Other brands are moving away from age all together and focusing in on the needs of menopausal women, who can experience hot flashes, breakouts and dehydrated skin. And, with this consumer cohort set to represent 12 percent of the global population by 2025, this trend isn't going anywhere. 
Clean Comfort
COVID-19 shook an assumption the Western world had taken for granted for so long: that hygiene was standard. Suddenly, we lived in a world where contagion was a real risk, from our daily commute to our interactions with the cosmetics category. And we began looking for ways to minimise exposure to germs wherever possible. 
In early 2020, as the COVID pandemic hit North America, searches for 'antimicrobial' surged over 250 percent. Antimicrobial products kill or slow the spread of microorganisms like bacteria and viruses, particularly pertinent in the COVID-19 era. 
Brands began launching antimicrobial beauty implements to market. Brands like Clinique, Revlon, Michael Todd and Spa Sciences all released antimicrobial makeup brushes, featuring bristles coated in a clear solution designed to kill bacteria.
View this post on Instagram
With the antiviral coatings market forecast to grow at 13.3 percent annually over the next 7 years, expect antimicrobial to persist as an industry wide buzzword.
In 2020, UV light also found its moment in the sun, as consumers became aware of its germ- killing capabilities. UV light sanitisers hit shelves in beauty retailers, perfect for sterilising beauty tools, such as makeup brushes and sponges, and small electronic devices.  Other brands looked to remove touch from the equation all together, moving away from hand-applied products to smart, touch-free delivery systems. 
Purpose over profit
In 2020, COVID-19 and calls for racial justice culminated in a cultural climate unlike ever before. Society was gripped by a collective sense of social responsibility, and brand purpose went mainstream. Where once only a small number of purpose-led brands had played, now companies across all categories put purpose (and people) over profit.
Many brands undertook what would, in any other year, be considered unconventional and counterintuitive action, in order to help and connect with people struggling to cope in a truly changed world. The pandemic saw many brands within the category shift their resources towards public health and social responsibility.
Not only did brands across the beauty world step up to help, but they were also under increasing scrutiny to do so, with new platforms allowing ordinary people to hold major players to account. The website Did They Help? launched in 2020, making a public record of brand actions, good and bad, readily available. The platform allowed visitors to look into how a brand responded to major cultural events like COVID-19 or Black Lives Matter, and decide to back or boycott them accordingly.
View this post on Instagram
According to IBM, as of 2020, 40 percent of global consumers are purpose driven in their purchases. Focusing first on purpose, doesn't mean sacrificing profit, in fact purpose is increasingly critical to profit, as ethically minded consumers continue to invest in brands that reflect their values.
And, according to Did They Help? founder Pooj Morjaria, purpose will be even more pertinent in 2021, "People want more accountability. There is a renewed sense of purpose. We have all had time to sit and take stock of what truly matters to us. By the end of 2021, brand accountability will be as important to sales as marketing."
Carat is a global media agency. To download the full report click here.
Photo by Oladimeji Odunsi on Unsplash.