The Spirits of Australia part 4: challenges of scale and supply for boutique brands
The seemingly sudden popularity of locally-produced spirits is rocking Australia's marketplace for alcoholic beverages. To wrap up our four-part series on the spirits of Australia, we discuss some of the challenges that the boutiques boom has presented, how they've been dealt with, and where the industry is headed in the future.
In case you missed them, Part One is all about the growth of the trend, Part Two tells some key players' stories, and Part Three looks at boutiques' distribution and promotion strategies. 
Image: That's Wilma, the magnificent hand-crafted copper still that makes Four Pillars gin.
Too popular for its own good (not the worst problem to have)
Demand for Tasmania Distillery's Sullivan's Cove brand whisky was creeping towards outweighing supply earlier this year and the team was preparing to start an allocation system. This was all due to successful organic growth since the distillery opened in the early 90s.
Then, in a surprise to the small team, Sullivan's Cove French Oak Port Cask whisky was named best in the world at the prestigious World Whiskies Awards 2014 for 'The World's Best Single Malt'. Suddenly their problem was a whole lot bigger.
"Getting the award exacerbated that by about 10 years; everything kind of just jumped forward," laughs Bert Cason, the brand's sales and marketing manager.
"It went a little bit mad. Our website crashed on the day we got the award."
Of course, no one is arguing that it's not a great problem to have.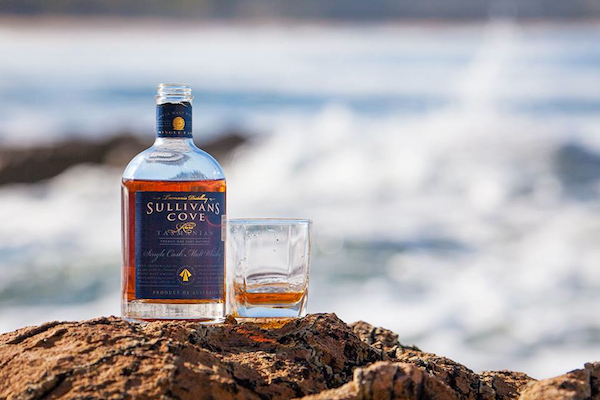 In the whisky game, upping supply at short notice is simply out of the question – it takes about a decade to produce a batch.
"If we put all the demand together for Tasmanian whisky, we could probably sell up to ten times more than we've got now. And the problem is, there's no way to fix that," Cason explains.
"At any given time we've only got x amount of barrels that are over 10 years old so we've got a set amount of whisky we can sell. If you go over that, you're only cheating yourself in five or 10 years time."
The natural business response to these kinds of fortunate situations tends to revolve around defaulting to price. But Cason is adamant that the brand doesn't want to devalue its image by overpricing its French Oak Port Cask.
"We don't want to be seen to be ripping people off, so we put it up to $250 a bottle which we believe at the moment is a fair price. It's not a good look just suddenly going in and gouging the market to try and charge people a fortune.
"We want as many people as possible to drink our whisky so we want it to be at an accessible price."
Cason says he's seen bottles of the award-winner going for $500 a bottle in shops and up to $1000 on eBay.
"We've moved from a push model, trying to sell the stuff to people, to now everything's on allocation. This stuff's just flying off the shelf."
Despite temptation to leverage the brand, Sullivans Cove remains clear in its vision.
"The main thing is to just keep our heads down and try to make decent whisky. There's a lot we've obviously done alright at, but there's a lot that we can improve on; we need to be mindful of what we can improve on."
Having this kind of attitude behind it is probably what makes a brand the best in the world.
Creating community 
Despite Sullivans Cove's recent fame, the brand has spent about 20 years slowly earning respect and building a community.
"People aren't just going to like you for the sake of it; you've got to give people a reason to like you," Cason says bluntly.
While the naturally slow process of whisky-making lends itself to gradual brand building, others have had to work hard in shorter periods of time to become popular.
Mr Black coffee liqueur tried online crowdfunding to to drum up support – and people responded from across the country, from Broome to Melbourne. Co-founder Tom Baker enjoyed the grassroots experience of creating community at the beginning of a project – a far cry from his day-to-day experience of working on million dollar strategy projects at his agency job.
"Every time a sale came through I was so flattered that someone sat there, they read, they saw what we were about and what we were trying to do, and without trying the product they believed in us and the promise of the product and got their wallets out.
"It's a much more intimate relationship with your early drinkers. They're the people that like my pictures on Facebook and they come to our pop-up bars or come up to me at Good Food and Wine in Melbourne, and they say, 'Oh yeah, I got one of your first bottles'.
"Probably the best bit about it was having real and meaningful conversations with people as opposed to just mass marketing and the traditional brand marketing."
Tastes are changing 
The West Winds Gin co-founder Jeremy Spencer has worked hard to get Aussies back onto gin after a bit of a gin drought in the mainstream.
"It got beaten up for years, no one took it seriously. It was mother's ruin, a depressant, something that English grandmothers drank," he laments.
"Now people realise its cool to drink, its extremely broad in its flavour profiles and quite mixable."
Spencer has shown he has what it takes to turn even the most unlikely gin drinkers onto his products, flogging it in his semi-rural pub just out of Melbourne.
"They were doing half a bottle of gin a week when we took over and now we're doing six to seven bottles. We've got footballers drinking gin and tonics now, we've got old people drinking it, young people… it's just about showing people and making them believe you can actually drink it."
On board with the boutiques trend, Queensland's famous Bundaberg Rum Distillery is changing its tune to suit the modern discerning palate, creating award-winning small batch rum in its Bundaberg Master Distillers Collection (MDC).
Adam Ballesty, marketing and innovation director for parent company Diageo, says Bundy is shaking off its rough image to impress bartenders and patrons alike.
Renowned bartender Luke Ashton, of Vasco in Surrey Hills, Sydney, was surprised when he paid a visit to Bundaberg distillery after winning Australia's Diageo Reserve World Class Bartender of the Year 2013.
"He was on Instagram nearly apologising to the Bundaberg brand around his need to re-appraise it for his bar, and now he's curating some fantastic drinks with the Bundaberg liquid," Ballesty says.
"Many bartenders in Australia two years ago wouldn't have said we'd be on their radar."
Bartenders' thoughts on the future 
Melbourne's Lily Blacks bar manager Benny McKew is worried he's soon going to have to build more shelves on his bar to make room for the seemingly endless string of new local products.
But he suggests the dynamics of the craft scene may change if too many players get involved.
"The thing that worries me is it's going to get a bit convoluted – there's going to be too many products out there that are pushing the Australiana thing and it might take away from the niche they're holding at the moment."
Some are predicting tiny local spirits companies will go the way of some Australian craft beer brewers – growing themselves to a size substantial enough to be bought out by a large multinational conglomerates then cashing in to start on the next project.
"It takes away from the credibility," McKew fears.
"You were getting on board in the first place because it was craft and because it was small batch, and all of a sudden, everything's merged together and one guy's making all the money again."
Sebastian Costello, of Melbourne bar Bad Frankie, is optimistic about the potential of the local spirits industry considering the youth of Australia and the industry here.
"We don't have any tradition yet; we don't have to make it like our grandfather's father's father, so we get to make new stuff," he muses, looking at products such as Starward, of Melbourne's New World Whisky Distillery, which markets itself as creating modern whisky rather than being steeped in tradition like the great Scottish labels.
Many have mentioned that Australia is following in the footsteps of the US, where boutique distilleries have burgeoning in a number of geographical pockets.
Costello mentions Distillery Row, a group of seven nearby distilleries in Portland, Oregon, that work together to attract swarms of visitors.
"If you look at the trends overseas, I feel it's going to be a huge market. Instead of going and getting a vodka from Russia, people will now go and get a vodka from down the road."
Retailers' thoughts on the future
Dan Murphy's is continuing to see growth in the local spirits category but has no concrete predictions on where this market will end up.
"The customer will ultimately tell us how big this category will become," merchandise manager Campbell Stott asserts.
"It's really a customer-led decision on what we range and how we continue to shape it as they tell us what their needs are."
Yuri Chlebnikowski of Melbourne store Nick's Wine Merchants thinks it will take five to eight years to sort the serious boutique distillers from the rest.
"For any business to grow and expand, they need repeat customers, and the market's crazy competitive out there in every segment."
Responding to the demand for local products, one company is putting a different spin on retailing.
White Possum is an online subscription service launching this December that sends a different bottle of local spirits to subscribers for a similar price to the going rate in shops, inclusive of courier delivery.
Members can sign up to receive vodkas, gins, whiskies, liqueurs or random, and each comes with a distillery fact sheet and appreciation notes.
The idea certainly fits in line with the growing consumer desire for 'drinking less but drinking better' and experiencing connection with products and their stories.
That concludes our four-part 'Spirits of Australia' series, showcasing Aussie entrepreneurialism, grass-roots branding and community building in the alcoholic beverages industry. In case you missed them, Part One is all about the growth of the trend, Part Two tells some key players' stories, and Part Three looks at boutiques' distribution and promotion strategies.