The user journey map: understanding your customers' needs, behaviours and motivators
Cade Witnish takes us through the user journey map, asking what are the opportunities or pain points to address in understanding needs, behaviours and motivators of your customers?
It's one thing to come up with a great app idea or solve a real business problem with technology. Sadly, getting to that point and not knowing what comes next is the downfall of many tech startups. But what is it that is going to keep people coming back to re-use your app, website or product again? How do you harness the magic that gives your customers such a wonderful experience that they are compelled to recommend it to friends?
In both cases, it's 'moments of delight'. To find these moments, we rely on user journey mapping.
It's important to use logic, imagination, intuition, and systematic reasoning to explore possibilities of what could be, but it's also important to make sure that you don't get lost in the solution or design before you've fully considered the customer.
Customer journey mapping can reveal opportunities to create customer delight. It's a strategic tool that ensures every interaction with the customer, even the typically painful ones, are viewed as an 'opportunity' to delight.
Typically business people start with the destination – the customer purchasing or using your product – as the end result. All of the focus is on the final transaction, which is not the best way to approach customer journey mapping. For clarity, let's look at a non-tech example of a user journey, identifying pain points and opportunities to delight.
A typical food court attracts a busy lunchtime office worker trade. As a proprietor within the food court, you start with the destination – provide healthy and tasty food to customers, which you do well. However, with the customer user journey in mind, you observe the following:
Customer arrives at food court hungry with limited time,
customer has no cash on them and has to line up to take money from the ATM,
customer prefers fresh, healthy (tasty) option if possible but is annoyed if they have to line up too long for food,
customer wants to buy a drink, but doesn't want to lose their place in line to get it from the fridge which is not en-route to the ordering, and
with nowhere to sit down and lunch break time a premium, customer goes back to the office and eats lunch at their desk.
As you can see, the emotional, functional and logistical components are often very different.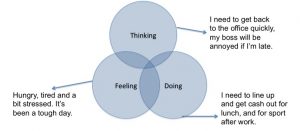 It can be useful to plot the moments of frustration and delight along the journey.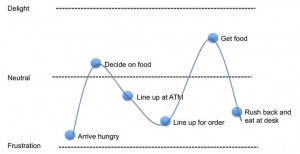 In this example, we have identified five possible customer pain points. If we analyse each of these through the filter of 'an opportunity to delight', the proprietor's re-worked customer journey might look like:
An online ordering platform that allows the customer to order from their desk or phone and have their meal waiting to collect,
an eftpos facility with no minimum or surcharge, and ability to take out cash so there is no line at the ATM,
a line that moves along the back of house production line so that the customer can see their order being made as they move along,
a fridge with drinks enroute to the line moving to the ordering or payment area, and
menu items designed to be easily eaten without fuss for those customers that simply must rush back to their desks.
This customer journey mapping and the process of identifying moments of delight is just as useful for online applications. In this case user journey mapping helps to define the user experience (UX) and the digital interface for your product. You need to look not just at the delivery of the product, but how you can make sure the customer journey is at the heart of that product delivery. Each challenge on that journey should be viewed as an opportunity for you to fix it and make your customer say 'wow!'
So how do you go about understand the journey of your customer?
When working through your customers' user journey consider the following:
Take the customer's perspective. Avoid using jargon, stick to customer friendly terms,
be emotional. The customer journey map reflects how the customer is feeling every step of the way,
be universal. For now, keep the journey map universal and apply it to all customers.  You can segment it later,
gather lots of input; get the input and involvement from the multiple departments or people that interact with the customer, and
keep it simple.
By taking the time to understand your customer's journey, you can clearly identify moments of need. These moments present an opportunity for your product to engage positively with your customer, and that's good for everyone.