Three steps to embracing data
The growing importance of data as a marketing tool has not yet been fully embraced by the industry. John-Paul Syriatowicz , group CEO of Squiz, believes this can be explained by a lack of understanding and enthusiasm for data, and offers three simple steps to help marketers utilise and  approach it positively.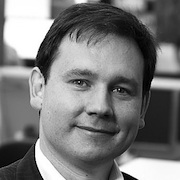 Data isn't just for geeks. All around us, data analytics is drastically transforming marketing strategies, and it is essential for today's marketers to embrace this change. As data continues to evolve and become more sophisticated, the ways in which we can create, collect, and manage data are also diversifying.
Marketers need to determine the most effective ways to incorporate data analytics into their programs without being deterred by the misconception of needing to become an expert data analyst. There are three main pieces of advice for marketers wanting to truly embrace and reap the benefits of data analytics.
1. Treat data as a tool, not a chore
'The Global Digital Marketer' report from Experian found that just 17% of ANZ marketers identified data as a key focus for 2015. I would say a large part of this hesitation to involve data in planning comes from a lack of understanding or enthusiasm for data.
Part of embracing data means loving it a little. Loving data and thinking of it as a tool will help you and your cause. Accessing data means having a holistic and informed view of the various solutions, challenges, and strategies available to you, making you a more valued member of the C-Suite.
Loving data doesn't mean getting bogged down in it. As a marketer, your focus should be what you do with data… not collecting mountains of it.
2. Leverage digital technologies to draw insights that resonate
As with any relationship, to love involves being loved in return. With data, you can't truly embrace it until you know what it can do for you. The vast majority of marketers are using some kind of digital marketing technology, whether it's an analytics tool (82%), CMS (77%), search tool (51%), or CRM (43%), and 64% of marketers said they would be spending more time and resources on marketing technology this year (Source: 'The State of Marketing Technology 2015').
However, with only 18% of marketers describing their digital strategy as 'visionary', it's clear the industry feels under the pump. The tools may be there, but who has the time to go through endless spreadsheets and crunch all the numbers, while also being creative and developing innovative ideas?
If this sounds like a recurring issue in your marketing team, it's time to set some clear goals and realistic expectations on the value your digital assets can deliver for you. Your CRM may hold countless pieces of data on every customer and prospect ever encountered, but it is important to verify which stats will help you reach your marketing goals. Narrow down and prioritise your data findings based on which will bring value that resonates, and cross-reference this with your marketing and business KPIs.
3. Foster a culture of data-driven marketing through customer-centric thinking
Leveraging your data to drive effective marketing strategies cannot be a one-off activity. It needs to be a regular part of your plan, campaign, and review processes. Marketers also need to ensure they don't fall into the trap of running data analytics for the sake of running data analytics.
The Customer has to be at the heart of every piece of research. Marketers need to be constantly challenging their own ideas and strategies, pushing the boundaries and regularly asking themselves 'What more could I be doing for customers?' and 'What can we be doing better for customers?'
Some answers will come from the systems already at hand. However, if you want to take this one step further, you could merge data from different sources and make data-driven decisions based on a range of customer interactions (eg. combining data from your CRM, CMS, and marketing automation systems to determine which country to target with a new product). A digital partner will be key to doing this effectively. Let them focus on digging through the data and drawing valuable insights, while you focus on delivering high-quality services to your customers.