Why doing insights research during COVID-19 is just like money laundering
Marketers are poised to understand changing consumer behaviour throughout the COVID-19 pandemic, but is insights research actually helpful in the long-term? Kathy Benson uses money laundering as an apt analogy to explore why it is important to wash current data insights against a clean benchmark before taking them to the bank (your long-term strategy).
Collecting data at the moment is not just extremely valuable, but critical. That is beyond question. Knowing how your customers are thinking, making decisions and behaving, is vital for any brand in order to anticipate needs and be responsive. Collecting data is one thing, but how do we know what is reliable and whether the insights we draw from data collected under the 'COVID cloud' will endure or be unusable within months?
During this time marketers need to be cautious about taking insights at face value. In the past three months, there has been a tsunami of COVID effects that have turned the world upside down. From toilet paper shortages, sold out egg-cups, raging home baking trends, rioting and strange new business partnerships – the world has gone topsy turvy and the rules have gone out the window. Even the Golden Arches got a makeover to promote social distancing.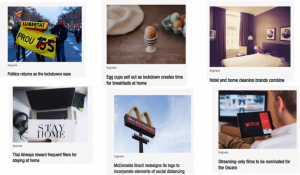 So right now, it is important to interrogate each insight to determine if this is an enduring issue, behaviour, or change, or something that is likely to fade as quickly as it might have emerged. We can do that by assessing the issue or change on two dimensions – macro and micro.
The micro lens requires us to use our understanding of science. Behavioural Science principles tell us that when a change provides a better or easier experience for people, it is likely to be maintained. Also, long-term change depends on how embedded the behaviour has become in the 'new normal' life and whether it has evolved from routine to ritual. Brands that work to establish positive behaviour change as rituals, can start to shape the future in their favour. Brands can use Behavioural Science (BeSci) principles to reinforce behaviour change – such as social norming, establishing new mental shortcuts and temptation building.
Taking a macro view involves examining the behaviour change against pre-COVID trends or movements to see if there was already a contextual trajectory. The changes that are most likely to endure are those that were already trending – where the crisis has accelerated those behavioural trends rather than initiated them. Take, for example, the use of online channels and digital services, e-commerce, new social media and video streaming, all of which were trending behaviours prior to COVID-19, but all of which have been significantly accelerated by the crisis. And of course, new health and hygiene practices are likely to continue while the threat of another pandemic will always be just around the corner.
Using money laundering as an analogy, we believe that until we emerge from the COVID cloud, we should 'wash' our insights before we take them to the bank. That is, let's make sure that we do a check on the insights against a clean benchmark or framework to ensure that the insight had a feasible trajectory prior to the pandemic crisis. If the insight aligns back to a trending pre-crisis trajectory, then it is much more likely to be an insight that will have enduring life beyond the crisis.
So how do we 'wash' our insights? Ipsos uses a 'theory of change' – a framework that comes from our global trends work that we have been running since 2013. We look at trends at two levels:
Macro forces are long term, far reaching and are shaping humanity. Like any forces, the trajectory and movement of these create tension and friction which produce trends in society.
Micro forces, which we call 'signals', are localised reactions and expressions of the impact of the longer-term trends. These can emerge quickly but also exit quickly from the trends landscape – they can be big or small, brief or long lived.
Insights developed on a signal could ultimately be based on a fad that comes and goes. Brand leaders need to understand the longer-term macro forces driving the signals in order to interpret data more accurately, and they need to examine signals against BeSci principles to analyse their propensity to revert, fade, evolve or accelerate.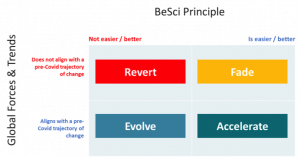 COVID-19 is a shock to the ecosystem, which is radically impacting behaviour, but we can still develop reliable behavioural insights if we are able to distinguish the signal or fad from the longer-term trend or macro force. A reliable insight to take to the bank is one that can be linked to a pre-pandemic trajectory of change and meets the principles of Behavioural Science.
Kathy Benson is the chief client officer, ANZ, at Ipsos.
Photo by Jeremy Sallee on Unsplash.