Word of mouth more trusted than ever, trust in TV, print ads declines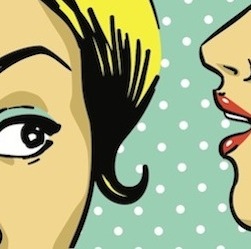 It's no ground-breaking news that the vast majority of people trust word of mouth recommendations from friends and family above mainstream advertising, but the latest surveys from global research firm Nielsen indicate that it is growing in importance to consumers, while confidence in traditional forms of advertising is declining.
92% of people surveyed by Nielsen online say they trust earned media, such as word of mouth, above all other forms of media and messaging, which signals a rise of 18% since 2007.
The second most trusted source of advertising is consumer reviews online (70% of people trust them, an increase of 15% in the last four years), meaning that the opinions of strangers on the internet are more powerful to most people than any of a brand's advertising, websites, social media promotion or emails.
That fact highlights the opportunity and challenge brands – especially retailers and consumer goods brands – face, and the reason review platforms such as Google Places and Yelp, which launched here in Australia a few months ago.
For a heads up on how businesses can take advantage of customer reviews, read Marketing mag's interview with Yelp CEO Jeremy Stoppelman on the occasion of the site's Australian launch. 
The 'Nielsen Global Trust in Advertising Survey', of over 28,000 respondents around the world, also shows significant declines in consumer trust of paid advertising including television, magazines and newspapers. The figure of 47% representing consumers who trust those media hides falls of 24%, 20% and 25%, respectively.
Nielsen's Randall Beard, global head of advertiser solutions, says that while brands increasingly seek to execute more effective advertising strategies, the research shows that the continued proliferation of media messages may be affecting how well they connect with their target audiences.
"Although television advertising will remain a primary way marketers connect with audiences due to its unmatched reach compared to other media, consumers around the world continue to see recommendations from friends and online consumer opinions as by far the most credible. As a result, successful brand advertisers will seek ways to better connect with consumers and leverage their goodwill in the form of consumer feedback and experiences," he says.
The following is a break-down of results for other forms of media, with figures representing the proportion of respondents who find the source credible:
Owned media, such as company websites: 58%
Emails (that they consented to receive): 50%
Product placement in TV shows: 40%
Radio advertisements: 42%
Cinema advertising: 41%
Online video ads: 36%
Online banner ads: 33% (up from 26% in 2007)
Paid search results: 40% (up from 34% in 2007)
Sponsored ads on social networking sites: 36%
Video or banner ads on smartphones and tablets: 33%
Mobile phone text ads: 29% (an increase of 61% since 2007)
About the Nielsen Global Survey: The Nielsen Global Trust in Advertising Survey was conducted between August 31 and September 16, 2011 and polled more than 28,000 online consumers in 56 countries throughout Asia Pacific, Europe, Latin America, the Middle East, Africa and North America.