Nick Baker: the exit interview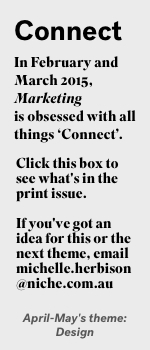 Nick Baker got a tap on the shoulder when all 'bloody hell' broke loose in 2007. Seven years later, it's an unrecognisable organisation. Michelle Herbison interviews the marketer in charge of selling Australia to the world (and itself) on the eve of his departure.
The campaign, starring Lara Bingle asking the infamous question, 'Where the bloody hell are you?', had been banned from UK television and negative comments were flooding media at home and across the globe.
At its initial release, during John Howard's final year as Prime Minister, those in charge insisted on the record that any publicity could only be great for the tourism cause (including now Minister for Immigration and Border Protection Scott Morrison, who has since changed his tune from encouraging arrivals, as he did back then as Tourism Australia managing director). But as the numbers came in, they appeared to be showing otherwise.
When Kevin Rudd moved into the prime ministerial office a few months later, he wasn't happy with the way things were going.
"The wrongs of that campaign are moot, because there were some different schools," Baker begins diplomatically. "But when you get a prime minister that comes out and says it's a 'rolled gold disaster' [that was Rudd], you figure you've got to get it changed. It was either leap into the fray and try to be part of the solution, or shut up.
"So I decided to do the former and to jump in."
Seven years down the track, Baker sits in the CMO chair of a radically renewed Tourism Australia, transformed by the strength of multiple campaigns of a very different nature.
As Baker describes it, Tourism Australia has become "a platform for others to perform on", extending its reach beyond traditional TVCs into the digital space, leading the way in social media engagement and collaborating with the country's food and wine producers.
Approaching the conclusion of a major new digital project and 'Restaurant Australia', the organisation's latest campaign, Baker has decided it's time to hand over the reins.
Following the announcement of his resignation, Marketing sat down with Baker to reflect on his career, the highs and lows of his time at Tourism Australia and his advice on marketing into the future.
Beginnings
Baker came to Tourism Australia (TA) from Voyages Hotels and Resorts, where he had been transforming the company's portfolio – after starting out managing Ayers Rock Resort, it had acquired P&O Resorts. Voyages was leading the way in experiential marketing with its diverse portfolio of more than 20 accommodation providers ranging from backpacker lodges to luxury hotels.
"We were one of those early innovators in leading the charge for experiential product development and understanding that hotels and resorts weren't just a beach and a hotel room – it was about all the experiences you could have around it."
Some of the standouts included Longitude 131, a luxury tent village near Uluru, and Lizard Island Resort on the Great Barrier Reef, both offering luxury, eco-friendly experiences within the pristine natural environment.
"I'd been getting more and more involved in what TA did because as we grew we had to do more of our marketing globally and we had new products that people wanted to talk about. As a result of getting more involved, I was seeing things that were going on," he says in a somewhat veiled reference to the 'Bloody Hell' episode happening over at Tourism Australia.
"There was a desire by the board and management to take a different decision."
But it wasn't always going to end up this way. Prior to proving himself as one of this country's foremost marketers, Baker was back in the UK working his way up the hotel ranks in operations. It was the early insight of his general manager at Renaissance Hotels that propelled his leap into marketing.
When asked whether he ever planned to go into marketing, or whether he ever planned to come to Australia, the answer is, "Um, no and no".
"I was rooms division manager for the opening of a new hotel in Brighton in England," he recalls.
"The sales weren't going well, and in all the meetings I kept on talking about why weren't we doing this and why weren't we doing that. Eventually the sales and marketing manager left, and the GM saw me and went, 'OK Nick, I want you to be the new sales and marketing director', and I sort of went, 'Uhh, what?'"
Although he was on the path towards becoming a hotel general manager, Baker had originally graduated in hotel management and marketing – so he already had some raw skills and training, topped off with a burning interest in the discipline.
"I got very attracted to [marketing]. In those days marketing was little more than sales, but with an understanding of the consumer and getting involved in some ad campaigns. So I was part of that evolution in the hotel industry, to understand the value of professional marketers rather than just salespeople with a bolt-on bit. I had to morph and change and grow and learn."
Next came a transfer to Hong Kong, followed by Australia in the early to mid-90s to work on what is now the Sydney Marriott Hotel.
The move into marketing has certainly been proven appropriate by Baker's outstanding contribution to the discipline – the Australian Marketing Institute (AMI) named him marketer of the year at its Excellence Awards in 2014, and the Association for Data-Driven Marketing and Advertising (ADMA) gave him the same honour the year before.
Throughout these early roles, Baker's background in operations helped him immensely in stepping away from the marketing silo to embed its function into every part of an organisation, an important 'truth' he describes as having led his career.
"If the rest of the organisation doesn't understand you and doesn't get what you're doing, you're not doing your job properly. And until you understand what they do, you're not going to be able to do your job properly," he asserts.
"Coming from an operations background stood me in great stead because I could speak operations, and I'd walked a mile in the sales force's shoes so I understood what they had to do."
As well as becoming a self-described "evangelist for marketing inside operations", those early days taught Baker to be a huge proponent of marketing driving creativity within business, far more than being seen simply as "the colouring-in department".
"Creativity at its best is about innovation; you use creativity to challenge problems, whether it's the orthodoxy of a current practice or whether it's a new brand or a problem. It's not just about colour and font sizes."
Rebuilding and transforming
Nick Baker laughs for a good five seconds at the suggestion that post-'bloody hell' would have been an "interesting" place to start with Tourism Australia. The first few years were certainly challenging.
"Yes, it was very difficult for the organisation in those early years. It was about redefining the organisation, resetting its balance with its board and its stakeholders and trying to forge a path forward."
He credits former CEO Andrew McEvoy and chair Geoff Dixon for forging that forward path, while he focused on building the organisation's identity and "the way we talk about Australia to the world".
Baker talks a lot about 'big ideas', but is careful to point out that TA and its stakeholders were not ready for any of those when he first came on board. After a couple of years of playing it safe and laying the founda- tions, Tourism Australia and Qantas invited renowned US television host Oprah Winfrey for a visit, a bold idea that became the tipping point to the organisation's success.
"The organisation set its stake very firmly in the ground around this, and got people to come on board this powerful opportunity. This woman who's been one of Time magazine's most influential people for 10 years was about to come and start talking about this country for the first time. It was a really audacious jump."
In September 2010, Oprah announced to her 302-strong studio audience that she was taking them all on a whirlwind trip around Australia. As the plane-load of Americans touched down on Australian soil for a week that December, millions of Oprah fans around the world watched, many for the first time realising the region's potential as a holiday destination.
While groups of audience members visited all eight Australian states and territories, hoards of media followed Oprah to Hamilton Island, the Great Barrier Reef and Uluru before she finished the tour filming two episodes of her show from Sydney.
In January 2011, when the shows were aired, TA's web- sites saw a 66% jump in traffic, 20% of which came from the US. By February, the campaign had generated $375 million worth of global and domestic media coverage.
TNS data released the following September stated that 73% of US consumers who remembered being exposed to Oprah's 'Ultimate Australian Adventure' said the show influenced their decision to choose Australia as a
destination. "It really helped get our identity out there as delivering platforms rather than just ideas," Baker reflects.
"We had by then built up a depth of talent, platforms and strategies in the organisation that enabled us to use that as a springboard for what we did in the future. To think about us as a publisher more than just as a marketer, and starting to bring that sense that we're about telling other people's stories, providing platforms for them.
"I'm a passionate believer in the role of content, native… whatever you want to call it, but we call it story- telling. Our job is to be the nation's storyteller for tourism – emotionally connecting people with Australia to stimulate and inform action."
It's the philosophy that has driven TA's campaigns and activities ever since.
Building more platforms
"Once you have people's trust – a board's trust, a government's trust and an organisation's trust – it's much easier to get big ideas across the line," Baker explains, crediting the huge success of the Oprah campaign with building a lot of that back.
More big ideas followed, including 'Best Jobs in the World' in 2013, an extension of Tourism Queensland's innovative idea to employ a tourist in their 'dream job' in an island resort paradise for a year.
Seven 'best jobs in the world' were up for grabs around the country, including a 'taste master' in Western Australia, a 'Tassie devil wrangler' in Tasmania and a 'chief funster' in New South Wales.
But the program was far more than simply a PR stunt – Baker explains the strategy behind it all:
"We found the industry's biggest issue was that they had 35,000 jobs going for an unskilled and semi-skilled workforce and they just couldn't find them in this country. So the role of working holiday-makers actually becomes pivotal, not just for tourism dollars but also jobs and making our industry, particularly the small- to mid-size industry, work."
Selling the importance of a big idea is all about rallying an organisation or an industry and bringing together internal and external forces, keeping your eye on the ball and making sure that "the main thing is the main thing", he advises.
"I've found it's actually a lot easier to get people to run towards a big idea than to a small idea, so try to throw fewer stones and create bigger ripples. Use the small ideas to build the foundation blocks, get the trust established, do some of the pilot projects as proof of concepts and then build the big idea out of it."
Tourism Australia's most recent big idea firmly rooted in strategic insights, 'Restaurant Australia', has been Baker's final campaign and the one he believes will make him proudest. Research informing the campaign found that people who had never visited Australia did not rate it for food and wine experiences, whereas those who had visited placed it at number one or two in the world.
"We under-promise and over-deliver, which is unusual for a marketing entity," Baker muses.
The campaign is all about partnerships with food, wine and tourism industries, telling stories about product and place, and encouraging an awareness of the gastronomic wonders the country has to offer.
"We're recognised globally as number one for outstanding natural beauty, but if we can be recognised for our food and wine experiences I think that will be a great project to have brought to the fore."
Baker reflects on the challenges of rallying an organisation to take on a big idea when it is constantly under an acute lens of scrutiny.
"One of the things I remember realising very early when I came to TA is that, given the profile it had, you're very easily onto page one or three of the newspaper if you get things wrong, so you've got to be very careful about how you do things.
"One of the interesting things you don't realise until you come into an organisation like Tourism Australia is how important it is to the people of Australia to be seen in the right way. We are public faces of a brand that people are proud of, their own country."
TA has certainly experienced that local pride through its social media channels, its Facebook page being another platform it has shown remarkable aptitude at building.
The organisation's Facebook page (named simply 'Australia.com') has more than 6.2 million 'likes', the most of any page in the country and the most of any country in the world.
Rather than commissioning and posting all of its own photos, Tourism Australia encourages the general public to submit their shots taken from around the country and it posts the best ones to its page.
The 'Australia.com' Facebook page now receives 1000 images a day, half of which come from professional photographers seeking exposure through the popular page.
"The fans are the heroes, not us. Once we really understood this and put them out there, we suddenly found that their interaction with us grew and grew." Baker sees the page's loyal fans as its true community managers, telling the story of when the team discovered an 81-year- old from Scone, New South Wales, answering questions and replying to negative comments five or six times a day.
"If somebody comes up and goes, 'I'm going to Surfers Paradise for 24 hours, what should I do?' He would post something, or if somebody said, 'Actually we think Australia is full of a bunch of racists', he would get back onto it and say 'No, that's not my experience, this is my story'.
"There are rafts of people doing this job and they are our social media team because they're the ones feeding the information."
On top of nurturing the unofficial team, Baker stresses that he believes the best way to run a social media team is in-house; he believes companies that outsource this increasingly important marketing function will fail to make the most of social's opportunities to truly represent their brand, provide timely responses and create community.
Greatest mistakes
Baker seems slightly hesitant to discuss mistakes and failings, "When I saw that one on your list, I was like, 'OK…'" and he prefaces his answer with the optimistic and philosophical: "I'm a great believer that to be successful you have to have failed, and you have to learn how to fail and, as long as you find something from it, then it's all right.
"So I think, just one thing before I talk about that, some of the successes and some of the failures have taught me one thing: wherever possible, bet on the pig, not the farm. Go small and test something out, then if it doesn't work, get it out of the way before you bet the whole farm on it."
After the hesitant introduction, he is brave enough to admit one of his greatest failings was actually on a current project – the redesign of TA's new website. The failing itself is one of management and communication.
"Version five of our website I believe will be one of the most pivotal projects for the organisation. It's a very much more personalised, socialised and mobilised base platform and right at the cutting edge of how we tell our stories.
"But when we set this up about two years ago as the project for us to deliver on, I didn't bring along enough people with it. I got wrapped up in the idea of what the future would look like, but didn't tell the story well enough internally in the organisation.
"So the very fact of doing that somewhat disenfranchises people in the organisation. And what that meant was, halfway through the building and imagining of it, we had to go back and restart the whole selling the idea, recreating the vision and the steps, and it wasn't built with a clear enough sounding bell as to what it should be.
"It just shows you that if you don't bring everybody along with you at the beginning, you have to work twice as hard to go back and try to find them."
Ever optimistic, he finishes confidently, saying the website project is now successfully on-track and will serve as an important foundation for the future of the organisation.
Tech and digital decisions
In line with his ambition to integrate marketing into all corners of an organisation, Baker cites his best technology decision as "making friends with the CTO".
"When I first came here it was pretty tense between digital and technology – digital falls under marketing, and technology falls under the CTO. They weren't over the years, we've worked it together really well.
"Understanding his role and what he's got to do and bringing him into the projects that we do was a really important tech decision."
Baker is grateful to CTO Dave Rumsey and global manager digital marketing Rapthi Thanapalasingam for being committed from the start to working together.
TA's partnership with Adobe has been another great tech decision to help bring to life this new vision to "personalise, mobilise and socialise", Baker says.
"We're using the Adobe Marketing Cloud [for] everything from analytics [to] the marketing platform, the publishing platform and behind our website."
At the forefront of digital thinking, Tourism Australia is looking to strengthen its owned and earned media with the new version five of its website. Using the Adobe platform to work a newsroom style into TA's communications will allow it to rely less on traditional advertising, Baker envisions.
"TA is an organisation that was really founded on big campaigns. But we're realising the power of owned and earned. Interestingly, when we did 'Best Jobs in the World', we didn't spend a single dollar above the line. We only spent $1.2 million on below the line through social and digital platforms, and we had 330,000 entries into the campaign from 196 countries in the world."
A more recent example of successful owned content was a 90-second video piece that TA recently released to Asia as part of a $3.1 million campaign on the 'Restau- rant Australia' theme. At the time of printing, the video has attracted 19.8 million views, despite being three times the length of a traditional TVC. "It just shows you long-form content, when it's right, can work. And we've delivered that at a cost of less than five cents per viewing, all through using YouTube. So it's just about doing things differently than perhaps they've been done in the past.
"I do believe that collision between technology and marketing has never been stronger and it's only going to accelerate from here."
Marketing feels the need to preface Baker's next piece of advice by promising he offered it without any prompting from us, so it's "absolutely flipping genuine".
"If you don't spend an hour a day reading the right blogs, reading the right marketing magazines, speaking to different people, and don't learn and try things then you're going to fail.
"The hats marketers wear are getting more and more varied – 30% of my team in marketing's roles didn't exist five years ago. Marketers have to constantly learn and develop and the best way is reading the right people and, if you can, going to as many conferences as possible."
What's next
Tourism Australia managing director John O'Sullivan has already stated publicly that Baker's replacement, Lisa Ronson, will have "big shoes to fill" coming into the role.
Baker says he's leaving the position in good hands with a strong team and in a good place following two "massive" projects: the organisation's digital transformation and 'Restaurant Australia'.
"Both are major platforms for the organisation for the future, both have taken about 18 months to bring to fruition and both are probably some of the biggest things I've done. It feels like it's time for somebody else now."
It's a rarity to see a CMO moving on after seven long years in the job at a time when most are lasting only two or three years. Baker's advice for CMO longevity is to never get comfortable.
"You've basically got to make sure you live every day thinking that you really are only as good as your last campaign, your last sale, your last whatever.
"Be the moving target. Keep putting new things forward, keep challenging the orthodoxy of current practice, keep having new ideas and becoming a trusted adviser to the organisation. The role of a trusted adviser to an executive and a CEO is really important. There's never been a single day in this job that I've felt comfortable and I think that's a healthy space to be in. But at the same time, it's now recognising when it's time to go, and that's also really important."
So what's next for Nick Baker? He hesitates: "I don't know what is next. I'm looking at a number of things to be quite honest." He believes marketing skills are more transferable between industries than ever, so another industry such as technology or health may beckon.
That is, after doing some travel with the family around Australia (yes, he still genuinely loves the place).
"I'm looking forward to being part of a team in an organisation that's helping to push out, grow, develop, do things differently and go beyond what I've done already."
His advice for Ronson is short and sweet: "Trust the team, and make it better."
Ronson's task won't be easy. Tourism Australia's 2013-14 annual report showed the contribution by visitors in the form of total overnight spend to the Australian economy was tracking below the lower limit of the ambitious Tourism 2020 goals. Last year the $80.4 billion result fell short of TA's low growth scenario target of $83.2 billion.
By 2020 the aim is to increase total overnight visitor spend to at least $115 billion, and ideally $140 billion.
To get there, TA will have to step up efforts to grow visitor demand from Asia, particularly China and India, as well as continue the progress towards Tourism 2020's other marketing focus area: the building of competitive digital capacity to attract more visitors and enable online transactions.
Nick Baker's top three learnings on managing stakeholders
You cannot over-communicate what you're trying to do,
find a way for them to be part of what you're doing and to create their own space within your plan, and
get them in early to ask their advice and to buy into the project.
"With 'Restaurant Australia' one of the best things I did was put together an advisory committee of industry experts – chefs, winemakers, restaurant managers and hoteliers. They have proven how valuable it is to get their insights and to go out to stakeholders with these people saying what we're doing is important."
Top three learnings on managing people
Trust your gut, first of all. If something smells wrong, it probably is wrong,
construct a vision that people can follow or be part of, so that they know what they're aiming for, and
make sure you know your 'why' and live your 'why'.
"Recently what I've been doing is holding little forums where it's an 'ask me anything'. I've realised the power of just sitting there with a drink and your department, being able to be truthful and connect with people."
Influences
Simon Anholt's writings on nation branding,
Competing on the Edge, by Shona Brown and Kathleen Eisenhardt,
Grant Hunt, former CEO of Voyages Hotels and Resorts, and
Andrew McEvoy, former CEO of Tourism Australia.
"Grant Hunt's early conviction around the importance of sustainable tourism was really powerful, and Andrew was about how to communicate a message and get the industry behind you."
Top three agencies
Clemenger BBDO (creative),
OMD (media), and
DT (digital).
"I'm lucky I've got three agencies that are at the top of their game in this country and are run by good people. We can share exactly where we're going without fear or favour, they stand up next to me when times are tough and they'll be there on the bandstand when things go well."
Favourite holiday destination
Killcare, NSW.
"I go down the hill into Killcare or Hardys Bay and it's just like I have an infusion of oxygen. I go there with family and friends, go for walks,
go kayaking, fishing, yabbying. It's just an old-fashioned beach holiday place with no big hotels – a place to breathe and collect thoughts and just live."