Why your brand must have a position on gender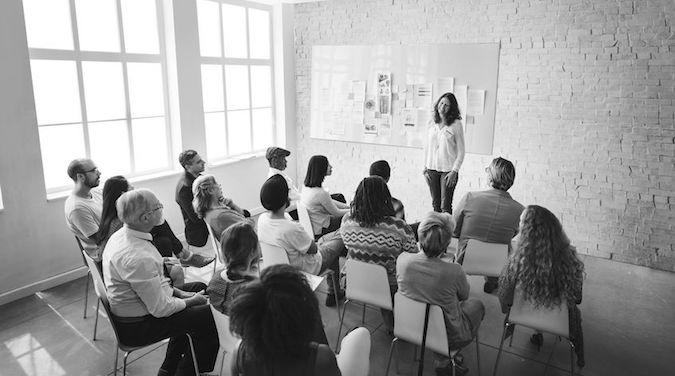 As marketers, we have a powerful platform to change the role models and messages society sees about gender, says Anne Rayner, for the benefit of  future society and commercially for the brands we represent. 
Last week, I debated for the affirmative that 'the future is female' at the lively International Women's Day Great Debate in Sydney, hosted by the Institute of Managers and Leaders. While at first glance it seemed the affirmative side (obviously the future is female!) would be the easier position to argue, I knew it was to be a tough gig on a day where there is inevitably a chorus of male voices asking, 'when is International Men's Day?' or 'what about the men?'.
Rather than address this by pointing out the obvious (it's on 19 November – Google it!), or the controversial (it's on the other 364 days of the year!), we needed to take this question seriously. Ironically, when I initially met my team – David and Amelia – to discuss our arguments, we did so in a well-known business hotel café, and it felt a little intimidating. There were 29 men and only six women, including Amelia and I, in that café – roughly the ratio women face in the business-end of town generally.
Think about the implications of that for a minute. Then as marketers, think about the privilege you have to be able to take a leading role in effecting real change. At Kantar, our annual Ad Reaction survey found almost three-quarters of Australian consumers see ads in more places than three years ago. They're watching and listening to what we put out there, so as an industry we need to collectively start taking this question much more seriously and take leadership in a landscape where our brand messages are absorbed by people at millions of touchpoints every single minute.
A female future for marketing?
Profitability, competitive health and revenue is being left on the table for those brands that don't navigate the gender story. Based on recent quantitative research we undertook in Australia looking at brand touchpoint rating by men and women and their impact on market share, one multinational fast food brand we examined could potentially lose up to AUD$295 million in revenue in this market alone. Yes, this is how much risk to just one brand in Australia if they do not better design their service, product, and advertising to better meet the needs of women.
The 3% Conference was founded because of exactly this issue. At the time, only 3% of creative directors were female. It is now up to 11% – better, but still very low! With women responsible for 70-80% of consumer purchasing decisions, as Bridget Brennan, one world's leading authorities on female consumers puts it, "if the consumer economy had a sex, it would be female". Consider then, if 70-80% of decisions about what ads we see are made by men, then no wonder what we see tends to revert to stereotypes rather than really understanding and empowering women.
By the same token, adland also needs to move past unhelpful stereotypes about men. The Gender Equality Measure (GEM™), which measures the degree to which advertising uses regressive stereotypes or not, demonstrated that removing conscious or unconscious gender bias from advertising increases purchase intent by more than 26% for all consumers and more than 45% among women.
Equality or equity?
Back to the debate, our team's research into the argument that 'the future is female' – in homage to that infamous slogan emblazoned across a t-shirt designed for the first women's bookstore in New York City back in 1975 – reiterated that more than 40 years on, no other group is as talked about as much as women today, yet equality has not delivered equity.
Equality was what the suffragettes and first wave of feminists fought for all those decades ago – and it hasn't delivered equity. Women have the right to vote, marry or divorce whoever they want, work wherever they want, and have equal pay for equal work (in theory); and yet, we're still losing key talent out of our workforce, not enabling women to meet their potential, still have a gender pay gap, and as my affirmative colleague Dr David Cooke pointed out, now have more 'Andrews' as CEOs of ASX-listed companies than women, as Conrad Liveris's 'Gender Equality at Work Report' revealed last week.
And our industry is feeling it. Our research reveals 60% of women in the media and marketing industries across APAC say they have missed out on an opportunity because of their gender. Even though they have equality – equal opportunity to go for this promotion or raise – that figure does not point to equity. Equality is an input – making sure everyone has the same starting point – whereas equity is an output – making sure everyone has the same chance to win. Rather than equality, we need more equity in the workplace, which in turn positions the chance to balance the leadership that will help drive the agenda of movements like the 3% Conference and better represent women and girls in our advertising.
Yet, men need their own feminism moment too
In a world where it feels like, finally, maybe times are changing, and women have a voice and benefit from programs to improve their chances in life; does the International Women's Day movement somehow disenfranchise men?
In the debate, the negative team challenged our argument saying that working towards 'the future is female' is alienating our boys. They asked "what do I tell my sons? Is the future not for them too?" And it resonated, a lot. That's understandable. However, we must realise our boys are currently growing up in a world that is not set to help them reach their full potential. They are growing up in a culture of masculinity where there is only one way to be a man – and that is to be powerful and strong and have control over others. That is the culture that has led us to #metoo. It is the culture that has led, in the US, to #neveragain efforts around gun control. It has led to all wars in history. It has led to bullying and suicides by young men who do not fit that one-dimensional version of masculinity.
As marketers, we have a powerful platform to change the role models and messages society sees about gender. It's our responsibility to use it to offer a better version of masculinity as well as femininity. For the sake of our boys as well as our girls, we must hope the future is female.
The negative won the debate, but as marketers, we need to focus on a more 'female future'
It's imperative for our boys and our girls. They need it to be okay to feel and express the full range of human emotions regardless of their gender. They need it to be okay to look, and act, and dress however they are, without needing to second guess themselves. Men need to know who they are without that being about who they control. Men need to be able to build bridges, not borders, without fearing looking 'weak' – what happens when the female gender has lower status than the male. It's only when the female gender has a high enough status in our society that men will be able to feel and show their 'feminine side' freely.
Please take leadership with your brands and find your stance on their gender. Men need the future to be female too.
Anne Rayner is global head of communications research at Kantar TNS.
Anne Rayner debated for the affirmative on 'The Future is Female' at the International Managers and Leaders 'International Women's Day Great Debate' in Sydney on 8 March with Dr David Cooke from Konica Minolta and Amelia Hodge from the Australian Property Institute.
Image copyright: rawpixel / 123RF Stock Photo