Growing grains
Nicholas Kontopoulos considers the future of marketing and what our industry will look like by 2025. What skills will marketers need? What tools will marketers use? And, how will marketers be measured?
"If you can look into the seeds of time and say which grain will grow and which will not, speak then unto me." William Shakespeare
Forecasting the future is never an easy task. And marketing is no exception to the rule but, outside of gazing into a crystal ball, speaking to those at the coalface is one of the best ways to get a clear picture of where the discipline is heading.
Since the 1960s, when markets in industries from retail to manufacturing and beyond become saturated by competition, marketing has been a vital part of commerce. But the form that it has taken and the tools marketers have used have shifted dramatically over time
In the short to medium term, however, all the signs lead to a clear evolution in the way marketing is conducted and the areas on which marketers will be focusing.
It will come as little surprise to learn that the key element, as with so many other industries across the world, is technology.
A new survey of over 700 senior executives from a range of industries – including both CMOs and CEOs – reveals the expectations they have of how the marketing landscape will look five years from now. The overwhelming takeout is how new and developing tech will dictate how marketers do their jobs.
At the same time, continuing the trend of recent times, the focus for KPIs will be increasingly on those on the receiving end of the marketers' efforts – customers, with their experiences and worth to companies given primary attention. By 2025 it is predicted that the two top priorities in this area will be customer lifetime value and customer retention, while lead and pipeline generation will drop significantly down the list.
And how that value is measured and those customers are retained will entail a much greater use of technology. So important is this element that respondents to the survey overwhelmingly indicated this as the top factor for setting their marketing team apart from their competitors. It is considered more vital than even having superior marketing skills or buy-in from the rest of the C-suite.
The survey does point to differences in beliefs and expectations related to size of company and roles in the company, but at 45 percent the investment in tools and technology is the number one factor across the board.
Little but fierce
Just as start-ups and smaller companies have always had agility on their side, the perception is that they are also winning in the tech race. The larger companies are less likely to invest in technology as a percentage, preferring to invest in advertising, while their smaller counterparts have almost reached parity between their ad and tech spends.
Further discussion with marketers regarding this trend compounded the view that start-ups and disruptors are ahead in the new tech stakes. There are two reasons for this: one, fledgling companies are more likely to have innovation as a key driver and, two, without entrenched operating guidelines or traditional infrastructure inertia, they have more freedom to experiment with new technologies.
There is, however, a notable disparity between how CEOs and CMOs view their marketing investment priorities. The former believe that around 30 percent of marketing budgets is going to technology and 40 percent to advertising, while marketers see only 18 percent going to technology. Clearly, there is a call for greater communication regarding budget allocation in some companies.
More things in heaven and earth
What are the tech tools and skills that marketers believe they will need to do their jobs in 2025? Machine learning, sophisticated analytics and neuromarketing are the tools topping their wish lists. The importance of high tech and associated tools was particularly highlighted by those in the finance sector. Nearly 75 percent of executives in this sector identified this as the defining element setting their marketing teams apart from their competitors.
The most notable indication of the way marketers believe technology will influence the way they carry out their roles is when it comes to their expectations of the skills that will be required. Capabilities regarded as niche today are anticipated to emerge as the most important skills in a marketer's arsenal, with current tasks becoming increasingly taken out of marketers' job descriptions and automated. In demand skills in five years will centre on analytics, data, and insights, CX/UX, AI and machine learning. It all points to the entire discipline of marketing becoming first and foremost a sophisticated tech hub. Perhaps the most telling statistic of the entire survey relates to AI capabilities and machine learning. The percentage of marketers believing that they will need these skills rises from six percent today to 60 percent in 2025.
"A brave new world" indeed.
To learn more about marketers' predictions for the next five years, download Marketing 2025 here.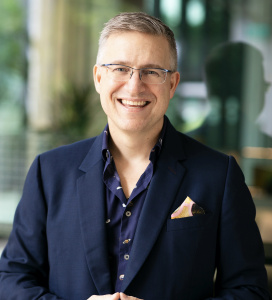 Nicholas Kontopoulos
Regional Head of Marketing, Asia Pacific
Adobe DX Commercial
Nicholas harnesses over 25 years of professional experience, built across multiple industries and geographies. He's passionate about challenging the 'status quo' and 'management dogma' that stifles the creative thinking processes that are paramount to delivering amazing customer experiences. Nicholas ensures that 'customer experience' is a core business ideology at the heart of the brand.
Photo by Paweł Wiśniewski on Unsplash.