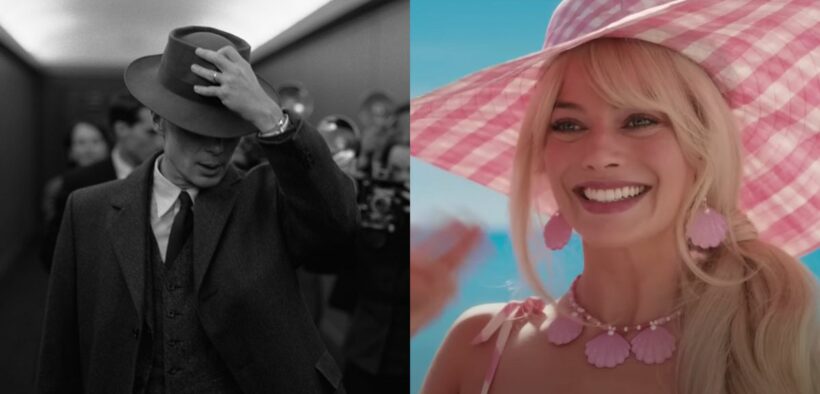 Two high-profile marketing campaigns just culminated in the 'Barbenheimer' opening, as Barbie and Oppenheimer finally released in cinemas. The discrete artworks were entangled in a cultural phenomenon to which they will forever be attached, but so many commentators misunderstand the sensation.
It was Barbie that came out on top in box-office earnings, taking in US$356 million to Oppenheimer's US$180 million worldwide. It's the biggest opening for a film directed by a woman in history, and director Greta Gerwig has been lauded for outperforming counterpart Christopher Nolan.
But 'Barbenheimer' was never a contest.
Marketing blitz
You'd struggle to find anyone who hadn't engaged with at least one aspect of Barbie marketing, as it was absolutely everywhere.
On top of impressive traditional advertising, collaborations kept the movie prominent for months, from pink burgers to Impala roller skates. Our favourite was the partnership with Airbnb, which allowed fans the chance to request a booking in Ken's bedroom of 'Barbie's Malibu DreamHouse'.
But Barbie had everything primed for global engagement. The long history and many evolutions of Mattel's crown jewel set the stage for this success through excellent brand recognition, so with an enormous marketing budget of reportedly US$150 million, failure seemed unlikely.
The marketing for Oppenheimer largely emphasised its solemn approach to the historical story with few colours other than in explosion depictions, providing a stark contrast to the vibrant Barbie branding that would spawn 'Barbenheimer' through creative online comparisons.
The symbiosis of the 'Barbenheimer' phenomenon
When the Barbie release date was announced in April 2022 the overlap was framed as a contest, with one Twitter user calling it an "epic matchup". But as marketing operations got underway that's not how things played out.
This is not the first experience of such an anticipated dual opening for Hollywood, or even Nolan. In 2008 Mamma Mia! and The Dark Knight shared a launch date, but a differentiation was made between the fans of heart-warming musicals and superhero blockbusters, which is common counterprogramming. 
The connection seems to have been inflated recently in the context of 'Barbenheimer', as watching both features in a single cinema visit was not common.
This time around, instead of duelling for attention and treating this as a typical competition, the two productions succeeded in merging narratives to elevate the release date's importance as a whole. Internet fandom played an undeniable role in the media narrative, but the stars of each film played up the entwinement. 
"I think it's just great for the industry and for audiences that we have two amazing films by amazing filmmakers coming out on the same day," Oppenheimer's lead actor Cillian Murphy told IGN, while Barbie's Margot Robbie and Greta Gerwig posed with Oppenheimer tickets in June.
It's an unexpected symbiotic relationship that has borne fruit. Each movie should be considered a huge hit thanks in part to the existence and coinciding release of the other. 
The opening weekend for 'Barbenheimer' was the biggest haul for the box office since mid 2019 when Avengers: Endgame debuted, providing relief for the unstable movie industry.
WB is opening the doors to BARBIE's dreamhouse July 21, 2023, where it will show against Christopher Nolan's OPPENHEIMER.

BARBIE VS THE BOMB. Epic matchup.

— Exhibitor Relations Co. (@ERCboxoffice) April 27, 2022
A tough time for the cinemas
Recent years have seen historically low cinema attendance figures, thanks in large part to the coronavirus pandemic. According to Screen Australia, the total domestic cinema admissions fell from 84.7 million in 2019 to roughly a third as many the following year, only recovering to 57.9 million in 2022.
Streaming has also had a major effect on this cultural shift as on-demand access to high-quality content naturally disincentivises ticket sales, but that alternative stifles cultural phenomena like 'Barbenheimer' without key factors like communal attendance and limited release windows.
Though this may inspire future openings, as writers and now actors strike in the US it's hard to see this event as a turning point, since more engaged cinema audiences don't matter if there is no content to serve them.