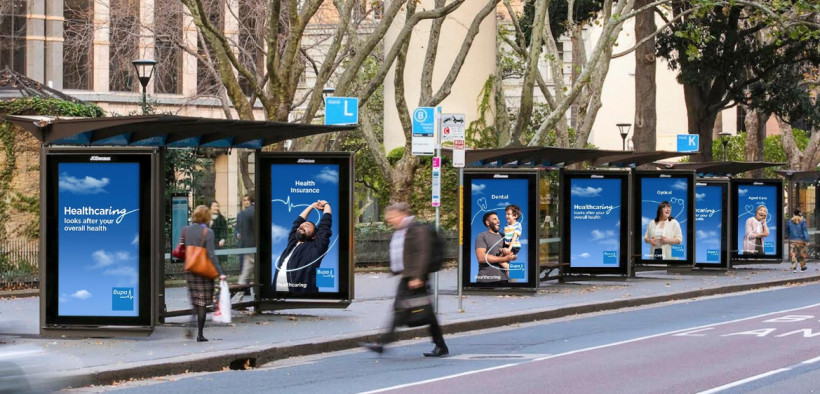 If all parts of your mind and body are interconnected, then shouldn't your healthcare be too? This is the key question Bupa dares to answer with the launch of its new brand platform, 'Healthcaring', via Thinkerbell.
Bupa, which is Australia's second-largest private health fund behind Medibank, with 3.5 million members, offers a diverse range of health services. Now, with the announcement of 'Healthcaring', Bupa is simplifying healthcare.
Launched by Thinkerbell, the new platform unites Bupa's business units – including health insurance, optical, dental and aged care – under one banner.
The move demonstrates Bupa's unique position in the Australian market, and its mission to care for the overall health of Australians with a diverse range of health services. It takes some of the stress out of navigating healthcare offerings.
"Healthcaring unifies our brand narrative. It's helping to align our business around a shared ambition, the idea of more proactive, human and connected care to make it easier for our members to look after their health," says Alexandra Silk, Bupa's head of brand.
Bupa collaborates with Thinkerbell
In addition to the new platform, Thinkerbell is also introducing a suite of new brand assets to create distinctiveness and consistency across the portfolio.
"No bit of your body works in isolation, it's all interconnected, and it just makes sense that your healthcare should work in the same way," says Jim Ingram, Thinkerbell national chief creative.
"Healthcaring gives Bupa a unique position in the healthcare category, and Bupa members the confidence they need to take on life."
With the launch of the new platform for Bupa, Thinkerbell seeks to continue its history of strong, memorable campaigns. Previously awarded the number one global creative agency on the BestAds rating platform, it was also responsible for Menulog's catchy 'Did Somebody Say' campaign.
The idea comes to life across a range of channels, including broadcast, digital, outdoor, radio, social and more.