It's the high fashion brand that isn't a stranger to controversy, but with its 'fashionable' garbage bags and distasteful campaigns, is Balenciaga just trolling us for clicks?
Starting in 1919, Balenciaga is a luxury fashion brand based in Paris, France. Catering to the uber-rich, the brand is in a saturated market, surrounded by Louis Vuitton, Chanel, Gucci and Christian Dior. It's a tricky world to stand out in, and Balenciaga is doing its best, but perhaps it's pushing the envelope too far just to drive attention and clicks rather than being serious about its craft.
Balenciaga and its history of strange products
Everyone knows that designer items are priced high. Some are eye-wateringly high. A paperclip from Tiffany and Co. can set a buyer back $1200, and in 2016 Paris Fashion Week, luxury streetwear brand Vetements showcased a DHL delivery logo t-shirt that retailed for close to $400 AUD. But, when it comes to impractical products for even more impractical prices, Balenciaga takes the overpriced gaudy crown.

A Tiffany and Co. paper clip will go for around $1500.
Habitually going viral, the luxury fashion brand pushes the boundaries more and more each season of what it can get away with, and now it seems that people are starting to become suspicious that these products aren't for the budding fashionista, but are a means to go viral.
Take the $2000 garbage bag, for example. In 2022, the brand released what was a glorified garbage bag. A cool $2400 USD to make it seem like you forgot to drop the rubbish into the bin as you walked out of the house.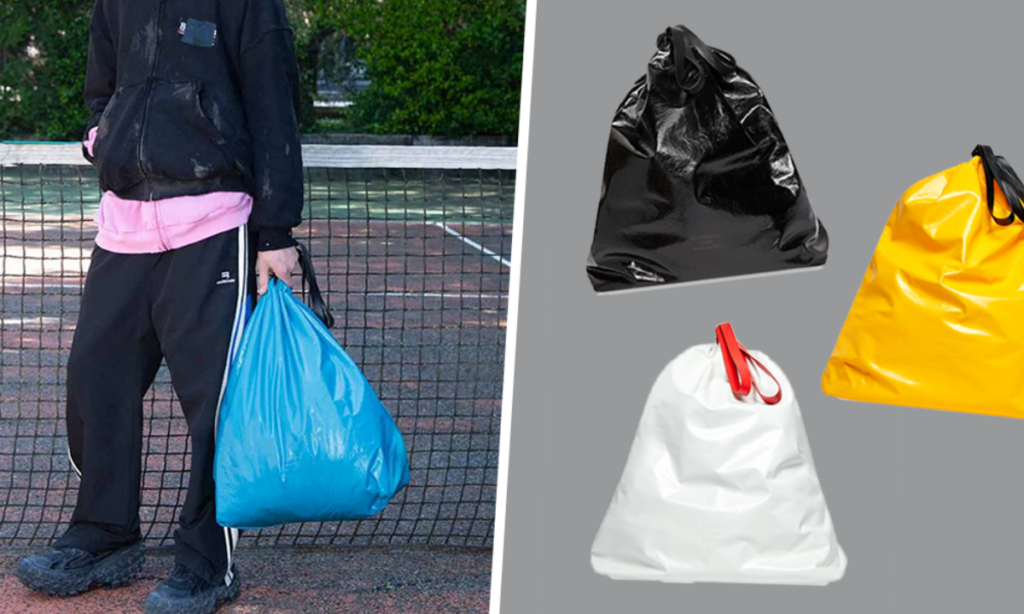 Balenciaga's garbage bag.
That same year, Balenciaga released earrings made out of shoelaces. Fashioned into a bow, the shoelace earrings would set someone back $261 USD. The product sold out.

Designer shoelace earrings.
And, if you're after someone's worn sneakers and Facebook Marketplace isn't an option for you, than Balenciaga is charging a very reasonable $1800 USD for a pair of beat-up high tops that look like the wearer attended Coachella, Splendour in the Grass and Glastonbury in the same pair of shoes, with no breaks in between.
Once again, the dirty shoes ran out the door. The products have all sold out.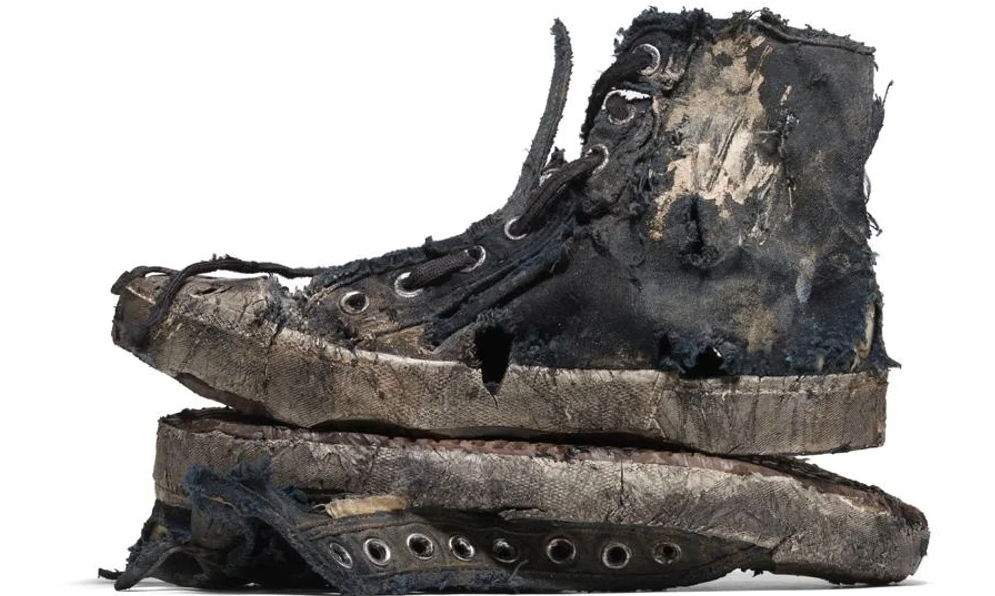 Second hand shoes or designer goods?
But, have they really?
Sold out is only as impressive as the number of items for sale to begin with – something that Balenciaga doesn't disclose. So, when an item only has a few in stock to begin with, is it really that impressive to sell out of a grotesquely-priced garbage bag? 
Is it all just to go viral?
What Balenciaga is doing successfully is creating conversation. Whether it be criticism or praise, people are unpacking the items to try and work out what the point of it is. Balenciaga has been one of the most discussed luxury brands of the last decade, and at the end of day, luxury fashion has an overlap in art, and if art is to be discussed then perhaps Balenciaga is crossing the line into the territory of art.

Balenciaga's search data in the last ten years.
Or, alternatively, the brand is the master of going viral – even if it means being in the firing line of criticism.