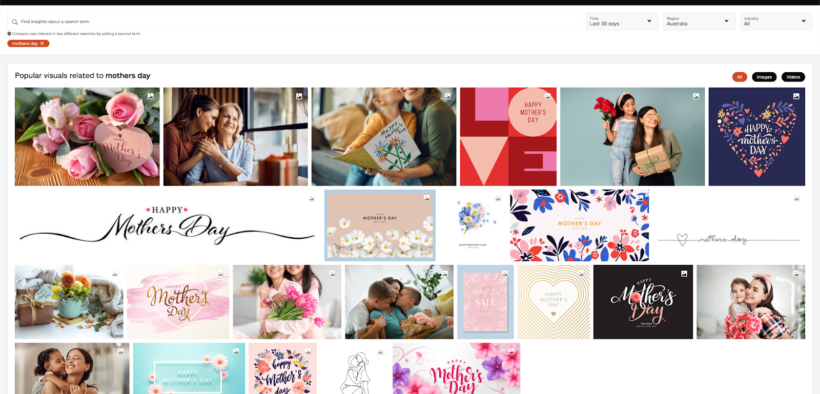 In recent times, we've seen brands make strikes in authentically portraying women and their stories. However, a quick look into iStock's visual search trends tool reveals Aussie brands still predominantly depict Mother's Day as a pink and floral celebration for young white mums, known as "pinkwashing".
Mother's Day is not typically associated with experimental marketing, which is a missed opportunity for brands to engage with consumers. Nowadays, consumers are holding brands accountable and are favouring those that champion authenticity and inclusivity in the marketing. In fact, iStock's VisualGPS research has revealed that seven in ten Australians believe it's important that companies they support celebrate diversity of all kinds. 
While some may see changing consumer tastes as a challenge, they also present a lucrative opportunity for brands to distinguish themselves and connect with a broader demographic. Here, we can draw inspiration from this year's standout Mother's Day campaigns and uncover the winning formula for successful and impactful visual marketing. 
Tip #1: Avoid generalisation that can be exaggerated by pinkwashing
It's easy for brands to fall into the trap of viewing mothers as a homogenous group, expecting one message to resonate with mothers everywhere. However, the older mother who runs a cafe is different from the queer mother who works in parliament – and their children may be drawn to your business for different reasons. 
According to VisualGPS insights, visuals showcasing 60+ year old mums only make up less than eight percent of the motherhood story, while disabled mothers are visualised even less, as are as queer mothers. As these segments are excluded from a brand's target market, so are the many unique experiences of motherhood that deserve acknowledgement. 
Acknowledging lesser-told stories allows brands to speak to more mothers through visuals – which Pandora demonstrated through its "For everyone who loves like a mum" campaign this year. The commercial used video to inclusively portray motherhood, acknowledging grandmothers and even stepmothers in their definition. This was complimented by a gift guide, which proudly claimed to be for "Disney Moms', 'Cool Moms', 'Pet Moms', Grandmas, and Partners". 
Tip #2: Authentically integrate mother's stories 
Motherhood transcends common cultural, racial, ethnic, and socio-economic tropes, and both advertising and media play a crucial role in shaping the narrative. While today's marketplace still recirculates stereotypical Mother's Day marketing tactics, using images and videos showcasing inclusive stories is a simple means to brilliant innovation. 
This is exemplified in Australian natural beauty brand INIKA Organic's Mother's Day campaign, LOVEorganic. This year the brand decided to move away from traditional messaging and focus on sharing the stories of all the inspirational and supportive people in our lives – whether that's our mums, aunts, grandmothers, sisters or best friends. In doing so, INIKA embraced creativity and innovation to tap into the diversity of its audience. 
iStock's VisualGPS data finds that 62 percent of women in Australia and New Zealand still feel they aren't authentically represented across media and advertising. Additionally "seeing people like me and my life" drives purchase with the Australian consumer. So, in using the real-life stories of everyday Aussies to shape your messaging you can foster a more inclusive and genuine level of human connection to build a stronger sense of brand affinity. 
Tip #3: Understand what drives women and mothers to engage with your brand
According to VisualGPS data, 90 percent of women prefer reading, watching, or listening to light-hearted content when they want to unwind. Additionally, women tend to use social media more frequently than men to gain exposure to diverse viewpoints and enhance their empathy and understanding towards others.
This year, McCain showed us how it's done through the campaign "Put mum in the picture". They shared that 85 percent of mums were most often the person taking family photos, and that 66 percent of mums were in less than half of the family photos on their camera rolls. So McCain partnered with award-winning photojournalist Krisanne Johnson to capture candid photos of mums with their families – and called upon us all to do the same. 
When communicating with mothers and their children, authenticity should always be at the forefront of any campaign. It's crucial to continuously listen, learn, and adapt based on feedback from both mothers and your audience to effectively connect and build trust with them. By leveraging imagery that taps into human truths, featuring relatable characters, and evoking emotions, you can craft a content experience that goes beyond mere product-focused material. This approach empowers brands to forge enduring connections with women and mothers, leaving a lasting impact.