1 in 2 accepting of mobile ads, rapid ad upgrades end 2012
Mobile advertising has experienced rapid change in the past six months as publishers respond to the burgeoning use of devices among most smartphone adopters, half of which claim they're comfortable with mobile ads.
Mobile ad network InMobi's mobile media consumption study found 54% of mobile users are as comfortable with mobile advertising as they are with TV or online advertising, while only 22% find them intrusive.
The high level of acceptance on what is a highly-personal device comes as good news for the industry and is evidence that improvements made to ad units over the past six months are keeping annoyance at commercial interruptions at bay, according to InMobi's head of marketing, Marc Fine.
"Mobile ad units are evolving quite rapidly," Fine says. "The competitive nature of the environment means there isn't a publisher that isn't putting user experience upfront."
The majority of InMobi's inventory is now between screen ads or 'interstitials', such as a unit shown between pages or between levels in a game, whereas  at the start of the year more bottom of the page and interruptive ad units existed.
"We've definitely seen a shift in the past six months to ad units that don't take away from the navigating experience or the user experience," Fine believes, pointing to healthier click-through and engagement rates as a result.
The improvements to ad units comes as smartphone use continues to reach even deeper into the downtime of even late adopters of the technology, allowing publishers to capitalise on the use of the device as a companion to a range of experiences.
Of the 7.5 hours of media time each day, mobile accounts for 100 minutes, more than the 93 minutes spent online via desktop. Since the study was last conducted in February 2012, 50% more of the Australian population is using a mobile to alleviate boredom during downtimes or as a companion.
Most commonly, the smartphone is being used while 'waiting for something', a behaviour used by 86% of owners, up from 43% since February. Three in four now use their devices in bed, up from 30%, 66% while watching TV, up from just 36%, 64% while commuting and 48% while shopping.
User are becoming so addicted to the always-on appeal that many are also using in the bathroom, while spending time with family and in a meeting or class.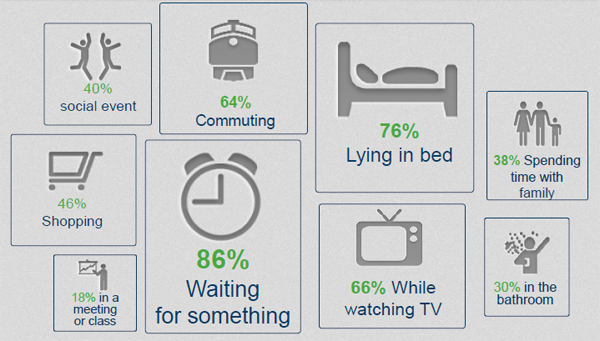 Nine in ten claim to have noticed ads while partaking in these activities, with in-app ads the most recalled, among 63% of the sample, followed by search ads and ads on retailers websites, recalled by 41% and 29% respectively.
The impact of mobile ads on purchase decision is also growing, according to InMobi. As offline media consumption, particularly print media, decline, the perceived influence of advertising in the digital environment is up.
Respondents to the research are growing increasingly likely to rate mobile as an influence on their purchasing decision, with 27% of this opinion, compared to 24% in February. The perceived influence of radio and outdoor was also up, while the impact of print and TV is believed to have dropped.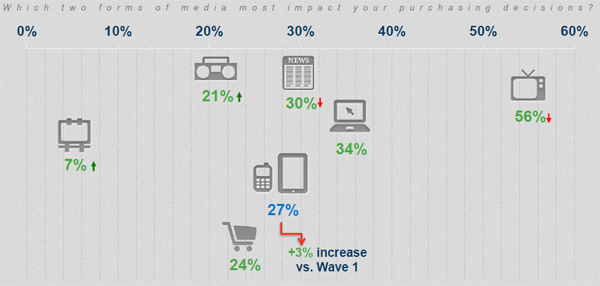 For Fine, this self-reported data tells of an increase in the efficacy of mobile advertising, but also highlights the importance of an omni-channel marketing approach. "Where mobile works the best is when it runs in conjunction with tv or radio, or outdoor… It's that amplification of channels and the integration of messaging across multiple channels as to where you see the best results.
"That's a trend that we're going to see next year: it's not about running campaigns in silos, it's about cross-media amplification and how mobile can mobile can support and complement traditional channels like outdoor, TV and radio."