Career profile: Lisa Harrison, head of GI brand & marketing, Suncorp
Lisa Harrison oversees some of Australia's most well-known insurance brands. As head of general insurance brand and marketing at Suncorp, she doesn't care that some might not see the exciting side of insurance marketing – she has found a career and an industry to love.

The one word that comes up repeatedly when talking to Lisa Harrison is 'passion'. A passion for the insurance business. A passion for customers. It's a passion that may be hard to fathom for those outside the industry, but the way she waxes lyrical of the pride that goes with helping people through some of the toughest times in their lives, it's hard not to believe her.
Given the enormity of the life events a customer (hopefully never) shares with their insurance company, it's obvious how big an impact – positive or negative – an interaction with their provider can have in a person's most vulnerable state.
During her tenure Suncorp's home state of Queensland was subjected to the terrifying monstrosities that were the floods of Summer 2010-11 and Cyclone Yasi. Given the way Harrison talks of helping customers in crisis, helping them rebuild their houses, fix their cars, put their lives back together, one may be forgiven for thinking she was destined for the industry. But that wasn't the case.
Upon completion of a commerce degree with a marketing major, Harrison entered a graduate program with global insurance group Royal and Sun Alliance (RSA). When the Australian and New Zealand arm of RSA de-merged in 2003, it became Promina Group, which was acquired by Suncorp five years ago.
The program organisers did a great job of selling it, Harrison says, by hinting it was marketing focused – so of course she snapped up the opportunity. And while the marketing component of the program turned out to be just that – a component of a much broader induction into the insurance business, from claims to underwriting – it ended up being immensely helpful to her later roles, which might otherwise not have provided time at the coalface. "At the time I was like 'When do I get to do the real marketing here?', but obviously overseeing the insurance brand marketing now, it's given me a great understanding of exactly what we do for our customers. It's been pretty invaluable for me in the role I've got, and it really keeps it real, what we're selling."
From RSA she was keen to get more experience in the consumer space, so a role managing home loan products at Commonwealth Bank beckoned. After four years at the Bank, the chance to work on some of Australia's most iconic insurance brands at a strategy level lured her to Suncorp, and there she is today, overseeing Suncorp's general insurance portfolio, which includes the likes of GIO, AAMI, Apia, Just Car Insurance, Shannons, InsureMyRide and Bingle.
On the surface it seems Harrison's passion could be the financial sector, but she sees it differently. Loans and insurance are both foundations of the Great Australian Dream of home ownership – products that "give a lot of customer value".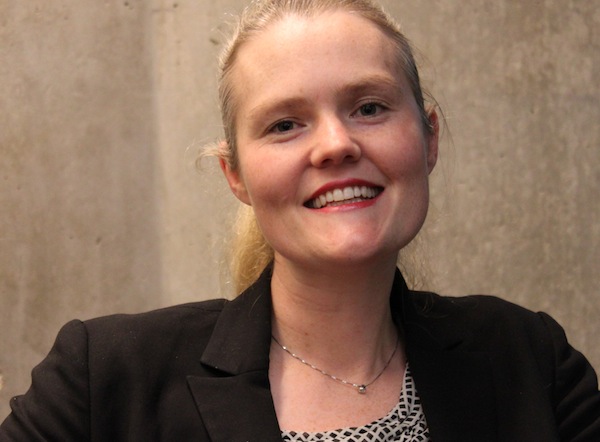 Marketing: Do you think that having passion for their work is important for marketers, no matter what the brand?
Yeah, I think really truly believing in what you sell certainly helps, and really understanding, not to a product level, but the experience customers have, because I think that allows you to really connect with your consumers better and makes your marketing activity a lot stronger.
You've spent most of your career in the insurance business – with that passion for it, have you even considered other industries?
I would be happy to be asked to do [my job] day in and day out for a long time to come, so I guess I haven't really thought about other industries. I do firmly believe in what we do and the value of insurance, and I often tell people a story – we're fortunate to have a lot of customers come and speak to us about the experiences they've had, good and bad – and the thing that really hit home to me is we had a guy about four years ago and he talked through living through this incredible storm that ripped through and ripped off the roof while he and his young family were in there, and he [told me], "People call it a house, but it was my home, and I rang up you guys and the first thing the person said was, 'Are you and your family safe?' To me that was incredible because I was in a panic, I didn't know what to do, and she just brought it back to reality, 'Are you safe?' and, 'Don't worry, we'll help you to get your home back'." So I'm incredibly passionate about what we do, and I'm proud to say I work in insurance because I think it's an amazing industry. We often say that the greatest dream is the Australian home and the fact that we help play a role in protecting that is something I'm passionate about, so I'd love to continue doing it.
Your work at the Commonwealth Bank was in a product-focused role – what have you brought to your current role where you are in charge of multiple brands?
[The Commonwealth Bank role] was a combination, it was looking after their home loans, and so we did a lot of the customer attention, customer service, as well as the strategic marketing component and working with a team on the marketing components as well.
One of the things I would say is when you look at a marketing campaign, what makes it really successful, I think is making sure when we're doing the campaign that we've got a really strong strategy, and you're looking at strategy and the customer insight, and I think having that discipline is really important. Too often, when something is a campaign, we've briefed it in as a campaign, it must run through these channels and at this point in time, and if you forget about the strategy up front, and the consumer insight, and having a really firm brand strategy in place, then invariably it's not successful.
You're overseeing some very iconic, very large Australian brands, but they're also very different. What do you find the greatest challenge working across a portfolio like that?
If you're not prepared, if you don't have very clear brand strategy – that's one of the things that we're extremely mindful of, being absolutely clear about what the brand is, what role it's there to do and having in place really good brand architecture which allows you to manage your brands and make life a lot easier. It's also great fun, so some of the brands I oversee – you've got your Just Car Insurance brand which talks to a younger and modified car market, and then at the other end of the spectrum is Apia, which is insurance for the over 50s market. So it's never a dull day. And for me, it's a great experience getting to look over such a broad comms strategy for each of the different brands.
It doesn't sound like differentiation is a challenge.
I think it's always a challenge because you've got to make sure that you've got strong disciplines in place to keep the brands differentiated throughout the value chain, but I think for any marketer, having that really strong brand strategy, clearly articulated and known throughout the entire organisation is absolutely critical, and it's something you can't rest on – you've got to continually make sure that new people coming on board are very clear about what the brand stands for, and so there's an ongoing comms piece in that space.
Insurance may not be one of the first sectors that comes to mind when people talk about innovation, but with the newer, smaller brands – Bingle selling online only, for example – are they used in any way for experimentations that you can then take to the more established brands?
That's one of the beauties about having a variety of brands… you can carry learnings across the broader portfolio. Some things will work for other brands and some things won't, and again, it comes back to having that very clear brand strategy up front because you can't copy and paste across all, because then you run the risk of challenging each brand's uniqueness.
Looking back at some of your earlier roles, were there any key mentors that stand out as being especially influential and what key advice do you carry with you?
I've been very lucky to work for a range of people. Certainly, at CommBank, I had a great manager once removed that encouraged thinking big, and that notion of experimentation as well. The notion of continuing to think big and experimentation I hope I can carry through my entire career, and also that notion of safety in experimentation. I think that's very fortunate. I'd say my current boss is exactly the same and I've been very fortunate to work for some amazing people.
[The license to experiment] is absolutely critical in today's market because technology is increasing at a rapid rate, and we do see brands coming in and innovating that if you just continue in your existing ways, sometimes it could be hard to keep up.
I notice you're a member of the Hyper Island LinkedIn group. Is continual renewal and updating of skills your recipe for marketing education at the various career levels?
Yes, I think we have to. Consumers are continually up-skilling in their day-to-day life, learning about new technology, adopting new technology. So we certainly have to be at the forefront of that as well and keeping pace with them, and invariably ahead of them.
Speaking of new technology, I wanted to ask about the use of social media in this sector. It's something that's not done consistently across brands, it seems. How do you determine that at a strategy level, and how high up are those discussions?
For me, and maybe it is because I do have a strategy background, making sure we're very clear about the brand strategy and how to deliver to that strategy. Social media is really important for all marketers, and very important to have a strategy for it for individual brands. However, how you deploy that strategy will be different based on the individual brand. At the same time, you also have challenges and, for us, one of the challenges has been building the capability internally to activate that channel. The good thing is, we've got quite a few learnings in this space from the AAMI brand, from Just Car, another brand, InsureMyRide, as well as some of the other activities we're currently working on and deploying.
SAS: Is social media and social marketing going to be the holy grail of customer service? Where have you seen it work and where do you hope to see it work better?
I don't think it's the holy grail. I think it's a really important piece to the puzzle, and the things that we like about it is it's that two-way interaction, it's quite fast, it's very responsive, and it gives brands a voice, it gives consumers a voice. It's very important. There are always fundamentals of a business that you have to put into play as well, so it's not necessary that one size fits all, and for us, certainly we see customer service where we're fixing people's homes, we're on site, we're fixing people's cars, as absolutely critical as well. It's every interaction that you have with your customer; you want to get your customer experience right. And for us, really importantly, the moment of truth is getting them back in their homes, getting them back in their cars and doing a great job at doing that.
What impact is customer intelligence/analytics having on marketing strategy and planning?
If you're informed you make great decisions, so it's a no-brainer to have really strong customer intelligence and analytics up front, which is helping guide your decisions. And one of the challenges I think marketers face with so many different channels and so many different options to communicate with customers is invariably you can't do everything, and customer intelligence and analytics helps you decide what are the things you must do.
Marketing: Do you use it to inform campaign execution?
We've got an analytics team sitting within the marketing team as well, and I think that's really important, so analytics is accessible, and having the team in with the marketing team makes it easy to understand as well.
That's interesting. What changes have you seen in the department? Are people coming in from different backgrounds, or are marketing people up-skilling into more data-savvy skill sets?
I think marketers need to be data savvy; they need to know what the output of their actions are, and also be clear on inputs that will drive actions, in terms of what's going to generate the required return. But I think having people with dedicated analytics expertise, where they can do some of the more complicated tasks has been really beneficial for us. And it sort of has, in the team, demystified that data is complex. So we've been very fortunate, the fact that we've got some great analysts that get marketing and can really add some strong insight to the team.
What have been your recent highlights from your role that stand out?
I always say to people that I have the best job in the entire organisation. There's a multitude of highlights.
Working across multiple brands means that in any one week, you kind of go 'Wow, that's just amazing, the work that people have done'. We were pretty pleased last year, we won one of the international media awards for the Shannons Supercar Showdown piece of work that we did with WTFN and Starcom, our media partner, and Channel Seven. So that's something that we're all incredibly proud of. There is a lot every week that you go 'Wow, that's great', and there is stuff, whether it's from an analytics viewpoint, that a lot of people don't typically think is the sexy side of marketing, and some of the insight we can add, you see that coming through.
Are you increasingly looking at doing more activations like that with an online component, moving away from traditional broadcast media?
Any channel plan has to incorporate a wide variety of media, so online, as we all know, is absolutely critical but your traditional broadcast media still plays an absolutely huge role. I think Shannons for us, or Supercar Showdown was a great opportunity for us because it went across a whole range of media, whether it be online, whether it would be some of the activations we could do below the line as well as on the television as well.
It's interesting earlier to hear you speak of stories from the front line. Do you think that's something that's missing from many high level – not even just marketing – positions?
I think it's really important, if it is missing, and I don't think it should be because there is so much that you can learn from customers about what you're doing well and what you're not doing well, but also I think it helps create that passion for what you do and that belief, and I think if you're passionate about what you're marketing, then you're going to do a great job.
And so customers can help with keeping that passion?
Personally for me, I think it helps me. And like I said, we all work long hours. You don't really want to be doing something you're not passionate about. It makes for a long day.