Product placement spend to close 2012 with double-digit growth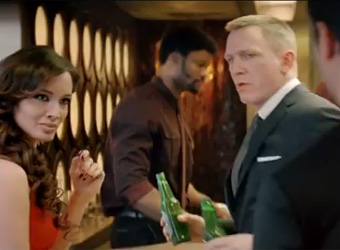 Global spend on product placement will grow 11.7% to end the year at $8.25 billion, with Australian marketers set to contribute just over $100 million to the tally.
Consultancy PQ Media's forecasts for 2012 show a strong rebound in the practice since 2009, when product placement totalled $6.25 billion globally, and build on the $7.39 billion spent last year when the market grew 9.8%.
Growth in product placement is on track to accelerated in the years ahead, as new technology, shifting media habits and looser restrictions drive brands to seek more effective tactics to reach elusive modern consumers, CEO of PQ Media, Patrick Quinn says.
"Technological advancements and changes in consumer behaviour have caused brand marketers to design multimedia strategies to engage fast-moving, 21st century end users," Quinn says. "Increased accessibility to content and faster media consumption have further complicated the advertising and marketing landscape, driving brands to invest in alternative media tactics. Product placement re-emerged in 2000 and grew into a viable marketing tool due to its unique emotive capabilities."
The US remains, by far, the world's largest product placement market, accounting for 57.6% of total spending in 2011. No other market generated more than $1 billion, although Brazil and Mexico each surpassed $500 million, while Australia, Japan, France, the UK and Italy exceeded $100 million.
China was the fastest-growing market, expanding 26.6% in 2011 to $81 million, as more global brands use product placement in Chinese television and films. Other markets that exceeded 20% growth were India and Russia.
Western European and Asian countries look set to grow at a strong rate next year after benefitting from improved regulatory environments, as restrictions on paid product placements were relaxed in recent years, the consultancy's 'Global Product Placement Spending Forecast 2012-2016' found.
The vast majority of paid placements take place in television and film. Global spending on TV placements rose 10.9% in 2011 to $4.76 billion, due to the relaxation of TV regulations in Europe and Asia, as well as global marketers more aggressively pursuing brand integrations into scripts and network producers more often requiring financial compensation for the placements.
Global spending on product integrations in movies rose 6.8% to $1.53 billion in 2011, as global brands much prefer TV for placements due to uncertainties associated with filmmaking in various markets.
The internet/ mobile category grew the fastest in 2011, as global spending jumped 27.9% to $188 million. Growth was fuelled by marketers investing more in brand integrations targeted at heavy users of internet and social media.
Strong growth in four of the past five years fuelled a 12.6% compound annual growth rate (CAGR) for global product placement spending in the 2006-11 period. Gradual economic recovery, accelerated deployment of TV integrations in Europe and strong expansion in the BRIC countries is expected to drive the increase in product placement next year.
PQ Media defines product placement as a marketing tactic used by advertisers as part of a multimedia strategy in which the objective is to integrate brand names, logos or products into non-ad content of media, such as TV, film, internet, mobile, videogames and music. Only paid product placement arrangements were included in the forecasts.