Actually, it is rocket science – GE brand profile
This feature first appeared in the November 2011 issue of Marketing magazine.

A company that many know, but few understand, GE has been around for over a century, but is only launching its first Australian TV campaign this year. Belle Charlene Kwan questions why, and discovers how two letters really can make a difference.
So we've seen the recent TV commercials, and have heard in one context or another the uttering of these two letters, G-E. We know they're one of those mega conglomerates that has a finger, probably even a toe, in every pie out there. But what exactly do they do? If you can answer this question, then you're certainly more knowledgeable and widely read than this writer.
I had a small panic attack preparing to embark on the journey of discovering the story behind GE; where should I start? I felt like I was about to scale Mount Everest – I can't see the top, have no idea just what I am in store for, and all I know is that its going to one hell of a steep climb!
Like the epitome of Gen Y that I am, I headed online, to that holy grail of all knowing and asked Wikipedia, because frankly, other than the NBC comedy sitcom 30 Rock and some PR disaster a couple years ago about GE possibly being responsible for bringing down the local car industry, my familiarity with the company ends there.
Two hours and twenty-three opened-browser windows later, I realised trying to sum up the entire company was near impossible. So what does GE do? Well, from my initial research, apparently everything!
From engines for trains and planes and medical machinery to electricity generators and light bulbs to home insurance, home appliances and home entertainment – GE does have a stake in every major industry, and then a few more.
For a clearer picture, I spoke to Emma Rugge-Price, director of communications for GE and GE Capital in Australia and New Zealand, to find out whether there was an easier way to understand the complexity that is the GE business.
"In Australia, GE can pretty much be divided into three categories: Energy, technology infrastructure and capital," says Price.
Local consumers are probably most familiar with the capital branch of the business, where GE is the country's largest non-bank lender. "GE Capital is made up of our consumer finance, business finance and commercial finance. We are a specialist financial services company, and we play where the banks don't," explains Price. However, the company is keen on increasing the exposure of the brand's other very different branches.
GE's investment in Australia's energy sector is on the rise, and has equipment planted in all the country's major energy fields.
Price explains: "A lot of equipment in the Gorgon project is GE equipment, and we are also in northern Queensland working on LNG projects there. We are a big water treatment company as well, where we process and distill water. Finally, we also provide energy services such as smart-grid technology and consumer and commercial energy distribution."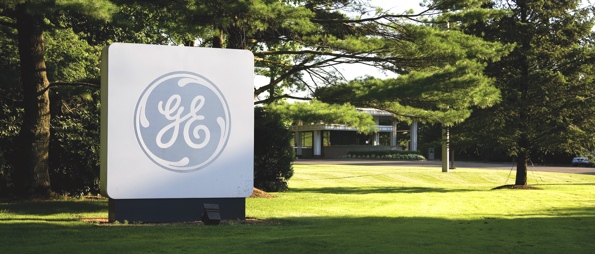 With 50 percent of the world's energy coming from GE technology and equipment, it's no surprise that the company is looking into spearheading Australia's next chapter of energy sourcing. GE is introducing wind energy, touted as one of the answers to solving the world's depleting energy sources, with its first wind energy deal announced in June in Western Australia.
And then there's healthcare technology – from large MRI scanners to the smallest of needles and syringes, GE has its name etched deeply into the medical industry. In fact, according to Price, GE produces 80 percent of all anaesthetic equipment used in the world!
"Aside from workers involved in the medical field, not many consumers are going to stop and ponder on what company produces the equipment used each day in hospitals and clinics, equipment used to save lives. I'm proud to say that GE has been silently helping to improve the quality of many people's lives every day."
And finally, there are GE's transportation products, where the company manufactures jet engines for planes and locomotives. With their engines used in Qantas and Virgin fleets, as well as the locomotives that keep mining companies like the ones in the Pilbara running, Price calls this arm of the company "a super exciting kind of technology to have in a company's portfolio". Globally, the company also owns over 1800 commercial planes that are leased to more than 225 airlines worldwide.
In short, GE is actively involved across a diverse range of industries in Australia, although it still comes as a surprise to find that our humble country, tucked away in our own corner of the globe, is actually the third largest market for GE, with only the US and UK leading before us.
"When you think about Australia from a population perspective, " says Price, "we shouldn't be this big. But because the country is so rich in resources and there is so much focus placed in this area, thus requiring the right infrastructure, and one that GE readily provides, Australia is punching way above our weight for the company."
GE greatness
Like all big companies, GE has its own tale of humble beginnings, though the story is littered with what is now some of the most well known names in everyday households.
Ask a classroom of ten-year-olds who Thomas Edison is and they will tell you that he was the inventor of the light bulb. When the inventor started up his own company, Edison General Electric, back in 1890, little did he realise that it was start of what would evolve into one of the biggest brands in the 21st century.
Edison is not the only famous name behind GE's history. Jack Welch, known to many business academics and practitioners alike as one of the most influential bosses of the modern economy, was the CEO and chairman of GE for 20 years, from 1981 to 2001.
During his reign, Welch was responsible for increasing GE's revenue from USD$26.8 billion in 1980 to nearly USD$130 billion a decade later. When Welch left GE in 2001, the company had risen from its original market value of $14 billion to one that was worth more than $410 billion, making it the largest increase for any company under any CEO, and turning GE into one of the most valuable companies in the world.
Of course, great company leaders do not come without their set of controversies. Welch, in his efforts to increase productivity in the company, had an annual culling practice, where he would fire the bottom 10 percent of his managers. He also earned a reputation for brutal candor in meetings and would push his subordinates to perform. Business-wise, Welch saw no value in research, and also brutally closed or sold off any of GE's businesses that were underperforming, placing strong emphasis on profitability.
Welch was also an innovator, destroying the traditional management hierarchy used in many corporations still today, and instead, introduced a sense of informality to the company, where top performers were rewarded handsomely, and GE stock options were made available not only to the company's executives, but to nearly a third of all his employees.
Nicknamed 'Neutron Jack' for his harsh ways, in 1999, Fortune magazine honoured Welch with the title of 'Manager of the Century'.
Today, GE is headed by current CEO and chairman Jeffrey Immelt, who was not only named one of Time magazine's 100 most influential people in the world in 2008, but was also appointed as a member of US President Barack Obama's Economic Recovery Advisory Board in 2009, and earlier this year, announced as chairman to President Obama's Council on Jobs and Competitiveness.

GE into new territories
While GE may have etched itself deeply into American history, the brand's presence back here in Australia is still superficial. According to Price, aside from the company's financial services, Australians are almost strangers to the industries that GE has been involved in over the last century.
"We launched our first television campaign this year because we wanted to show that GE is in Australia, for Australia, and helping deal with some of the big problems in this country. We wanted to show that we are here to address the renewable energy challenge, the healthcare challenge, and that we're here to invest financially and support business growth, especially in the mid-market which is under served by the banks," says Price.
For those of you who have not seen GE's TV campaign, it consists of a variety of ads that demonstrates the brand's involvement in the jet engine, wind energy and healthcare industries, with the letters 'g' and 'e' floating along to a whimsical, playful soundtrack, with the tagline of 'What a difference two letters can make'.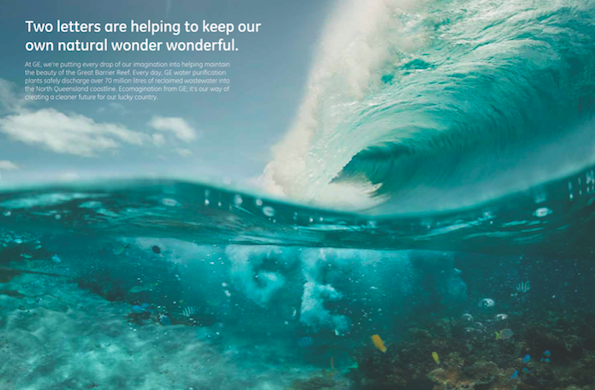 While Price manages communication across all of GE's businesses, she is most passionate about pushing the healthcare message.
"I'm really excited about promoting our healthcare business in the new campaign because I think that's something that has been a well-kept secret. We are a healthcare technology leader that industry professionals highly respect, but beyond them, its not as well known, and we're not as associated with it as we'd like to be."
Before this year, GE had never executed a large-scale TV campaign in Australia before. "The reason we're doing it now is because globally, the GE strategy has shifted. In the words of [CEO] Jeff Immelt when he launched this, he said: 'We're elevating everything global in GE'. So this means that we are no longer looking at the world as different markets, but to see all our involvements in all our partnering countries as one big GE market."
"When we break down these countries to economies that are vastly growing, and where there are issues to be tackled, Australia came up as one of our top choices."
Price also reveals that Australia is one of GE's favourite countries to do business in.
"Australia is well-regulated, its about as similar to America a you can get, and we are very comfortable operating in this environment. Since GE already has such a strong established financial services business here, we saw that there was plenty of space to grow in Australia once we leveraged everything that the company was capable of doing here."
"Before, we used to operate our different arms as individual companies – the fifth largest money lender in Australia, a multi-billion dollar energy business, a several-hundred million dollar aviation business and a healthcare business. Now, we're just putting them all back together under the big GE umbrella."
It comes as no surprise that Australia is a target for one of the world's largest energy providers. With one of the world's largest liquefied natural gas (LNG) projects right in Western Australia, GE is keen on tapping into the wealth of opportunities our country's resources presents for them.
Surely, the global financial crisis (GFC) and consumers losing confidence and trust in financial companies, this campaign must partially have been executed to rebuild the image of GE. So is the whole purpose of the campaign just to tell people that GE isn't another evil bank?
Price admits that one objective was to shift consumers' opinions away from former association of GE with banks.
"Yes, we do provide financial loans, but we are not a bank. Australians seem to associate us only as lenders, and the incident that occurred during the GFC that brought us a bit of bad press. But we are so much more than a bank, and we want people to know that we are also doing our best to help the world and the economy in other ways," says Price.
The incident that Price refers happened in 2008, in the heart of the global financial crisis, when GE Money in Australia and New Zealand decided to cease its business in offering home loans, motor finance and small business loans. The pullout rattled the motoring industry, where many car dealers used GE Money to finance their display cars and offer customers attractive credit packages. During this incident, it was reported that 335 staff members were also made redundant.
"Through the financial crisis, when we closed some of our businesses, we were poorly understood by the media at the time and there was a sense that we were leaving Australia. We had to go through an intense time of issue management, to convince the media and the public that on the contrary, we were reshaping capital and growing the rest of our business. And that's also part of the reason why the campaign is important because there is a perception out there that we're not committed or we left. We never left."
Price believes that three years on, it was time to resurface and tell Australians another story.
"Internally, people often wonder why doesn't GE advertise, and educate our customers about what we do. And it's interesting because I think even though we are not advertising our financial arm, in actual fact, the group that benefits the most from the campaign is probably the capital business."
"The capital team really leverages the fact that they're not a bank.  So, the campaign is screaming from the rooftops that we're not a bank.  It's saying we're a technology infrastructure company, we're an innovative technology leader, and that's a good thing."
GE talks big 
There seems to be a trend of large companies moving away from campaigning individual branches of the business, and instead, promoting the masterbrand. Another recent company profiled by Marketing with the same strategy was computer giants Intel. I posed the question to Price on why GE has decided on this strategy.
"I think that GE's range of stakeholders is expanding, especially after the financial crisis. Today, we look at our customers and see a lot of governmental bodies. Another major stakeholder is the media. In Australia, with the country's skill shortage and the war for talent, I think the bigger, masterbrand plays a really important role is explaining who the company is and why other businesses and individuals should partner with us or work for us.
"While targeted trade advertising might seem like a more effective marketing strategy, we are trying to establish our relevance to our audiences as a whole. Then, once we feel that our position in the market is strong enough, that people know who we are, and then we will narrow it down and promote our products to specific problems and specific markets. So what you're seeing today is a starting point in a longer journey to establish ourselves in the hearts and minds of Australians that we do business with."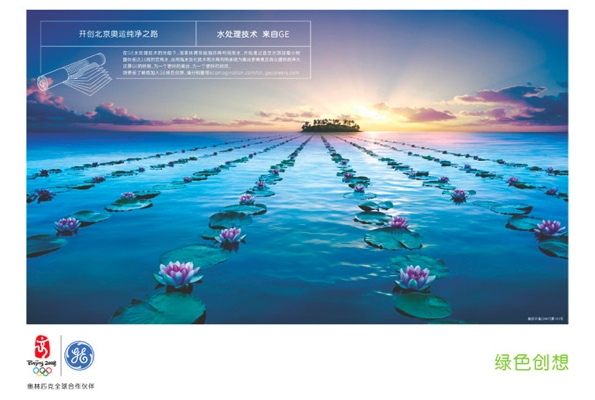 As a company that is deeply involved with industries that draw plenty of media attention, especially in the dealings with energy, natural resources and healthcare, overseas GE is consistently in the media, though not always in the most positive light. During the recent nuclear tragedy in Fukushima, it was found and reported in leading publications around the world (including Bloomberg and Reuters) that GE designed the nuclear reactors responsible. Following those reports, it was revealed that there had been safety concerns raised about the reactors since the 1970s.
The American and British press had a field day.
As head of communication, Price's job must entail tackling difficult journalists each day. Surprisingly, Price shares that in Australia, the media are less of a problem as compared to their foreign counterparts.
"Locally, I think we do a lot less of managing negative press and public cynicism because we are not a listed company. That definitely helps take some of the pressure off and it takes some of the interest out of the company from a media point of view. Not being listed can be a disadvantage, because we do not report our earnings so people don't understand what we do, but on the flip side, we are certainly much less of a target for the media to raise issues.
"Having said that, we still get plenty of overflow from the US that we have to deal with, but I am very proud of the fact that our company's communication strategies have changed and become much more open. We are focussed on building relationships with the media, helping them understand what we do so that they can articulate it, and in the process, help them and the public see issues from a different perspective."
Price, in fact, is extremely grateful that she does not have the troubles of dealing with aggressive and cynical members of the media that her colleagues in the US and UK have to.
"The Australian media, and Australian consumers, are much more reasonable compared to overseas. I think if you asked the head of communications at Westpac, you might get a different answer, but I think GE has the advantage that people don't know us that well here, and most people who have heard of us associate the brand with leadership, and see as an admired company involved with global sustainability."
GE goes social
One major shift in GE's communication strategy, as mentioned by Price, is the openness of communicating with the media and the public, and one channel that the brand is actively using to engage with its audience is social media.
"During the GFC, we were so misunderstood in the media and there were things being said about us that just were not true. The role of the communications team became so important, both internally and externally; being able to clearly articulate what our messages were, what our strategy was, and to reassure people that we were going to be here, that we were not going under. I think we came out of that with a renewed focus on communication and a renewed focus on making sure that our stakeholders, know what we do and what our strategies were," says Price.
Price explains that social media became a focus of the brand's communication two years ago, and she sees it as a critical part of any media plan as a way to interact with stakeholders and lend them insights into the company. What began as a channel where the brand listened to what people were saying has been evolved into a platform where GE is constantly engaging in conversations.
"We started out with a listening approach to what people were saying about us, and then responding to that carefully.  But now, we're at the point where we're building communities around our products, and that's going very, very well.
"We came into social media through GE Capital, because consumers in GE Money would go to social media sites to vent about us. Interestingly, what we found when we started to watch this conversation was that often, other customers would correct those posts, and say 'Actually this is how you use that product.  What I do is I do this, so I haven't paid any interest in 10 years'. So it's been quite enlightening because you find you've got advocates out there as well as detractors."
Price also uses the opportunity to personally get connected with the public. "What we found was that if you step in and say, "Hey, my name is Emma, I'm from GE and I'd be really happy to help you with this problem. Here is my phone number and here is my email.  Contact me directly', and you take that conversation offline, usually if the person has a good experience, they'll go back to that place where they vent and say, "Hey, I had a really good experience here."  I believe it goes back to the whole value of feedback and the value of a complaint – if a customer is complaining to you, you can deal with it.  If they're just telling 10 of their friends, that's not helpful."
Instead of having a dedicated social media team, however, Price runs her department in a way that everyone has access to their social media public. "If any of my team is responsible for media and needs to use social media to engage a particular group of stakeholders, then they have that access. So for example, if I'm looking into building a coalition of stakeholders around an issue like climate change, I will use social media just as I would an event, road show, or press release. I've not gone down the route of having one person responsible for social media, but instead, encourage my team to touch social media in where they see appropriate."
In terms of a social media policy, Price confesses that her team at GE are still cautious, and are experimenting with how to best use this channel.
"We do track our social media platforms, and manage posts to block inappropriate messages, but I do believe that it's a tricky environment because you're so open to interpretation and have to be very careful about what you put out there, especially in attempts to be humourous. So, we stick to our core messages around our technology and innovation, we share what we're doing in that space, and that's how we manage it and approach it."
Fortunately, Price's plan on putting GE on the social media map has paid off.
"The last two years has shown that the brand has had a massive lift in positive media. I think there's only so much protection you can give the brand, but issues will come up and its important that we are ready and prepared to have genuine conversations."
GE in the limelight
Outside of Australia, GE has garnered much respect through its successes in innovation as well as profits. In 2011 alone, GE has been ranked sixth largest firm, seventh best company for leaders, 13th most admired firm and 14th most profitable business in the US by Fortune magazine, while Interbrand lists it as the fifth best global brand, and Fast Company claims it to be the 19th most innovative company.
Keeping in line with the company's mission to be involved across a whole variety of businesses, GE recently bought 49 percent of US-based broadcasting company NBC, and now has a stake in companies like Universal Pictures, The History Channel, Universal Theme Parks, and of course, NBC's many well-received TV programmes. In fact, fans of TV series 30 Rock will know that the sitcom is loosely based on the corporate on-goings of a TV studio under the GE masterbrand.
Looking forward, GE's future lies in the battle of climate change, an issue that the company feels strongly about. "Without a doubt, here at GE, we do believe that climate change is a serious issue," says Price. With a passion for change, GE has recently taken a drastic move away from playing the silent brand in Australia, and actively participates in the climate change debate.
With the company's decade-long history in addressing innovations needed to combat emissions, GE believes that they have the wealth of experience to contribute in the push for a more serious fight to save the planet.
"We come to the table with a pretty unique perspective. We've been looking at conservation and emissions reduction from a lighting technology perspective, an energy generation and distribution perspective, a water management perspective and even from a healthcare technology angle in terms of packaging and powering.  So, we've really focused on helping consumers and businesses reduce their energy usage across multiple industries. This really goes back to our strategy of being known as a bigger, umbrella brand and making our presence and position known in Australia."
To help push the company's stand on climate change, GE commissioned two sets of research this year to understand what local businesses think about the issue and how prepared they were for change. Results in January showed that 70 percent of local businesses were getting ready and were already taking action in reducing emissions.
"We actually completed the research before Julia Gillard committed to the carbon price, but once that happened and the debate went crazy, we went out and presented our research. The debates were extremely political, so we thought we could help lend some science behind the decision on what the best policy was to approach emissions reduction."
The research studied how countries like Germany, China, India and the US dealt with carbon emissions and found that Australia was one of the worst in carbon productivity – that is, how much gross domestic product (GDP) is produced for every tonne of carbon emitted. The reason, explained by Price, was that while Australia had cheap energy resources, the country was processing it very inefficiently.
"We published the report to the public and spoke to the media. At the same time, we also set up a business coalition around climate change that brought together several global businesses like Ikea, AGL and Linfox and made a statement that we believe that a carbon price was good and a shift to an emissions trading scheme was the right approach for Australia.
"We've been very vocal about it. We took the learnings that we have from the globe and from our own business, we took a results-based review of the country and where we stand, and did what we thought was right in securing the prosperity of Australia in the long run."
GE for the future
As the only company of the group of original 12 companies listed on the newly formed Dow Jones Industrial Average in 1896 that still remains on the DOW index 115 years later, Price insists that the future of GE in Australia will only grow stronger.
"We've been in Australia since the beginning of the company. We laid tracks in Queensland for a railway around 1896, and bearing in mind that Edison only started the company in 1890, one of the first things we did was sail all the way to Australia from New York to lay train tracks. From the start, GE was a global company and to consider the lack of modern technology and the ease of transportation we have today, it must have been pretty extraordinary to be a global business."
Today, while GE continues its fight for emission reduction and the adoption of renewable and sustainable energy, it is also investing in directly improving the health and lives of Australians. On September 15, GE Australia announced its commitment to fighting cancer with its 'GE to Speed Fight against Cancer' campaign, where the company is starting a $100million global open innovation challenge to help identify and bring to market new ideas that will advance breast cancer diagnostics. The challenge, open to businesses, entrepreneurs, innovations and students alike, aims to help local healthcare professionals better understand the causes and likely cures for cancer. The company is also in the process of forming a cancer coalition with medical partners to increase access to breast cancer screening technology.
Steve Sargent, president and CEO of GE Australia and New Zealand hopes that his company's efforts will help, in any way big or small, to reduce the death rate of cancer patients.
"If we can bring down about even a one percent reduction in the cancer death rate, every day one Australian family will be spared the loss of a loved one.
"Similarly, if we can work to reduce the cancer cost burden by even one percent, Australia will save $190million annually."
Immelt, in a press release, said that he envisions a day when cancer is no longer a deadly disease.
"Our ads ask the public to think about what a difference two letters can make," says Price. "We want people to know that our company has the capability and is investing in changing lives, tackling tough issues and innovating for a better future."
While many other companies might make similar claims and are received with a cynical smirk by many, it seems GE might be one to take slightly more seriously.
Besides, for a company that has (literally) brought light to darkness, brought music and television entertainment into our homes, brought distant lands closer and more accessible, and most recently, brought new use to what was once just nature's way of messing up a perfect hairdo, it might perhaps come as no surprise that GE will, one day, bring about a cure for cancer.
And if it does happen, remember, you first read this prediction here in Marketing.