Adidas launches branded game on Xbox and PS3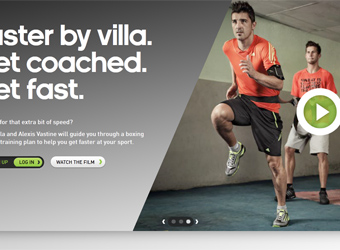 Adidas has entered into a global agreement with video game publisher 505 to launch fitness game miCoach on Xbox 360 and PlayStation 3, which will allow players to train alongside their sporting heroes.
The game, which is built around Microsoft Kinect's and Sony Move's motion control functionality, will launch to coincide with the Summer sport season in Europe. It's described as a personal training system for people of all ages, gender and athletic level, in which users can develop training plans according to their chosen sporting activity, track their workout progress and get coaching feedback.
Users will be able to engage in up to 400 different exercises, with Adidas sponsored athletes simulated alongside them, and also incorporate their existing fitness routines into the game using mobile apps and the miCoach website and products.
The game will feature 18 athletes including Brazilian footballer 'Kaka', American basketballer Dwight Howard, German footballer Manuel Neuer, English track athlete Jessica Ennis, Portuguese football manager Jose Mourinho, Serbian tennis player Ana Ivanovic, Australian rugby union player Will Genia and American gridiron player Eric Berry all of whom provide training classes for their sport.
Head of global brand at 505 Games, Tim Woodley, says the game brings something truly new to the sports training and fitness segment, with integration between gaming and traditional fitness routines.
The launch of the game comes as brands increasingly look towards branded content. Channel Seven recently ran a documentary – McDonald's Gets Grilled – about and funded by the fast food giant, investigating the quality of its food.