Adman's global honour: John Zeigler recognised by Academy of Marketing Science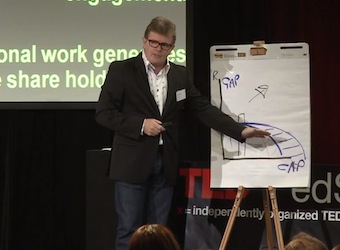 The Academy of Marketing Science has named John Zeigler Global Marketer of the Year in recognition of his successful 30-year career in advertising and marketing.
The award was presented yesterday at Melbourne Town Hall as part of the Academy's 16th biennial World Marketing Congress.
The congress is being hosted in Melbourne by Monash University's Department of Marketing, one of the few times the congress has been hosted outside of the northern hemisphere.
Zeigler, who is chairman and CEO of DDB Asia-Pacific, says he's honoured and humbled to receive such a prestigious award. "Having worked in marketing communications for nearly 30 years – both on client and agency side – I've never dreamed that I would be recognised by peers and academics in this way.
"However, when I look back at my achievements, this award should really be dedicated to those that have supported me throughout the years. It's these talented people, particularly at DDB, who should really be given the credit."
Co-chair of the Academy of Marketing Science 2013 World Marketing Congress and Head of the Faculty of Business and Economics at Monash University's Peninsula campus, Professor Mike Ewing said Zeigler was a worthy winner of such a prestigious award.
"I have known John for more than a decade and am not at all surprised to see him recognised by the Academy in this way. He is a true leader, both literally and figuratively, in marketing and communications in the eastern hemisphere – and indeed globally," Ewing says.
"John heads the most important regions in the world in terms of growth, opportunities and challenges, for one of the most significant marketing communications companies in the world, who, in turn, work with many category-leading global brands. What more can one say… he is a global marketing leader as the award quite rightly recognises."
Watch Zeigler below talk at TEDxFedSquare on getting CEOs to understand the power of brand.
Previous winners of the Global Marketer of the Year have included Anthony J Palmer, president, global brands and innovation, Kimberly-Clark Corporation (2012), Robbie Brozin, founder of Nandos restaurants (2011), Dr Joseph Plummer, former executive vice president, McCann-Erickson Worldwide (2006), Ross McKenzie, executive director sales and marketing, Holden Ltd (2003) and Ross H Roberts, vice president, Ford Motor Company (1998).