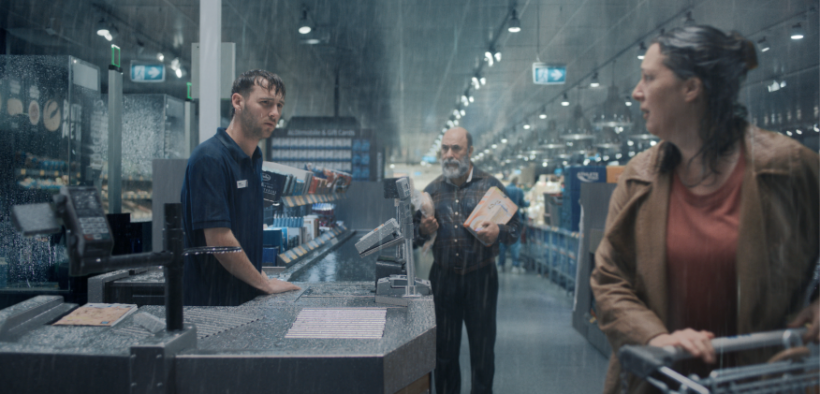 ALDI has started 2023 by trying to reposition itself in the minds of consumers with the 'Shop ALDI First' campaign.
The nationwide campaign from the supermarket chain launched with a schmaltzy TVC via BMF this week.
It depicts a dramatic moment of heartbreak between cashier and customer. When the young ALDI cashier spies 'smoked herring paste' left uncrossed on the customer's shopping list, he tells her: "It's cool". Rain starts to pour in store as they share the understanding that she will need to buy her expensive indulgences elsewhere.
"We love you," the cashier says as she departs.
"You'll always be my first shop," she responds through tears.
The TVC aims to leverage a lack of loyalty when it comes to supermarket spending.
"We know consumer shopping habits are such that few people only shop at one place," explains ALDI Australia marketing director Jenny Melhuish. 
"You might have a particular bakery that you get a croissant from in the mornings, or you might need smoked herring paste for a very specific recipe. But true savings are made when you make ALDI your first shop. It's about creating new habits in 2023, that we are sure will save Australians cold, hard-earned, cash."
According to ALDI, new research reveals that almost half of Aussies (45 percent) chose their supermarket based on their parents' brand of choice despite the savings they may be missing out on elsewhere. Seventy-eight percent of Australians have changed their grocery shopping habits in the last twelve months, and one in five (21 percent) are considering changing where they shop to save money in the next year.
"The new year is often a time for being more mindful and intentional in setting new routines," continues Melhuish. 
"It makes sense to shop with ALDI first when a basket of groceries is considerably cheaper than at other supermarkets. Post-Christmas and holiday spending, we think Australians should rethink their habits to easily save themselves serious cash." 
The campaign launches across a range of media channels, including TV, BVOD, OLV, OOH, print, radio, digital, and social.