Aldi dominates Product of the Year Awards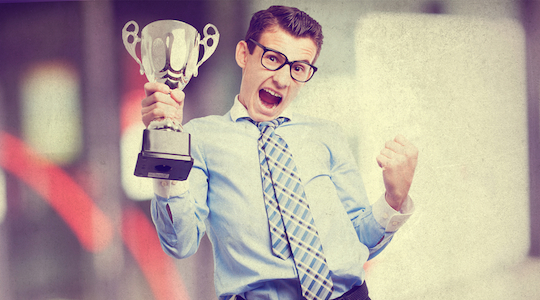 More than 14,000 Australian consumers have named their favourite new products as part of the 2016 Product of the Year Awards and the results are good news for Aldi.
The budget supermarket chain continued to establish itself as a favourite brand of Australian consumers, with its products taking out 12 of the 46 award categories, including the small goods, snacks to go, pest control and household cleaning categories.
In comparison, supermarket rivals Woolworths and Coles had six and four wins respectively.
Product of the Year director Sarah Connelly said the results indicated that, despite the discounted prices, consumers are happy with the quality of the products Aldi are delivering.
"It's all about value for money and shoppers won't be swayed by cheap and inferior products — not for long anyway — so the quality has to be there to make an impact and result in repeat purchases," says Connelly.
The results are good news for the company, as previous winners have typically seen double-digit sales increases.
Further to this, a recent survey revealed that more than 35% of Australian shoppers would buy a new product if it won Product of the Year.
Connelly says the weight given to the awards is because they are solely voted on by fellow consumers.
"Shoppers can rest assured that these products have been voted for by people just like them, and whether they are buying large household appliances, beauty products or everyday grocery items — that all the guess work has already been done," says Connelly.
Other major winners included Neutrogena Hydro Boost Water Gel, which took out the best skincare product and Nature's Gift Organic Pet food, which won the Pet Food category.
Award winners are determined based on the results of a survey conducted by research company Nielsen, which reviews new products against criteria, including value for money, trial performance and overall satisfaction.
The survey of 14,000 consumers is Australia's largest independent survey of household consumer innovation.
Full winners list:
| | | | |
| --- | --- | --- | --- |
| Product | Brand | Company | Category |
| Nexcare Blister Waterproof Strips | Nexcare Brand | 3M | Wound Care |
| Moser Roth Mousse Assortment 187.5G | Moser Roth | Aldi | Chocolate Blocks |
| Specially Selected Desserts In Glass 60G | Specially Selected | Aldi | Desserts/ Pastries |
| Green Action Dishwashing Liquid 600Ml | Green Action | Aldi | Dishwashing Liquid |
| Logix Dishwashing Tablets 30Pk | Logix | Aldi | Dishwashing Tablets |
| Power Force Household Wipes 50Pk | Power Force | Aldi | Household Cleaning |
| Trimat Advanced Laundry Liquid Sensitive 1L | Trimat Advanced | Aldi | Laundry Liquid |
| Anco Concentrated Fabric Softener Soft Sensations 4X1L | Anco | Aldi | Laundry Softeners |
| Atlas Enviroshield Fly Spray 350G | Atlas | Aldi | Pest Control |
| Casa Barelli Italian Ristorante Flavoured Pizza Bases 2Pk | Casa Barelli | Aldi | Pizza |
| Specially Selected Pasta Sauces 400G | Specially Selected | Aldi | Sauces |
| Berg Deli Ham Off The Bone 175G | Berg Deli | Aldi | Smallgoods |
| Deli Originals Snack N Go 80G | Deli Originals | Aldi | Snacks To Go |
| The Quick Touch Crisp — Inverter Microwave With Short Cuts & Crisper Pan | Breville | Breville | Cooking Appliance |
| Brown Brothers Grape Tree | Brown Brothers | Brown Brothers | Liquor |
| Ginger Beer & Pear | Buderim Ginger | Buderim Ginger | Beverage |
| Macabella Choc'macadamia Spread | Macabella | Buderim Ginger | Spreads |
| Single Serve Gravy & Finishing Sauce | Gravox | Cerebos | Stock/Gravy |
| New Flavours In Grill Range | Grill | Coles | Easy Entertaining — Meat |
| Frozen Crumbed Fish | Coles Brand | Coles | Frozen/ Ready To Heat — Fish" |
| Slow Cooked Ready To Pull Meats | Coles Made Easy | Coles | Meal Solution — Meat |
| Microwavable Soup Pouches | Coles Brand | Coles | Soup |
| Hydro Boost Water Gel | Neutrogena | Johnson & Johnson | Skin Care |
| Coconut Milk Unsweetened | Vitasoy | Lion Co | Healthy Living |
| Slow Cooked Duck For You — Duck Legs | Luv-A-Duck | Luv-A-Duck | Ready To Eat — Poultry |
| Mater Nappies | Mater Maternity and Baby Care Product Range | Mater Health Services | Baby Care |
| Mccain Roasts | Mccain | McCain Foods | Frozen Sides |
| Certified Organic Petfood — Single Serve | Nature's Gift | Nature's Gift Australia | Pet Food |
| Nescafe Blend 43 Smooth & Creamy | Nescafé | Nestlé | Coffee |
| Voltaren Osteo Gel 12 Hourly | Voltaren | GSK Consumer Healthcare | Pain Relief |
| Platemate L&P Plates | Platemate | Possibilities Management Group | General Household |
| Betadine Sore Throat Lozenges | Betadine | Sanofi | OTC Medicine |
| Brown Rice Chips | Sunrice | Sunrice | Entertaining/Snacking (Gluten Free) |
| Street Snack | Sunrice | Sunrice | Heat and Serve — Snacks/ Sides |
| Dove Original Deodorant Aerosol | Dove | Unilever | Deodorant |
| Dove Hair Therapy Daily Moisture Shampoo & Conditioner | Dove | Unilever | Hair Care |
| Fruttare Smoothie | Fruttare | Unilever | Ice Cream — Single Serve |
| Blue Ribbon Golden Gaytime Classic 1.25L Tub | Blue Ribbon Golden Gaytime | Unilever | Ice Cream — Tubs |
| Intensive Care Spray Moisturiser | Vaseline | Unilever | Moisturiser |
| Beauty Cream Bar | Dove | Unilever | Skin Cleanser |
| Woolworths Reduced Sugar Cereal 300g | Woolworths | Woolworths | Cereal |
| Macro Thai Style Carrot Dip 200g | Macro | Woolworths | Dips |
| Free From Gluten Bread 550g | Free From | Woolworths | Gluten Free Bakery |
| Woolworths Gold Vintage Cheddar Cauliflower Cheese 595g | Gold | Woolworths | Heat and Serve — Fresh Vegetable Sides |
| Woolworths Gold Savoury Biscuits | Gold | Woolworths | Entertaining/Snacking |
| Created with Jamie Bombay Chicken Meal Kit | Created with Jamie | Woolworths | Meal Kits |