Apple targets iPad at education sector, takes epublishing to the masses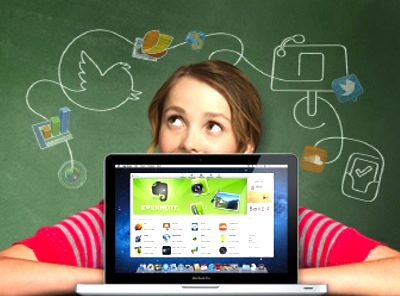 Earlier today (AEDT), Apple announced a set of education initiatives as part of an attempt to further carve out gains in the education sector.
At a press event in New York, Apple showed off a new version of the iBooks ereader app optimised for electronic textbooks, as well as iBooks Author, a new, free Mac application for building textbooks, as well as updates to iTunes which include an app for managing teacher to student interactions.
The new ereader app, 'iBooks 2′, is now live in the iOS App Store, bringing dynamic, interactive textbooks with animations, diagrams, photos, videos and 3D models to the iPad.
Speaking at the event, senior vice president of worldwide marketing at Apple, Phil Schiller, said the iPad stacked up far better against traditional text books which aren't portable, durable, interactive, searchable, or updatable.
Launching iBooks store's new textbook category with partners McGraw-Hill, Pearson and Houghton Mifflin Harcour, Schiller said the store will eventually include "every subject, every grade level, for every student."
A free Mac app designed to let authors and publishers easily create multimedia-rich etextbooks (for iPad only at this stage), iBooks Author, was launched alongside iBooks 2.
Schiller noted that iBooks Author could also be used to create other media-intensive offerings, such as cookbooks and travel guides.
Author is a visual editor with a user interface similar to Apple's iWork product line, which includes Pages, Keynote and Numbers (word processor, presentation and spreadsheet software). Text can be dragged directly from Pages or Microsoft Word into the editor and Keynote presentations can be imported.
iTunes has been updated to sync the new interactive textbooks between computer and iPad, and an iTunes U app was also launched as a new means for students and teachers to manage course material.
The new apps are being seen as a step towards taking epublishing to the masses, as Apple has done for video and music editing with their apps iMovie and Garageband.